Welcome !
General Assembly. We plan to hold our 2021 annual meeting in Hungary in September. The "CineFest – International Film Festival Miskolc" will again host us. The festival date: September 10–18, 2021. The idea is to invite the delegates for four hotel nights to Miskolc. Our national sections and individual members will be updated with details as soon as we know more.
Juries. See the jury page. As changes happen permanently (Covid 19 and the state measures are incalculable), we gave up to sum up the juries of a quarter in a printed circular. In stead, we update – in an almost daily rhythm – the jury page. Click there as often as possible.
(Use for all correspondence concerning juries only the email address jury@fipresci.org. This mail is read by everybody at FIPRESCI in charge of juries.
Elena Rubashevska, our Ukrainian colleague, has been appointed editor-in-chief of our website www.fipresci.org by our board. We're glad that – after a long period of us only being able to offer "minimal service" in terms of editorial – she is making her professional website knowledge and experience available to us. Veronika Zakonjšek (Slovenia) will take care of our presence in the social media.
Klaus Eder
April 23, 2021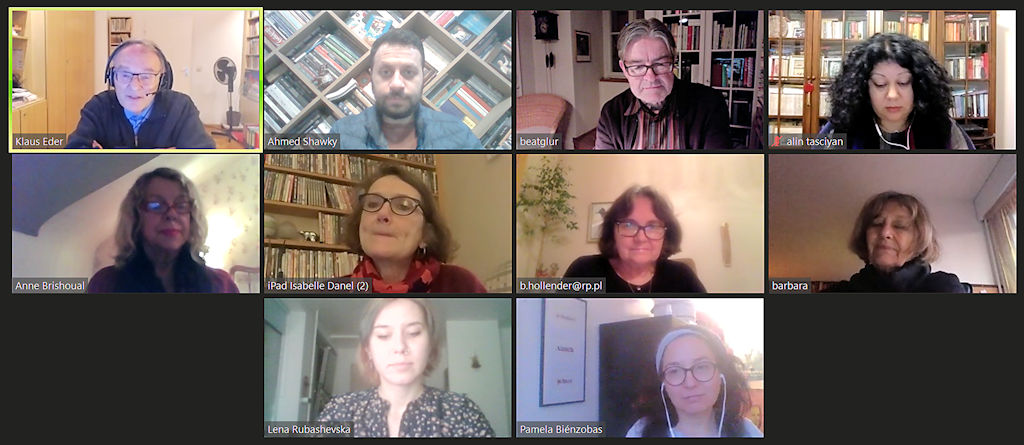 Meeting of the board members with the departments, on December 23, 2020. From upper left: Klaus Eder, Ahmed Shawky, Beat Glur, Alin Tasciyan, (second row from left) Anne Brishoual, Isabelle Danel, Barbara Hollender, Barbara Lorey, (third row from left) Elena Rubashevska and Pamela Biénzobas.