Siraj Hashim Syed
Film Critic, India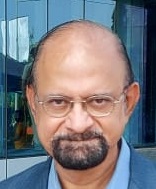 A veteran of over 160 international film festivals, Siraj Syed has served on the Juries of the Dhaka International Film Festival, the Bengaluru International Film Festival, Diorama International Film Festival (Delhi) and the Aurangabad International Film Festival. He was also on the Selection Juries of the International Film Festival of India (IFFI) and Mumbai International Film Festival (MIFF).
Siraj has Bachelor's degrees in Science and Law.
While still in college, he had tried his hand at compèring, mimicry and speaking for radio. He was selected as the first announcer for AIR's Urdu service and was the first male newsreader on Bombay Doordarshan. After he did some freelance assignments for him, Ameen Sayani, India's best-known broadcaster, invited him to join his production team in 1972. There, he wrote, spoke for and produced several thousand radio programmes and advertisements, doing various diploma courses in his spare time: French, Persian, Bengali, Urdu, Arabic, Advanced Film Appreciation, Film Direction, Advertising, Marketing, Video Production. In 2019, he was appointed Chief Copywriter to Mr. Ameen Sayani, and he completed a 52-year association with his Guru this year.
Later, he diverted his attention to acting for television, and landed some good roles all through 1986-96. Besides, he edited India's first music monthly magazine, PLAYBACK, and held editorial positions in a succession of publications, including TV&Video World. Over the years, he has written some 6,100 articles for around 250 publications.
In 1996, he was recruited to join ESPN TV and set up a Hindi language sports channel in Singapore, for satellite TV audiences in India. The job lasted merely a year, but he stayed on in Singapore for another seven years. Following a stint as Chief Copywriter and Senior Editor in a local Singapore company, he returned to native Mumbai. Lecturing jobs were waiting, since mass media had become a popular course at the University of Mumbai, and he had been lecturing on the subject since 1984.
At 70, Siraj teaches acting and diction, freelances as a copywriter, does the occasional Zoom
webinar, writes scripts for radio-TV-video, attends film festivals regularly and serves on their Juries, acts as master of ceremonies at various events and is India Correspondent for Film.Festivals.com, Paris.
In 2008, he was honoured by the President of Italy with the 'Order of the Star of Solidarity with Italy' (OSSI).
As a Jury Member