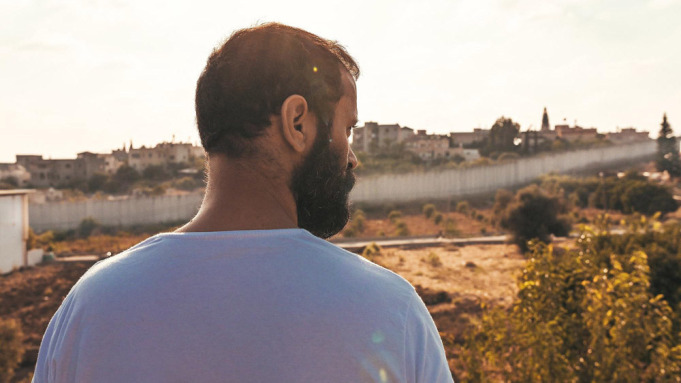 Ameen Nayfeh's opera prima is at once a linear story of a man trying to get from point A to point B and a deeply nuanced rendition that opposes simplistic dichotomies or preconceived notions of any kind. Mustafa (Ali Suliman) lives only two hundred meters from his wife and children but, unlike the other members of his family, he doesn't have an Israeli passport. Thus, he is forced to cross a fortified wall, obtain a permit, and endure the daily humiliation that is the occupying army's checkpoint in order to visit them. One day, having forgotten his permit at home, Mustafa crosses the border illegally in the hope to make it at work on time and visit his family after. Nothing will go as planned for him and his fellow illegal border-crossers, among them a European woman who will turn out to be a Jewish Israeli citizen intent on clandestinely documenting the reality of occupation. Something people on the other side of the wall rarely, if ever, get to see.
While the premise might sound crude, 200 Meters carefully avoids being reductionistic, be it political or narrative. In a context where emotional manipulation could be easily deployed, there is none to be found. Instead we have a realistic depiction, as imperfect as reality itself, of the humanity behind the headlines, that very humanity that continues to struggle when TV cameras are switched off and journalists move onto a new story. Instead of indulging in self-pity or victimhood, Nayfeh grants each of his characters the complexity that every life is made of, allowing for the kind of meaningful space that cinema and politics at times quash. Cinematographically, this results in a film of layered intricacy sustained by a remarkably solid screenwriting that is never blunt or predictable. Politically the film refuses the perverted logic by which the oppressed are required to somehow be irreproachable before they can advance their demands. This dubious tendency has often determined overly simplified representations of "good" versus "evil" wherefore innocence rather than justice is the issue at stake.
200 Meters also contributes to the demystification of the ethno-nationalist frame that has hegemonized most readings of the Israel-Palestine conflict, be they journalistic or cinematographic. Without ever sounding didactic, the film subtly returns the political question to that between oppressors and oppressed, exploiters and exploited whose ethnic or religious identities do not necessarily determine their politics. Nayfeh's film, along with Annemarie Jacir's Wajib and Arab & Tarzan Nasser's Gaza Mon Amour, constitute a new batch of Palestinian films that have brilliantly demonstrated the possibility to make a cinema that is politically charged and yet not "political" in the conventional sense. Though the blurry distinction between private and political applies universally, life in Palestine offers daily reminders of the politics that govern it. That 200 Meters and the other aforementioned films can dwell on the mundanity of life under occupation is not a retreat from politics but, rather, its artistic continuation. Since the history of Palestinian cinema is indivisible from the struggle of its people, this is an evolution that should not be seen as exclusively aesthetic or narrative. Nayfeh is part of a new generation of Palestinians whose understanding of and tactics to fight against the occupation are as formidable as their films.
Giovanni Vimercati
© FIPRESCI 2021
Edited by José Teodoro