How Spain taking its turn in leading EU gives BRIFF a good excuse to show recent Spanish film gems On the Fringe, La Maternal and 21 Paradise in one of most promising young film festivals on the continent.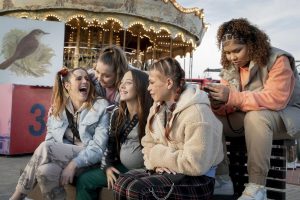 Ten days of full-house screenings all around the city is how this last Brussels Film International Festival resumed. Offering a wide range of possibilities, a bunch of different competitive and non-competitive sections have allowed cinema fans to watch masterpieces including the last Cannes Palme d'Or winner. Audiences shared a love of  and interest in cinema through a variety of wonderful films. A special mention goes to the Cineteca de Bologna collaboration, the 'Once Upon A Time' section, with old and modern classics such as Toni by Jean Renoir, Sergio Leone's A Fistful of Dollars (Per un pugno de dollari), The Bird with the Crystal Plumage (L'uccello dalle piume di cristallo) by Dario Argento and Thomas Vintenberg's The Celebration (Festen). Last but not least, recent Palme d'Or winner Anatomy of a Fall (Anatomie d'une chute) was enthusiastically shared with the public by its French director, Justine Triet at absolutely all the programmed screenings.
Spanish film was well represented at BRIFF by three feature films of different nature. The From Sweden to Spain special section linked consecutive countries in exiting and taking up the lead of the European Union presidency by screening films from both of them at the European capital city. So the film which closed the section is the Spanish-produced On the Fringe (En los márgenes), the directing debut of Spanish and Argentinian actor Juan Diego Botto, a tale of three interwoven stories about family, love and solidarity. That is, three characters, who keep their heads above water, fighting to survive in a 24-hour decisive lapse of time, and who are to experience a key moment that could forever change their lives. The film explores how strongly a complicated period with a stressful lack of money affects personal relationships but, most importantly, how the way out should just be a matter of caring for each other and solidarity.
As first-time director Botto explains, On the Fringe explores the effect that facing an acute crunch can have on each and everyone's emotional being. These consequences may be very different from one to another; nevertheless, any romantic partnership or parent-child relationship would always be deeply affected by an economic crisis. The film stars Luis Tosar as Rafa, an activist who is so deeply into being a voice for others that forgets about his own family; Penélope Cruz as Azucena, a mother and poor soon-to be evicted worker who tries to fight against becoming homeless the next day; and Adelfa Calvo as Teodora, an almost evicted widow, mother and guarantor of a bankrupt son. The film also highlights how women usually are the steady hand at the helm of family bonds and affection. By spelling out a day in the life of Rafa, Azucena and Teodora, who are all, from near or far, concerned with eviction and showing their 24-hour major dilemmas, On the Fringe give us an idea of what an average of a hundred evictions per day in Spain in recent years – approximately 41.000 ejections from home(s) – could exactly mean.
The International Competition presented Spanish La Maternal, the most recent film by internationally acclaimed Schoolgirls (Las niñas, 2020) director Pilar Palomero. The main character, Carla, is played by astonishing young actress Carla Quílez (awarded at last year's San Sebastian Film Festival), a 14-year-old rebel living in a service station restaurant on the outskirts with her single mother. Their social worker realises one day that Carla is five months pregnant and sends her to La Maternal centre for underage mothers, where she will share everyday life with other teen mothers and their babies, all of them confronted to soon-to-be incomprehensible adult duties. 
Palomero was inspired by her visits to a real foster care home a few years ago: from her long and full emotional discussions at that time with teenagers living there, about how tricky early motherhood and life itself is. From this experience, she wrote this at once bright and sore fiction film. La Maternal gives us a bit of tenderness too, that comes from a young girl's brave determination as she enters adulthood.
Key moments from adulthood in sequenced shots compose 21 Paradise (21 Paraíso), the third Brussels Film Festival Spanish participant, in the Director's Week section, from short-film veteran director Néstor Ruiz Medina: they are 21 fragments of countryside-by-the-sea bliss in a behind-closed-doors love and sex for a living story. A young couple lives in a house set in the middle of rustic rural southern Spain. Their daily life is full of fields, sea and friends; they earn their money by selling amateur porn on specialised social media. Despite the apparent idyll, something is slightly changing and the relationship between the two of them begins to fall apart. Those 21 long takes will lead the pair into a land where nothing will ever be the same again, where the love they feel for each other may no longer be enough.
Ruiz Medina says that the porn world has completely changed nowadays and that what the film portrays is quite common in real life. So many people are giving away their intimacy for money, nobody seems scared by killing scenes on screen anymore but masturbation is still taboo as usual. The making of 21 Paradise consisted of a mere 10 page script and is an intense, creative and improvised work between the main starring non-professional actors featuring all-sequence takes which were set by filmmaker and crew. It is a vivid flow to watch, shot in 16 mm, an exigent and not too explicit work of cinema. 
Margarita Chapatte Lopez
Edited by Amber Wilkinson
© FIPRESCI 2023