This Busan Film Festival invited Tony Leung to be in charge of consuming camera films.  All film festivals need superstars to attract fans.
Tony Leung is an actor who respects his arts and hones his acting skills as time goes by.  In order to play the role of the hearing-impaired youth in A City of Sadness (1989 Golden Lion), Tony Leung specifically went to ask and mimic the hearing-impaired great artist Ting-Shih Chen.    Although director Edward Yang thinks that Tony Leung's performance in A City of Sadness is not excellent because Tony Leung played the deaf role as if a mute.  However, this problem does not necessarily come from Tony Leung, it might be related to the director Hsiao-Hsien Hou's intentions or the screenplay.  Maybe Tony Leung received the instructions to act only as a mute to symbolize the lack of freedom of speech in Taiwan that year?
Although Tony Leung has a social phobia, he still brilliantly fulfilled his duty of being eye-catching in Busan.
My duty is to locate good movies in the New Currents section.  Among 10 competition films, my favorite is Thousand and One Nights by Japanese director Nao Kubota.
Thousand and One Nights describes two women, Tomiko and Nami, whose husbands both disappeared for no reason.  Tomiko, a fishery worker, has waited for 30 years. Waiting has become a habit, and she refuses the pursuit of other men.  Nami, a nurse, is a new-era woman who waited for more than two years.  Nami decided to make a new boyfriend and restart her life.  When Tomiko brings back Nami's missing husband, Nami's new life is severely disturbed, and Nami bursts into anger…
In the first voting round, Thousand and One Nights immediately received unanimous votes and won the Fipresci Award without controversy.  I checked the background information and found that there are 80,000 missing persons in Japan every year.  Director Nao Kubota has been concerned about missing persons in Japan for a long time and finally came to this feature film with documentary nature.  The beauty of the film is left for the audience to appreciate.  I point out three problems in this film as dissatisfaction engendered from the demand of perfection:
The English title of the film, Thousand and One Nights, is a misleading translation that induces the audience to think about the Arabic story 1001 Nights. In fact, this film has nothing to do with 1001 Nights. This film is in contrast to the long wait and the short wait, a thousand nights of waiting and one-night emotional explosion, which should be translated as Thousand Nights, One Night.  Before entering the theater, I only received materials in English and was misled to prepare to look for Arabic metaphors.
Japanese is generally very polite (Taiwanese description of Japanese politeness: polite in the form without really putting heart into it). When Tomiko brings back Nami's missing husband, it is not possible not to call Nami first to ask if Nami would like to meet. By taking Nami's husband directly to Nami's house, the director deliberately created a climax so that Nami slapped her missing husband and indignantly yelled at Tomiko:  Your waiting has already become a habit.  You know your husband is already dead and your life will never be disturbed!  
From here on in the film, the emotion is not so sincere for its impossibility.
After Nami's husband was kicked out by Nami, Nami's husband came to Tomiko's house to stay overnight. Tomiko is immersed in the remembrance of her missing husband. Nami's husband suddenly realized how traumatized Nami was by his inexplicable disappearance, and immediately played Tomiko's husband's role in a surreal atmosphere to comfort and hug Tomiko.
Japanese is considerate and polite.  But it takes a while for the Japanese to warm up to new friends.  A while means 10 years, maybe more.  You need a very long time to make a Japanese good friend while a Japanese good friend will never betray you.  Tomiko and Nami's husband just met each other for a few days, so they would not open up to each other.  Not to mention Nami's husband possesses a psychologically alienated personality who disappeared from his wife.  This scene in the film, even in surreal settings, is still very far-fetched.  This will only happen among outgoing people such as French or American, not for mysterious and ambiguous Japanese who never express their feelings easily.
Tomiko who waits for her missing husband: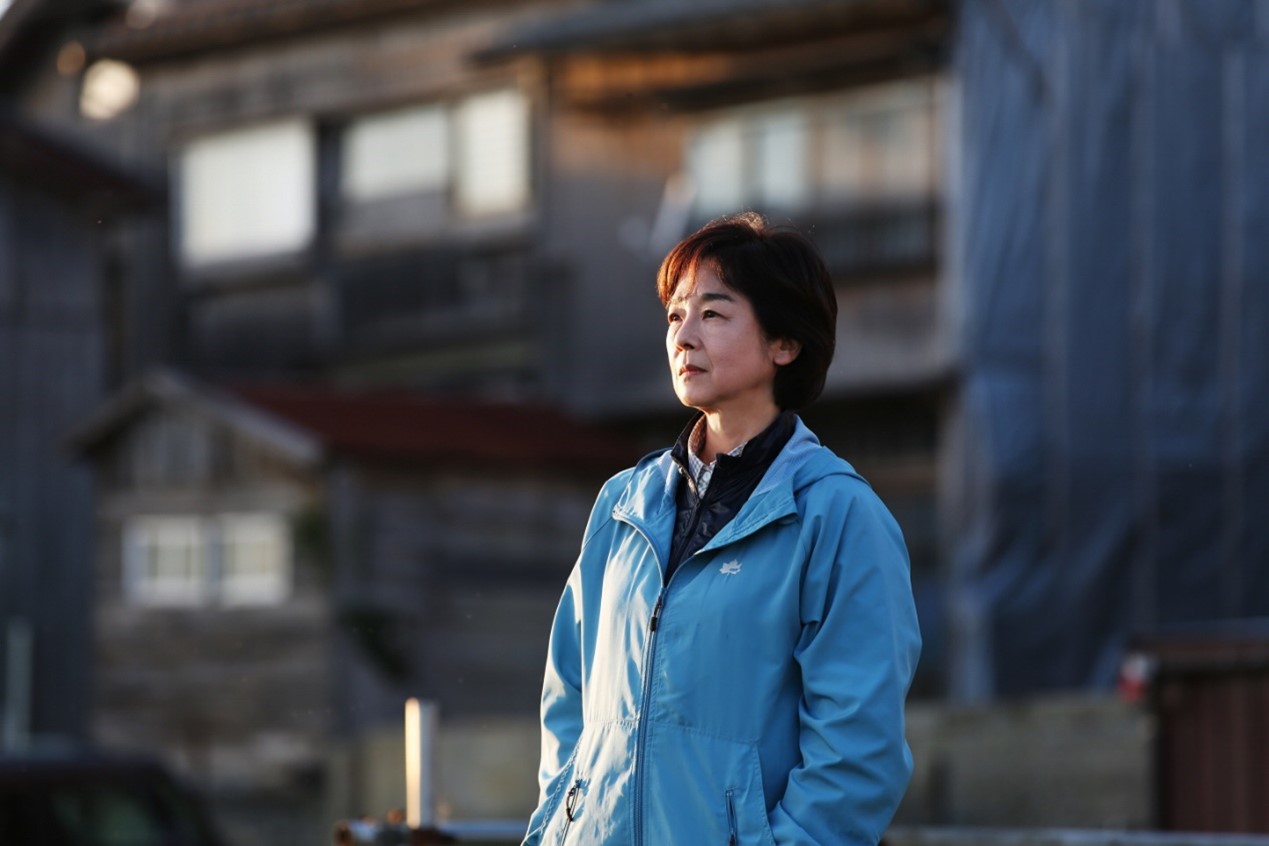 Hsin Wang
© FIPRESCI 2023