The international documentary film festival in Castellorizo, small and personable as the island that hosts it, boasts an inspired title: "Beyond Borders" not only suggests the open door of the most Southeastern European spot to the entire world, but also incorporates a cornucopia of themes and styles, that transcend physical and spiritual frontiers, and start conversations about life and cinema, and of course their intersection, as a boutique, well-curated collection of movies ought to do. Take for instance the selection of this year's Greek films in the competition section.
Made with tenderness and visual texture, Her Tobacco (Fyla kapnou) by Stathis Glazoulas and Eliza Kavalaraki features the personal accounts of two female workers, second-generation refugees themselves, as they revisit the now obsolete tobacco plant in the provincial town of Agrinio, as well as their experiences of resilience and hard work in a rough environment. Grief: Those who Stay Behind (Penthos: Aftoi pou menoun) by Myrto Pasalidou and Maria Louka connects the violent murders of two Greeks and one Pakistani delivery young man in Greece, through the sadness and fight for justice of the families they left behind. Roofless Dreams by Sotiris Danezis focuses on those we rush past, on people who once had a job, a home, a family, friends and one day they lost everything— the invisible homeless in bustling Athens, and their hopes for a decent living. Finally, To Each Their Voice (Thodoros Angelopoulos – Nikos Panagiotopoulos: O kathenas kai i mousiki tou) by Antonis Kokkinos and Yiannis Soldatos is an unpublished conversation between the internationally acclaimed Theo Angelopoulos and the relatively unknown outside Greece, heavily influenced by the Nouvelle Vague anarchic principles, Nikos Panayotopoulos. This is a valuable audio manifestation of the filmmakers' views regarding their own, until then, existing and future work, as well as a thorough insight into the New Greek Cinema, and World Cinema, the art of creation, style over substance. An exchange between two friends from youth, creators with personal vision and emphatically different in their approach, equivalent to the variety of the Greek entries in this year's edition of the festival.
The same principle applies to the international selection. We watched true, often devastating universal stories, from the current war in Ukraine (When Spring Came to Bucha, We Will Not Fade Away) and Israel, with two films, A Tale of Four Minorities and  The Soldiers's Opinion, about the ethnic identity crisis amplified by the pandemic and the complicated effects of military censorship, respectively, to the Italian Dead Weight, the real-life adaptation of a wrongfully convicted man over a tragic misunderstanding, and Hours of Ours, the odyssey of a young Sudanese family who flees their country and arrives in Bangkok to seek asylum, as seen by a dedicated Thai filmmaker.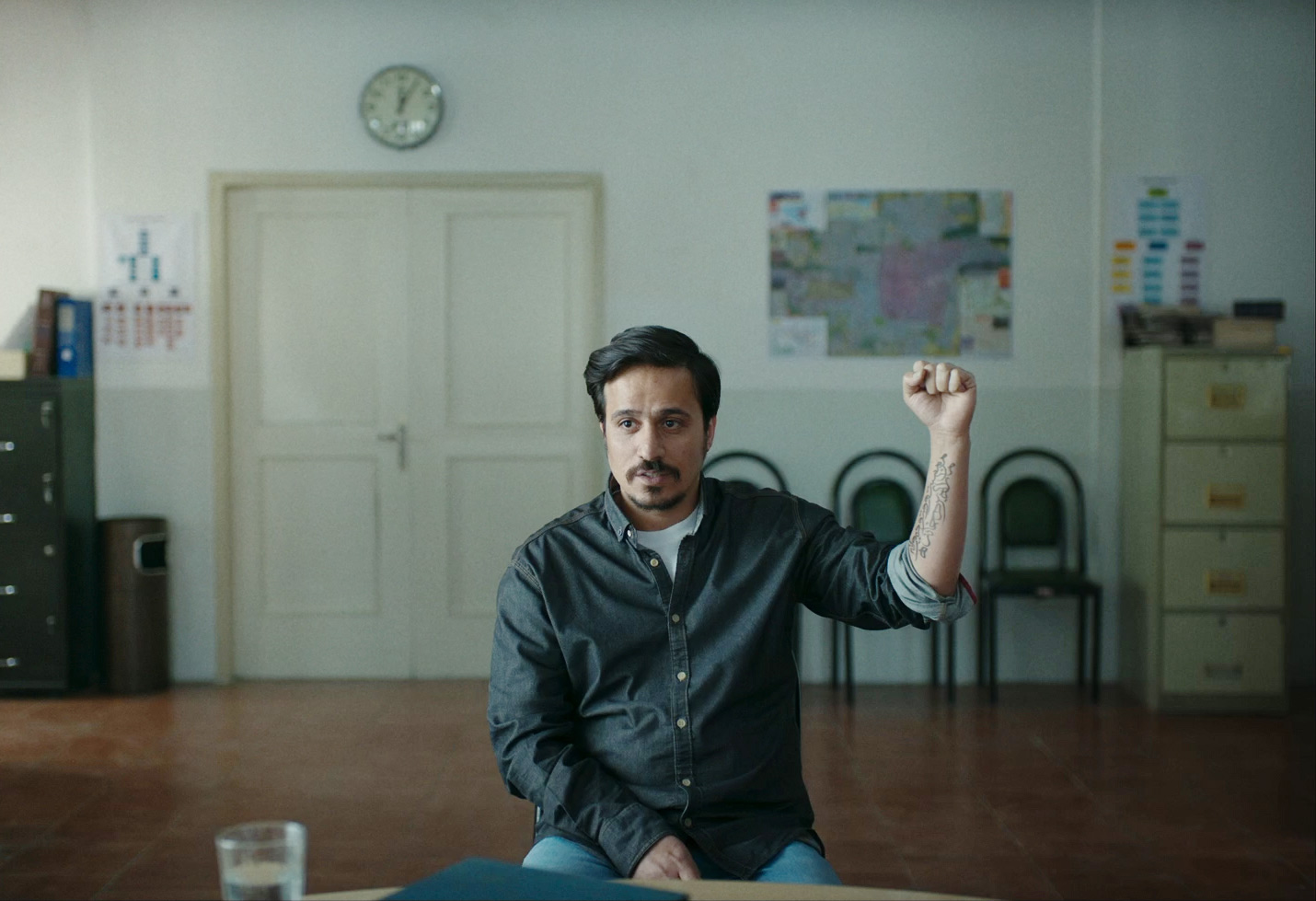 However, Scenes with My Father, the documentary awarded with the FIPRESCI prize, stands out as the most interesting, visually arresting, distinctive voice in the strong main competition. Directed by Amsterdam-based, Dutch-Croatian director Biserka a Šuran, the film combines a personal story with the tragedy of the civil war in former Yugoslavia. Cinematically compelling, Scenes with My Father is staged in a dreamlike state of transition, between traumas of the past and the uncertainty of the present. It is a multilayered film, dealing with the functional and therapeutic nature of documentary, that originally and intimately approaches a family of refugees. Placed in a neutral zone of a studio and mounted as an interview of a rather distant, austere, camera-reluctant father (not at all the poster boy of a typical refugee) by his laconic, son-voiced, polite, filmmaker daughter, it is immediately stripped away of comfort and playfulness, as it flows and progresses to a more confessional and personal mode. Love letters, archival footage, and home movies are exposed, secrets are revealed matter-of-factly, and this peculiar, decorous trip down memory lane bridges the decades' long gap of the real motives behind the migration to a new land. Not only does Scenes with my Father show that essential information can be exposed in a semi-abstract style, with visual flair and a sang-froid way, but in her self confident, feature documentary debut, Šuran manages to escort us into a complex political era of the past, through her ongoing personal trauma. It is an eerie portrait of generational family dynamics and an important moment in History, worth (re)visiting.
Thodoris Koutsogiannopoulos
Edited by Savina Petkova
© FIPRESCI 2023