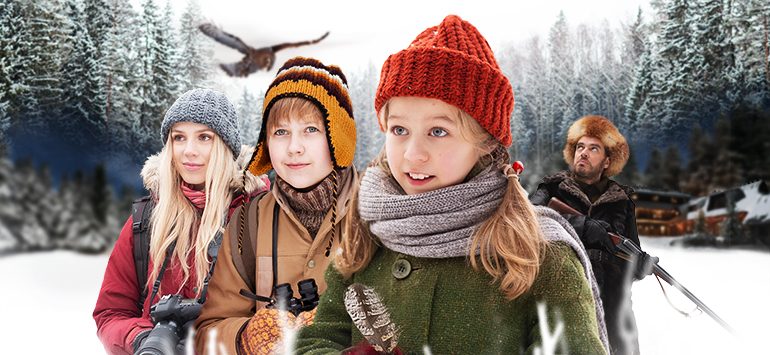 Phantom Owl Forest is the first feature film by Estonian director Anu Aun. It tells the story of Eia (Paula Rits), a ten-year-old girl, who has to spend her Christmas holiday with a weird older man in the countryside, because her parents both have professional obligations at that time.
Being upset and a bit scared at first, she learns how to live in this natural environment, far from the capital, Tallinn, and its noise. She also connects with the old man, as well as the people living in the hostel nearby.
Drawing being one of her passions, she also draws any animal she can cross paths with – in particular an owl that is supposed to have disappeared from the region for decades. This might be a way to save the forest nearby, that an unscrupulous neighbor wants to cut down for profit.
Her trip to the countryside is also an occasion for Eia to learn a family secret, and to become a reconciliation force between family members who have not talked to each other for ages. This film is therefore also an ode to the family unit, and in particular to the inclusion of the elders.
The film is wonderfully directed by Anu Aun. All the actors are very truthful. The mise en scène is always serving the story and its characters. The story is very clearly told from Eia's point-of-view. And the mise en scène always underlines that fact in a subtle manner.
The photography by cinematographer Heiko Sikka is sublime. Though this story is told as a real story, as something that could really happen, the aesthetics of the film are close to that of a fairy tale, as a way to tell us that our dreams are not meant to remain fantasies, and that some of our dreams could very easily become reality, if we believe in them strongly enough and are not afraid to take actions upon them.
The wonderful music by composer Sten Sheripov conveys a sense of celebration, the celebration of the family, of the holiday, of the nature and environment, of the wonderful living beings inhabiting that nature.
The actors are all amazing and directed with great mastery, in particular Paula Rits playing Eia, whose presence enchants the whole film. The other characters are also wonderfully interpreted, in particular August (Tõnu Oja).
Ivan Magrin-Chagnolleau
© FIPRESCI 2019
Edited by Karsten Kastelan