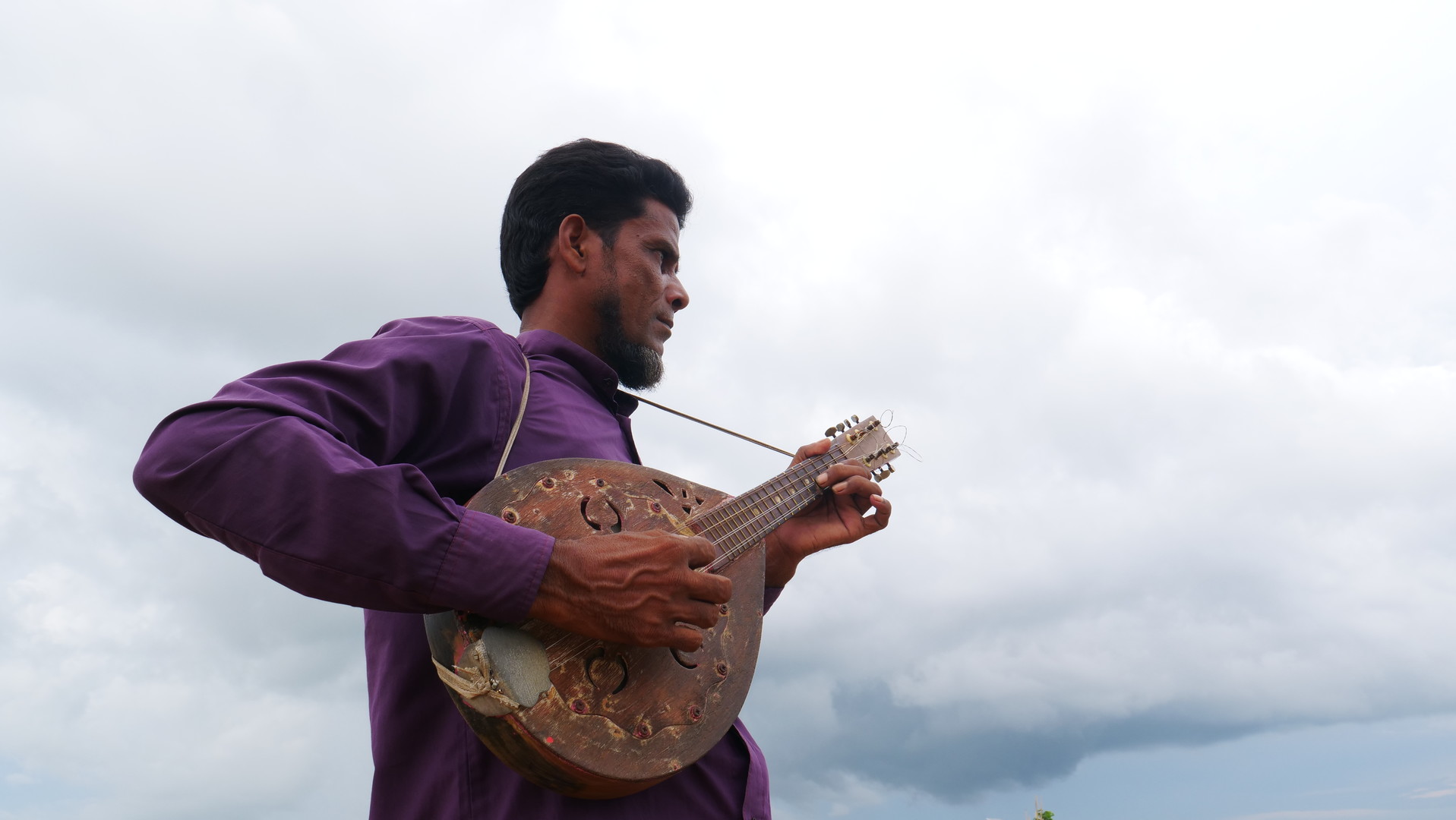 Persecuted at their motherland, Rohingyas of Arakan began an unprecedented exodus towards the Bangladeshi border in August 2017. While many first world countries have in recent history turned down refugees left, right and centre, Bangladesh took over half a million of them in, building the world's largest refugee camp in Cox's Bazar. Rafiqul Anowar Russell's A Mandolin in Exile (2020) takes us at the heart of this distraught camp, giving us a sanitized, VIP tour during the prescribed visiting hours.
The film is rough at the edges, much like its protagonist, Mohammad Hossain. He doesn't cry on cue for the camera like many of his neighbours who have been subjected to interviews so many times, they know exactly what people want to hear from them. His body language, on the contrary, exudes confidence, resilience and contentment. He refuses to play the distressed victim, his tough façade cracking at times when he sings betraying his resolve.
A Mandolin in Exile opens with newsreels showing the Myanmar authorities denying the atrocities and Bangladesh accepting refugees with open arms. We are introduced to Hossain through his songs where the hills of Arakan make frequent appearances, so does Prime Minister Sheikh Hasina, whom he thanks for giving Rohingyas a home. He also sings about social vices, like the detrimental effects of child marriage, even though his wife married him at the tender age of 12. We soon realize that the lyrics of his songs are aimed at securing gigs at NGOs and government complexes.
In the course of following this musical man, many aspects of the camp life are explored, however briefly. There's a scene where relief arrives in the middle of a song. On a walk back to camp, we meet local impoverished Bengalis who work, while the refugees continue to collect ration even years after relocation. Contrary to popular belief, not all Rohingyas who fled were Muslim, which is abundantly clear here through the Durga puja (Hindu religious festival) scene of people dancing at night and the Bishorjon (sacrificing the idol to mark the end of puja) scene in the Bay of Bengal. Religion is such a dominant part of their lives that even amidst the scarcity, there's a Madrassa (Islamic school) in the camp. The Hujurs (Muslim pastors) hold a position of power within their society and they strongly oppose Hossain's melodic ventures, a conflict quickly resolved by his witty diplomacy.
People at the camp watch Aung San Suu Kyi, State Counsellor of Myanmar, as she continues to brush off his responsibility of bringing back these refugees on TV at a tea stall. Many of them hold up their sandals, a show of aggression that looks but staged, as though the director was trying to make up for the lack of a story/character arc.
Throughout the film, the timeworn mandolin, an instrument Hossain has been playing for the last 27 years, accompanies him in his leisurely strolls to tea stalls, open fields and gatherings, where he performs his self-composed songs. He even has an Ustad (musical guru), whom he mentions in passing, but we don't meet during the course of the documentary. The soiree heats up after dark, lasting until sunrise, a window during which non-residents of the camp are strictly prohibited from entering. We could not experience their perilous nightlife, traversed with fables of human trafficking, prostitution and substance abuse. These are aspects the local authorities would not permit to shoot, a definitive drawback of receiving funding from a government institute and needing favours from international NGOs in charge of operations there.
This was one of the many unfortunate constraints plaguing this 57minute film. We don't see much of Hossain's family. Of his two daughters, one lived in the camp and the other lived in a nearby beach (yes, such prime real estates have been converted into refugee camps); yet we never see them, nor hear their story. Hossain, who married at the age of 15, also has six sons we never get introduced to. Audiences would, however, get to meet his family along with the biting cold at the tents during winter, had the film been completed as planned. Unfortunately, the shooting of this merely 4,000 Euro budget film had to be discontinued without forewarning, when the director was diagnosed with cancer.
Lacking the definitive shine of the official selections of big festivals, the film has the aesthetic of recce footage being strewn together by Windows Movie Maker. The sound at times was blatantly overlooked, for instance when the intro of the popular Bangla song, Punjabi Wala, plays for 3 seconds, vanishing as mysteriously as it appeared, we are left wondering how and why it persisted in the background. Another aspect the director needs to look into before this film can travel elsewhere is the unfinished subtitling. Luckily, these are fairly easy to rectify and can still be incorporated.
Why are we then discussing this flawed film? The issue this film sheds light on concerns one of the most pressing humanitarian crises in the world. One can't help but wonder why more films on the Rohingya refugee situation aren't getting commissioned; maybe the global superpowers gain nothing from resolving their statelessness. The only documentaries we have on this issue feel like mouthpieces for NGOs to get more donations in order to continue their operations. There were a few horrendous fiction films as well, which were catered to neither local, nor international audiences. Conversely, if we wait for enough funding to be acquired in order to make world class productions, we will let these captivating, true stories at our backyards slip through our fingers. Accepting that we have extremely limited resources at our disposal, we might as well boldly embark on such endeavours, arresting the fleeting moments within our regrettable limitations.
Sadia Khalid  
© FIPRESCI 2021
Edited by Savina Petkova