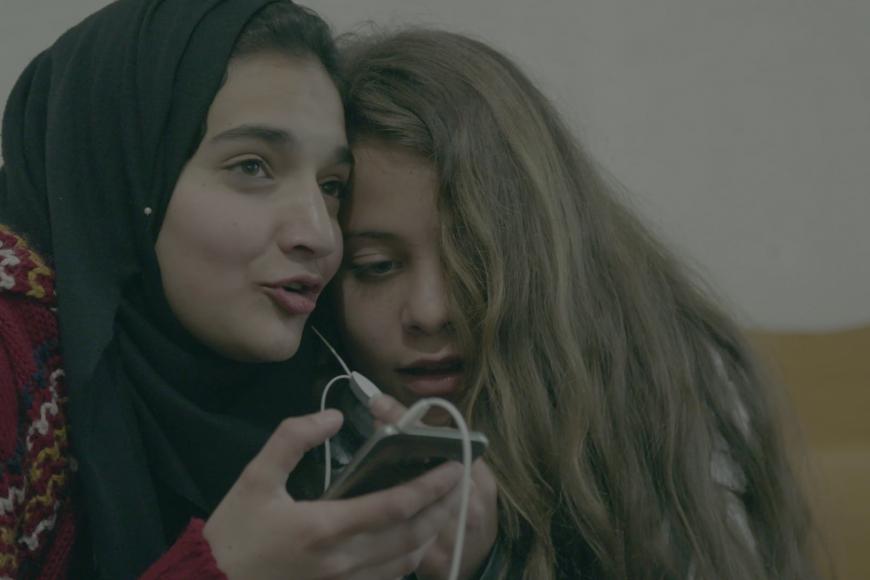 Against the backdrop of increasing "Knife Intifada"— attacks initiated by young Palestinians armed with knives — and the subsequent arrests with little judiciary support, sometimes leading to deaths, Children documents life under the Palestine-Israeli conflict as experienced by three children of different ages and personalities. The 12-year-old Dima Al-Wawi has been freshly released from prison after being arrested for holding a knife. She befriends the 11-year-old Janna Jihad Ayyad, who self-consciously establishes herself as a social media influencer with 330,000 followers on the social platform, Agora. On Agora, Janna posts incidents from her daily life, marked by regular clashes with Israeli soldiers. Then, there is the wide-eyed six-year-old Dareen, who struggles to grasp complex political concepts such as "nationalism" and "freedom," taught at school and constantly discussed at home.
A part of their childhood is similar to what children outside Palestine would experience: opening a textbook in a classroom with classmates; climbing high in order to see far; imagining what the future would look like; and giggling with friends. Yet, the chapter on homeland in their textbook is comprised of entirely blank pages; when they climb high, all they get is a view of the wall and patrolling Israeli soldiers. The director, Ada Ushpiz, seems to have an incredibly close relationship with these girls' families. Through her immersive camerawork, she gives us access to some very intimate moments inside the family. We see a childhood in constant fear: children walk back home under the gaze of armed Israeli soldiers; sometimes there are conflicts between neighbors and soldiers, which might lead to teargas and rubber bullets; the girls' family homes might be searched in the middle of the night, and their brothers might be taken away by soldiers or suddenly become martyrs.
Their childhood is constantly being seen through cameras: CCTV, journalists' lenses, Janna's mobile phone, and Ushpiz's camera behind them. In Dareen's house, checking footage recording the street in front of their door is a regular after-dinner family activity. Janna, a natural-born influencer, skillfully conducts interviews or takes selfie videos in conflict areas. Far less confident in front of the camera, Dima is initially terrified and taciturn when encountering a flurry of flashlights and asks adult questions such as "what is your message for the world regarding the arrest of children?" She then goes through an emotional journey vis-à-vis media attention, moving from resentment to an embrace of the camera lens. She swerves between telling a story that adults want to hear and telling her version of the story. Her relationship to journalistic questions about her arrest is entangled with her desire to be loved by the family. Ultimately, her change of heart is an endeavour to test her world's boundaries, which are inevitably a part of larger-than-life geopolitical conflicts.
Children is as much about children's perspectives in a conflict zone as the adult world that surrounds them. We see how neighborhood boys' pretend play on the street is the exact imitation of attacks and arrests they see daily. We find ourselves confronted with questions: When do children stop being children? What triggers children's violence? When do children speak their minds, and when do they say words put in their mouths by adults?
With a running time of 128 minutes, Children is long, admittedly. Yet its length allows us to dive into the world of these Palestinian children with all its complexities. It is a film which poignantly demonstrates how fear breeds fear, violence breeds violence, and adult behaviour shapes the way children behave and see the world. In a place where things are seen as either black or white and people defined as either from this side or the other side of the wall, Ushpiz's Children is not interested in pointing fingers. Rather, Ushpiz listens to what these children say with honesty and self-awareness far beyond their years; for these children in the West Bank, the sea is far out of reach, but death is close by.
Yun-hua Chen
Edited by Justine Smith
© FIPRESCI 2020