With conspicuous defiance against the current social oppression at home, this was a representation of a creative voice where dissent is otherwise silenced. Ahmet Gürata looks at the how the festival has grown to reflect diversity and what it means for the artists to work in the line of fire.
Documentarist, which was launched by Necati Sönmez and Emel Çelebi together with a bunch of young filmmakers in 2008, is a very much a labor of love. Without any state support or corporate sponsors, the festival is celebrating its 14th anniversary this year. The festival met its audience in hybrid form, almost inevitably due to the continuing pandemic. The online screenings (July 3-9) were followed by physical screenings (July 6-11) at three different venues in Istanbul. Currently, Documentarist is Turkey's only festival dedicated to non-fiction cinema. It started with the aim of being a showcase for contemporary documentary for a younger audience in Turkey. Over the subsequent years it has introduced major works of documentary makers including: Eyal Sivan, Helena Třeštíková, Heddy Honigmann, Stefan Jarl, Alan Berliner, Pirjo Honkasalo and Sean McAllister, along with their master classes.
Thanks to initiatives like Documentarist, non-fiction cinema is reviving in Turkey. In recent years, a number of documentaries from Turkey have competed at international festivals around the world. However, the repressive climate in the country is affecting all spheres of cultural and intellectual life. The massive crackdown on dissent is a major threat for documentary filmmakers. Films are often censored and lawsuits are filed against directors. In order to bring attention to the threats against artistic freedom, together with the Speak-Up platform, Documentarist organized a screening of five documentaries that were banned from screening by authorities in Turkey. These included three films focusing on the Kurdish issue: Çayan Demirel and Ertuğrul Mavioğlu's North (Bakur, 2015), Veysi Altay's New Life (Nû Jîn, 2015), and Selim Yıldız's I Remember (Bîra Mı'têtin, 2015); alongside Hüseyin Karabey's The Silent Death (Sessiz Ölüm, 2001), which deals with solitary confinement; and Reyan Tuvi's portrayal of Occupy Gezi Park, Love Will Change The Earth (Yeryüzü Aşkın Yüzü Oluncaya Dek, 2014). The screenings were followed by a panel discussion with the directors', with the participants drawing attention to increasing self-censorship among festival organizers and exhibitors.
The Documentarist Turkey Panorama section included 39 films by debut or second films of its represented directors. Reflecting the diversity of narrative forms, voices and themes, many of these films indicate what it means for the artists to work in the line of fire. The Documentarist Johan van der Keuken New Talent Award for the best film in the Turkey Panorama section went to Serdar Kökçeoğlu's Mimaroğlu: The Robinson of Manhattan Island, a film about the legendary pioneer of electronic music İlhan Mimaroğlu.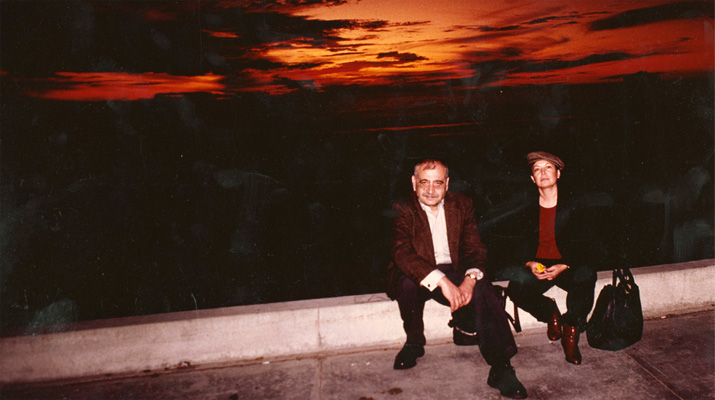 This film was also in competition at Visions du Réel in 2020. Another timely section was Extinction Rebellion (XR) which included films focusing on anthropogenic and ecological disasters. Aside from these sections, Documentarist also included the International Panorama and Fipresci Award programs, as well as special screenings.  
This year's Fipresci Award had eight strong nominees from international festivals. Our winner was Arami Ullón's enthralling film Nothing But the Sun (Apenas el sol). Focusing on Paraguay's Chaco region, the film gives a powerful portrait of colonialism and disappearing culture. The film's protagonist Mateo Sobode Chiqueno's tenacious efforts for collecting lost stories and songs resonates with the viewers in a compelling fashion. Another film that stood out and gave voice to similar untold stories was Sandra Beerends' They Call Me Babu. Composed entirely of unique archive footage, the film tells the story of a babu (nanny) in the former Dutch colony of Indonesia. Against the backdrop of the country's struggle for independence, They Call Me Babu brings the issue of the empowerment of women to the forefront.
Documentarist's guest of honor was Lebanese filmmaker Eliane Raheb who won the Teddy Award at the Berlinale with Miguel's War (2021) this year. Along with this film, Raheb's documentaries Sleepless Nights (2012) and Those Who Remain (2016) were also screened at the Festival. Elaine Raheb gave a master class at Documentarist in which she focused on creative documentary techniques. Particularly interesting were the strategies Raheb used in Miguel's War in order to explore her subject's life and trauma.
Despite economic problems and country-wide oppression, Documentarist is determined to continue its journey. As festival director Necati Sönmez said, "the atmosphere of fear paves the way for self-censorship". In recent years, they have lost a few sponsors who wanted to interfere with their program. These hardships forced the festival to find alternative ways in order to survive. According to Sönmez, "against all odds and of course by taking certain risks, it is still possible to organize events that are daring and free". With its young and independent spirit, Documentarist is a crucial platform in reclaiming a creative voice when dissent is being silenced.
Ahmet Gürata
Edited by Steven Yates
© FIPRESCI 2021