A swooshing soundscape is borne out of scorching flames, motor engines, and industrial machinery. Dogs barking and a nearby siren collide in the background as smoke and fire constitute the visual layer of an oppressive ambiance. Intertitles soon announce the setting as Sol Nascente, Ceilanda, a neighbourhood in the outskirts of Brazil's capital city of Brasilia, where dirt roads and hard labour suffuse the picture of daily life. This is the world of Joana Pimenta and Adirley Queirós' Dry Ground Burning (Mato Seco em Chamas), but as has been the case with both filmmakers' oeuvres thus far, depictions go beyond the merely representational.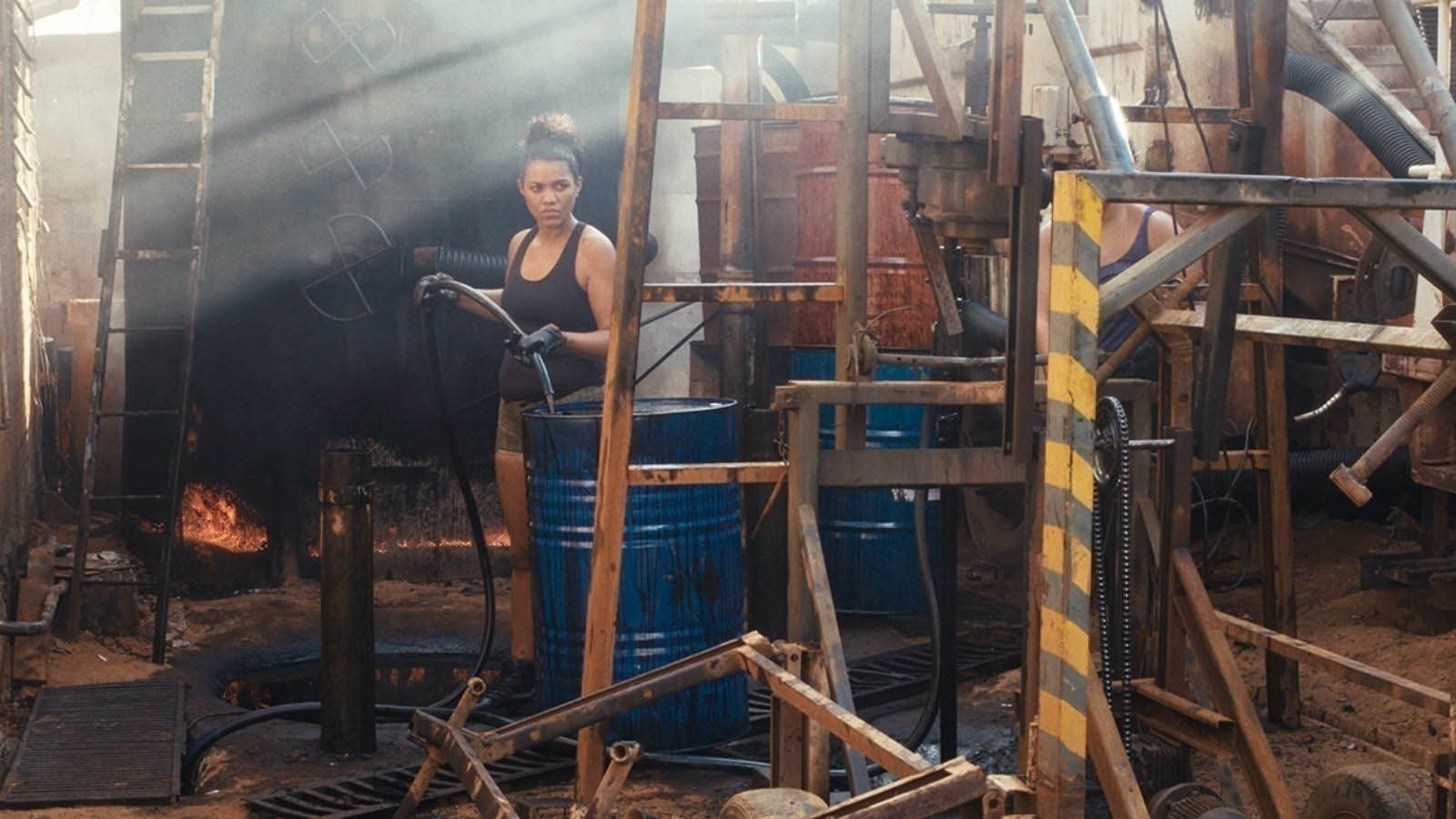 Pimenta's ethnographical and experimental sensibility was already on display in her work as cinematographer in Queirós' breakthrough film, Era uma Vez Brasília. However, in Dry Ground Burning the shared directorial credit presents a new dimension to Queirós' characteristic lo-fi intersections of urban marginalization and science fiction. Just a couple seconds into the film, and as tends to be the case in Queirós' previous works, a technological anachronism recontextualizes a seemingly naturalistic milieu.
The retro futuristic gear is nonchalantly showcased on screen, fully detached from the fetishistic "sense of wonder" prevalent in most North American approximations. Instead, these oddities are depicted in a most deglamorize manner, as circumstantial extensions of capitalist debauchery. Dry Ground Burning's cyberpunk leanings go beyond mere aestheticization. Keenly understanding the countercultural foundations of the genre, Queirós and Pimenta use its iconography to complement what is essentially a fabulist approach to peripheral narratives of self-determination.
As soon as a female biker taps an undetermined digital device and throws her cigarette away, the deserted, late-night highway guides her to a clandestine drilling operation. There, a gang of women hijack the pipelines to redistribute gasoline within their community, creating an alternative economy built from within the margins society has pushed them to. Occasional appearances of heavily fortified vehicles and loudspeakers with military chants from right-wing political parties emphasize how even in these historically neglected zones there lies a sense of occupied territory. Joana Darc and her posse of petrol pirates try to break free from the imposing reign of traditional structures, not only with their (literally) incendiary actions, but by the fact of their everyday existence.
Bikes go in circles around a fireplace, proselytizing tours are made to the sounds of bombastic funk brasileiro, and deals are sealed by a handshake in a stable somewhere off the beaten path. The rituals at the heart of Dry Ground Burning exist as hyperreal portrayals of the central group of women 's struggle. The lines between fiction and non-fiction dissolve to give way to a fully realized folk tale, one where songs are dedicated to the central heroines, and their radicality simply exudes from their very presence, be it during an unhinged dance-off, the arduous labour of operating heavy machinery, or tender moments of sisterhood within a community built from shared hopes and dreams.
Dry Ground Burning is a nuanced and textured exploration of corporality as a way of resistance, of the intrinsic relationship between labour and leisure, and how easily they carry power when exiting beyond the expectations of the powers that be. More than any kind of ethnographic or socio-political thesis, Queirós and Pimenta's film seeks to genuinely embody its context, to create immersion through sensory characterization of bodies and places, and to offer an empathetic lens on the disposal of its protagonists' subversive imaginations. Dry Ground Burning's form and heart are fully indebted to a popular aesthetic that bypasses any asphyxiating notion of "quality", one that reconfigures itself to the requirements of its political urge.
Alonso Aguilar
Edited by José Teodoro
© FIPRESCI 2023