The Solace of Groceries
The need for simplicity within today's world is what Alexander Zwart argues Documentary Film festivals should look to achieve, to give a one-to-one reflection of today's news and beyond, so for us to not walk away completely saturated by misery.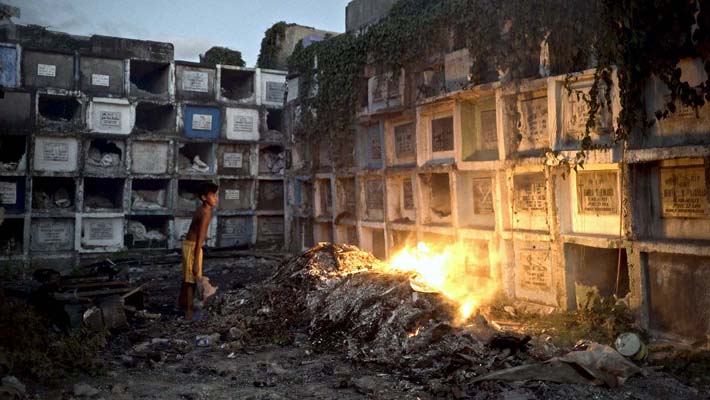 The subjects of three of the titles of IDFA's 2019 First Appearance Competition: The politics behind the smog problem in the Chinese city of Langfang (in Smog Town), the street life consequences of Philippine's President Duterte's mission to kill all drug addicts (Aswang) and migrants on a rocky landscape in Melilla, waiting for their time to make the big cross over to Europe (Barzakh). These are subjects that all need to be addressed. But how numbing would it get if a documentary festival would serve as a one-to-one reflection of today's news and beyond? It also has the task to make us still able to grasp it, to not walk away completely saturated by misery at the end of the day.
It may sound like a cliché but in a world full of darkness, of accumulating disasters, political scandals, violence, the consequences of how we treat our forests, pollute our seas, treat our humans, it's good to have some light. This can vary from finding some comfort in, or to give guidance and a clear overview of, the current state of life. Not just as a life motto but something that should also reflect in the subjects and tone of documentaries. Not in every single one of them, but in the balance, a good documentary film festival should be able to find as a quota for a public to survive and not completely shut themselves down.
Why should we worry that humans may get a burnout when they deal with chronic stress, while most of us think true cinema should suffer from the weight of the world, the conditions for a definite burnout, in order to get recognized? It's not the subject that needs to be brilliant, of course it helps if it is, but there is so much more to look at and take into consideration.
Between all the disasters, collapsing systems and murders, the Best of Fest section and the First Appearance Competition of IDFA welcomed some stand outs to give us some relief. Documentaries that do not deny today's human condition, but know how to relay it on a smaller scale, help bring it back to a format we can comprehend.
At 46 minutes, the mid-length Fabulous (2019) brought us Lasseindra Ninja, an icon for the LGBTQI+ community who dances away the night in cities like New York and Paris. In Audrey Jean-Baptiste's documentary, Lasseindra returns to her home country of French Guinea to give vogue lessons in a gym in the capital, Cayenne. Her mission: showing her mostly gay and male students how to use the femininity that is usually used against them. In Fabulous vogue is a speed course in how to cross the borders between masculinity and femininity. These are lessons in how to transcend gender, gently slapping all the heteronormative gestures these gay youngsters are taught (or are teaching themselves) in order to survive in a society that can hardly accept them the way they are. These youngsters speak with jealousy about the openly gay parties around the world, while they are restricted to secret announcements of a party at 'so and so's', via Whatsapp.
In this little gem of a documentary the more often used vogue-subject feels fresh again through its simple approach and French-Guinea setting. Lasseindra's dance lessons turn out to be preparations to be oneself, in the fiercest way possible; owning the space and owning your own skin.
Within the First Appearance Competition peace, quiet, regularity and colorful packaging can be found on the supermarket shelves of My Darling Supermarket (2019). In Tali Yankelevich's documentary a supermarket serves as the simplest world almost everyone has in reach. A unity of location with its own set of rules when it comes to drama. And as small as that drama may seem, it's the ultimate micro cosmos of all the big themed documentaries you are trying to escape. It can easily be set apart as that supermarket movie that gives you a breath of fresh air, that can make your mind at ease and makes you feel a bit more at home. But home isn't that uncomplicated in itself…  
In this soft core version of the world, throwing a dough full of raisins on a table top is the biggest statement you can make at the end of your sentence. The hesitant behavior of people that are afraid to buy condoms can easily be mistaken for that of shoplifters by the monitoring detectives, a philosophical baker and his co-worker agree to disagree.
My Darling Supermarket is a rhapsody of apparent simplicity, recognizing the supermarket as a place of comfort, not of consumption. It is rendered a place that allows thoughts to be shut off, giving space for new ideas. And as we stroll from product to product, casual drama unfolds, portraying the supermarket as the sort of tangible micro cosmos we need. As the shop's detective says, sitting in front of her walls of monitors: "I wish I had a set of this to show me my family, in order to see how everything unfolds when I'm leaving the house," a dangerous wish, perhaps, but also one to share. In order to get the big picture, let's first understand the smaller one.
Alexander Zwart
Edited by Steven Yates
© FIPRESCI 2019