A Chill Moment Between Two Hectic Events
Everybody at the Luxembourg City Film Festival (LuxFilmFest) says Alexis Juncosa is the festival's icon. "Who says that?" asks Juncosa laughing. "Pretty much everyone here," we say univocally at his joint interview with the members of the first FIPRESCI jury, installed at the 13th edition of LuxFilmFest (March 2-12).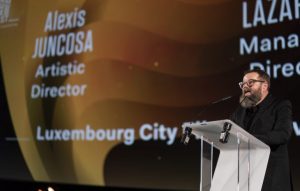 Alexis Juncosa has been the Artistic Director of the Luxembourg City Film Festival since its launch in 2011. Last year he was elected president of the Europa Film Festivals (EFF), a network that aims to promote and develop the culture of European festivals and film.
LuxFilmFest is competitive; however, the main competition is a panorama of the films that have already premiered or gained awards at big festivals. In recent years, it hosted retrospectives of some of the most significant contemporary filmmakers, like Mike Leigh or Volker Schlöndorff. This year, it was the turn of Asghar Farhadi, who also chaired the International jury.
"We are a panorama film festival. Here we have 117 nationalities, so we want to have a panorama because we want to link the festival to what is the city that hosts it. World premiere has to be attached to a festival with a good market where the film can have opportunities to get international distribution and sales, and we don't have that. So please, don't come to Luxfilmfest for a world premiere; go to Berlin or Cannes, where a film can be exposed. What we want is not the best interest to us but the best interest of the film", says Juncosa.
The festival has a volunteer selection committee, and Juncosa says he wants to be challenged on his choice because "thank god I am not the one to blame for the selection; it is a group work. If it were me, we'd be in trouble," he says, laughing. He adds that the biggest challenge of the festival now is to have the audience back in the room. After three years of Covid-19, there is a noticeable lack of the young generation. Also, a challenge is to find a way to accommodate people from other countries.
Luxfilmfest was one of the first events affected by the start of the Covid pandemic – the edition in March 2020 had to be canceled halfway because there was a significant risk the festival would become a super-spreader of the virus. It went online for the subsequent two editions.
"We put that energy into going online after two weeks in March 2020. And then, in the EFF, we shared this idea, which was lifesaving in festivals worldwide. Luxembourg is a festival where more people come to discuss ideas among themselves, not to compete. To think of what can be good for the future of festivals, think about what we can do together and cooperate. I think this is something we can do as a concept", says Juncosa. He mentions that Luxfilmfest comes after crazy Berlin, so they can think it over and prepare for Cannes. The Luxfilmfest is "a chill moment in between two hectic events."
Luxembourg is growing as a European co-production hub, and each year the number of internationally awarded films co-produced here is growing. The festival is now considering having a proper national competition selection. Still, it needs to focus more on artistic, not only on the co-production level, and to find a balance between the two.
Although tiny, Luxembourg is one of the wealthiest countries in the world. The Luxembourgian language was codified as an official language of the country in 1986, and the first university opened in 2003, so I asked Juncosa if, within the cultural establishment, the film festival is perceived as a part of national identity. "It is for so many people, but not for some politicians. We hope the recognition will grow at a local level as it grows internationally. The industry knows who we are. To convince the politicians that we are doing a good job, so they can find ways to finance us, not in an exaggerated way, but in a way that gives us a chance to operate at the level that we are right now, as the budget is not evolving so far", he says.
He also says that one of the main concerns of EFF is how to improve the relations between festivals and the press, a topic that will be discussed at upcoming festival meetings in Cannes. Luxfilmfest considers its 13th edition a turning point and a chance to explore many new ideas. The first-ever FIPRESCI jury at the festival enjoyed the hospitality as much as the film selection, thanks to the enthusiastic care of Christophe Ommeganck, a retired banker who has volunteered as a jury host for eight years. Passioned about his city, he gave us a privileged insider look into some of the most spectacular cityscapes.
A highlight of his tours was a visit to the new high-tech Belval University Library, a complex built within and around the old still mill, a fascinating architectural total design that perfectly connects past and future. Christophe Ommeganck was pleased when we all agreed that a visit to Belval Library is a must and should be part of the festival program.
Marina Kostova
Edited by Anne-Christine Loranger
© FIPRESCI 2023