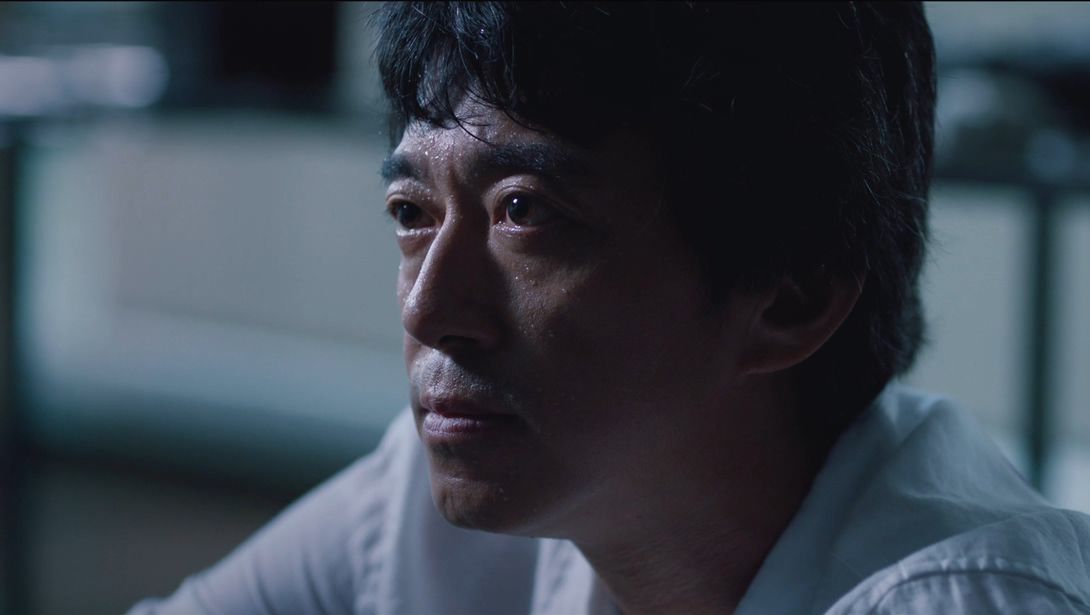 The winner of Silver Georgy, feature film In search of echo (Hǎiyáng dòngwù, 2019) is a spellbinding debut by Chinese director Zhang Chi. The film is an outcome of ten years long struggle of an artist, who has always found it difficult expressing his inner feelings. "Neither my friends, nor parents could understand what I wanted to make a film about" – confessed Zhang Chi, giving his speech on the stage of 41st Moscow International Film Festival. And his trembling voice and obvious difficulty of finding the right words testified to the fact that making a film for him was not a mere creative ambition but a huge personal effort, which appeared to be undoubtedly successful.
In In search of echo we follow the journey of Mr. Zhu who has reached a point in his career where he is left with only a few acting offers on the table. He hops on a ferry in search of his wife, on the island where they first met. But while she is nowhere to be found, the main character meets island dwellers who lure him into premises, conversations and their obscure, secluded lives of suffering and loneliness mixed with distant echoes of long ago abandoned dreams. Maybe, if Mr. Zhu solves mysterious riddles of each whom he meets, his own hopeless journey will finally come to its end.
From the very first shot we find ourselves in a thoroughly constructed world with a visual style definite yet full of surprises. Meticulously chosen details and dreamy marine images together with abstract dialogues that are never pretentious create a mood of longing, anxiety and voluntary solitude. "Don't go to the sea" – endlessly repeating the warning shout at the beginning of the movie can also become one for viewers, as watching this sincere story may be as dangerously hurtful as going to the sea in the middle of the storm.
The seemingly vague scenes are flooded with gleaming light due to one of the main metaphors of the film: "When a jellyfish dies, it glows." In the same way, various characters of In search of echo, from a wasted drunkard to a young beautiful dance teacher, gift Mr. Zhu with the last splashes of inner light to perish soon afterwards. The mainly hypnotic flow of the story sometimes gets broken with ironic facts about marine life, like "Octopuses are more intelligent than humans, they can conceptualize and solve their own problems." And indeed, not one of the film characters is able to handle his or her problems and fears.
The director's predicament of expressing his feelings with more common means contributed a lot to the integrity of the movie. As a final outcome, we have not a mere detective story but a holistic and original world consisting of places, characters, outfits, sounds, music, light and elements. And though Mr. Zhu never finds his wife (and inner peace), there is a hope that the director bestows upon us. The old couple quarreling throughout the story while standing calmly on the shore, and the dead whale's body becomes a sustainable environment for other sea creatures.
In search of echo is a perfect meditation practice for those looking for a calm place to think of bothering questions. But it requires internal readiness to surrender to the director's dreams and fantasies, so the flux can absorb you and bring through deadly rapids to the final solace. Made with money earned by commercials, Zhang Chi's debut turned out to be a deep, though sometimes frighteningly cold insight into the artist's personal searching. Interesting enough, it can't be called intimate, moreover, it is intentionally detached. Masterful usage of visual effects serves as a guard of an immensely vulnerable and otherwise defenseless inner world. But if you feel lost, yet ready to undertake your own journey to your true self, this film can be a great starting point for the spiritual quest of life.
Elena Rubashevska
Edited by Savina Petkova
© FIPRESCI 2019