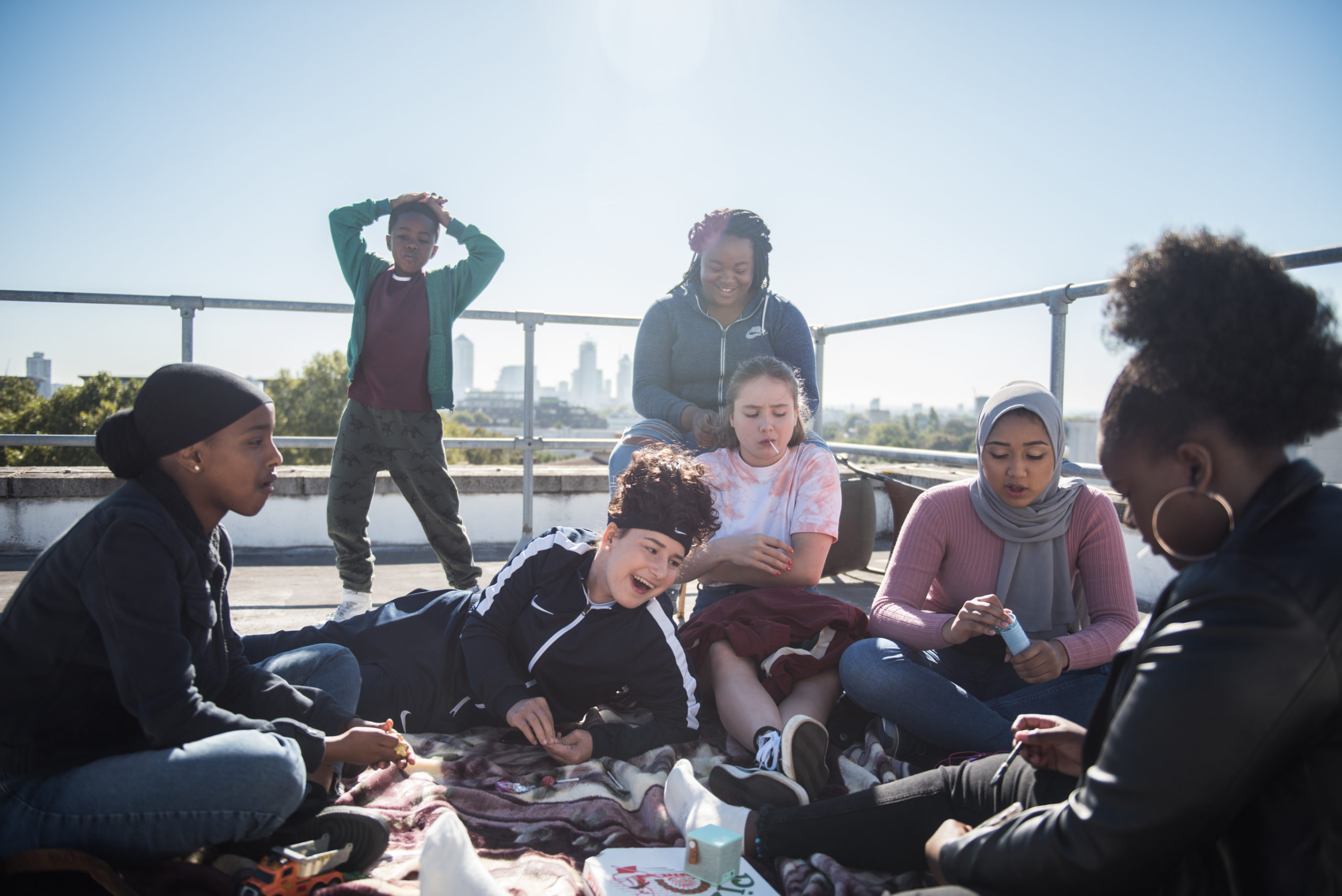 Movie titles can be misleading sometimes. The title of this film can signify a pile of rocks, a figure of speech, or a self-assessment of the movie itself. In this case, it is the nickname of the main character Rocks (Bukky Bakray). The title could also represent the uncertainty of Rocks' domestic life.
Rocks is all smiles, full of life, and a caring sister to her younger brother Emmanuel (D'angelou Osei Kissiedu) but the fragility of life hits her hard when her mother explains to her, over the phone, that she just can't handle being a mom right now. The absent mother leaves a couple of pounds as if to show that she does care about the kids and never responds to Rocks, her unanswered calls stretched out for days.
Rocks does show awkwardness in dealing with adult issues but the way she observes, and escapes, the social worker in front of her apartment is entrenched in deep seated fear of a future in which she is separated from her brother. In a constantly shrinking world of her loved ones that would be too much to handle.
This is the turning point of the movie in more ways than one. Even though Rocks is faced with an uncertain future and left to her own devices, the story doesn't hang on misery tropes and instead offers touches of optimism and empowerment.
This comes through her friendships. Her girlfriends – especially her best friend Sumaya (Kosar Ali) – offer her a stronghold by way of giving her temporary shelter, offering help and sensing and reacting to her, even though she tries to withhold as much information as she can.
Her actions are sometimes erratic because her situation is stressful. The severity of life that changed in an instant, shows there is no way she can sustain living on her own, with a kid brother in tow. Still, Rocks has hope and she doesn't cave under mounting pressure.
Without proper means to set up something permanent, she manages to arrange a sleepover at her best friend's house. The house is filled with relatives, because of an impending wedding. The mere presence of Sumaya's parents is a stark reminder that certain households have stability and safety.
There is a change at school too. When a new student, Roshé (Shaneigha-Monik Greyson), comes to Rocks' class, Rocks and her become fast friends and due to some misguided panic, she makes a bad decision. The uncertainty of everyday life and the suspense of not knowing where she will sleep each night dissolves the drive and piles one more mistakes.
However, her friends are there. Always there. They unite, they act, and they see the new reality for what it is. In this compelling film big changes rush over the main character with ferocity. Without oversimplification or dwelling in the misery, the plot stays in the present. The pressure is always there, but the ease of friendship and unity gives way to optimism that would otherwise be nonexistent. Even though the main cast is comprised of debutants, the acting is excellent.  Bukky Bakray handles so many emotions without saying a word and the interactions and confrontations look natural and properly guided. The ending is neither perfect nor calculated, but it still feels right. Rocks didn't get the result she wanted but she is surrounded by her friends and she can laugh and enjoy herself. The pressure is gone – and life is a little better.
Robert Tabula
© FIPRESCI 2020
Edited by Karsten Kastelan