The winner of the critic's prize at Motovun Filmfestival 2022 is a devastating, yet darkly comedic study of human ignorance and how it can give rise to unspeakable cruelty. The jury applauds the film's inspired visual style as well as its both insightful and entertaining approach to pressing contemporary issues like misinformation and the spread of harmful conspiracy theories.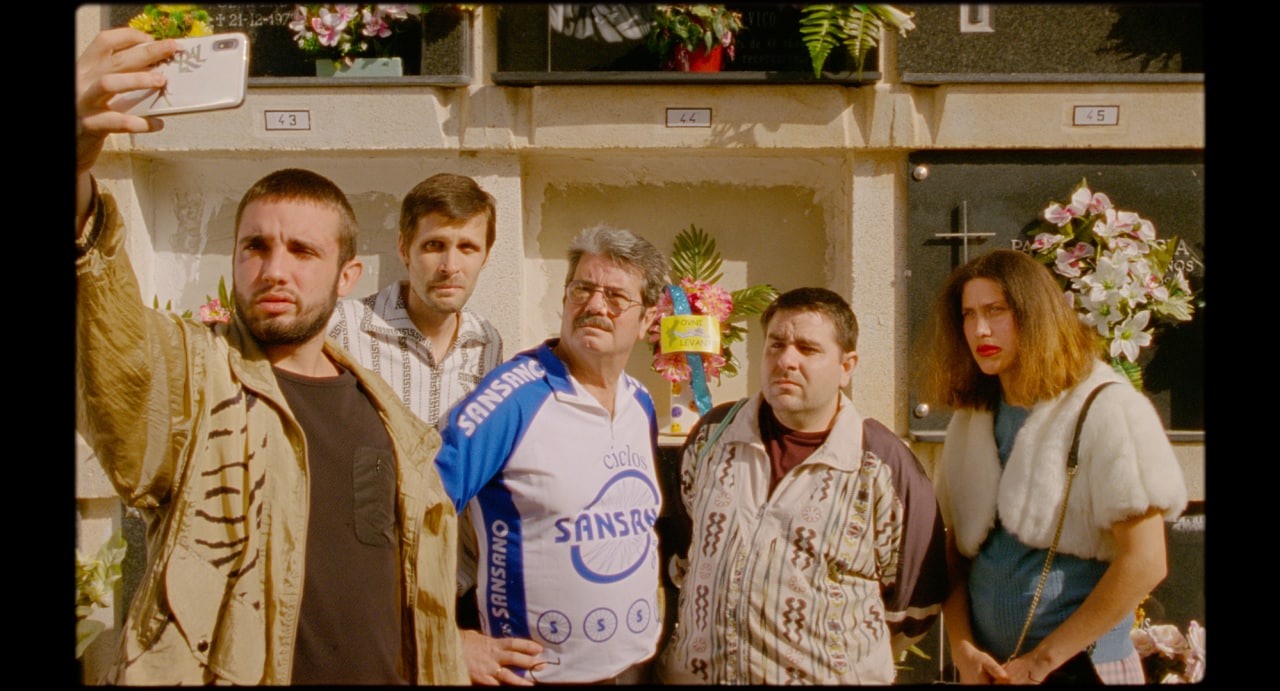 The Sacred Spirit, director Chema García Ibarra's first feature film, follows a group of eccentric UFO-believers in a small Spanish town. When the group's leader dies unexpectedly of heart failure, it is on group member José Manuel (Nacho Fernández), the proprietor of a small café, to take up the torch and organise the regular meetings. The film depicts these early developments with a dry, whimsical humour not unlike the style of Aki Kaurismäki or Wes Anderson. It gently pokes fun at these apparently harmless eccentrics, who enjoy reading out accounts of alien abductions and plan outdoor group socials. Yet, from the very beginning, there is also a vague sense of dread underlying these droll proceedings: we learn of the recent disappearance of a young girl, José Manuel's niece, and hear the town folk discuss dark rumours about the potential perpetrators. The seemingly endless stream of dubious esoteric New Age TV programs that are glimpsed on characters' television sets underline the impression that not everything is as it seems.  
Working with DP Ion de Sosa and using both 16mm and 35mm stock, the director creates a visually stunning cosmos that closely resembles the style of US-cartoonist Daniel Clowes (Ghost World, Wilson, etc.). Like Clowes, Ibarra manages to imbue the mundane surroundings of his characters with a heightened, other-worldly aesthetic and expertly develops his protagonist José Manuel through witty dialogue and elegant pacing. In fact, one could imagine The Sacred Spirit itself as an award-winning graphic novel or comic book, so effective is the film's world-building. This is further supported by an impressive cast of non-professional actors who play their characters with often hilarious stoicism.
As the narrative progresses, however, the film gives its audience subtle, yet unsettling cues that something much darker than first expected is at play behind the veil of everyday banality. We follow José Manuel to the meeting of a bizarre, theosophy-inspired sect and learn of his strange obsession with ancient Egyptian mysticism. His mother, who now needs constant care due to her advanced dementia, used to be seen as a powerful psychic medium by the town's community. Slowly, but relentlessly, Ibarra unveils what lies beneath and forcefully communicates his film's central interest in the human propensity for violence and the ability to hide it behind fanciful illusions – both deliberately as well as by ignorance and stupidity.
While the film seems to take place in its own parallel universe, as suggested by the brilliantly strange mise-en-scène and dead-pan acting style, it touches on genuine, real-world concerns. Its characters' dangerous delusions remind us, for example, of the pervasiveness and deliberate dissemination of conspiracy theories during the Covid-19 pandemic that have caused harm worldwide. By gradually removing the humorous tone of the film's first half and delivering a veritable gut-punch in its final minutes, the director suggests that while such crude theories may seem laughable to most people, their corrosive impact is deadly serious. At the same time, however, it is worth noting that the film never paints its characters as monstrous or inhuman. In fact, the opposite is true: The Sacred Spirit identifies self-deception as an inherently human trait and excels in highlighting both the funny and the horrific side of this capacity.   
Tim Lindemann
© FIPRESCI 2022