Simply Disturbing – and Entertaining
Mareille Klein exposes prejudice and discrimination in the heart of Europe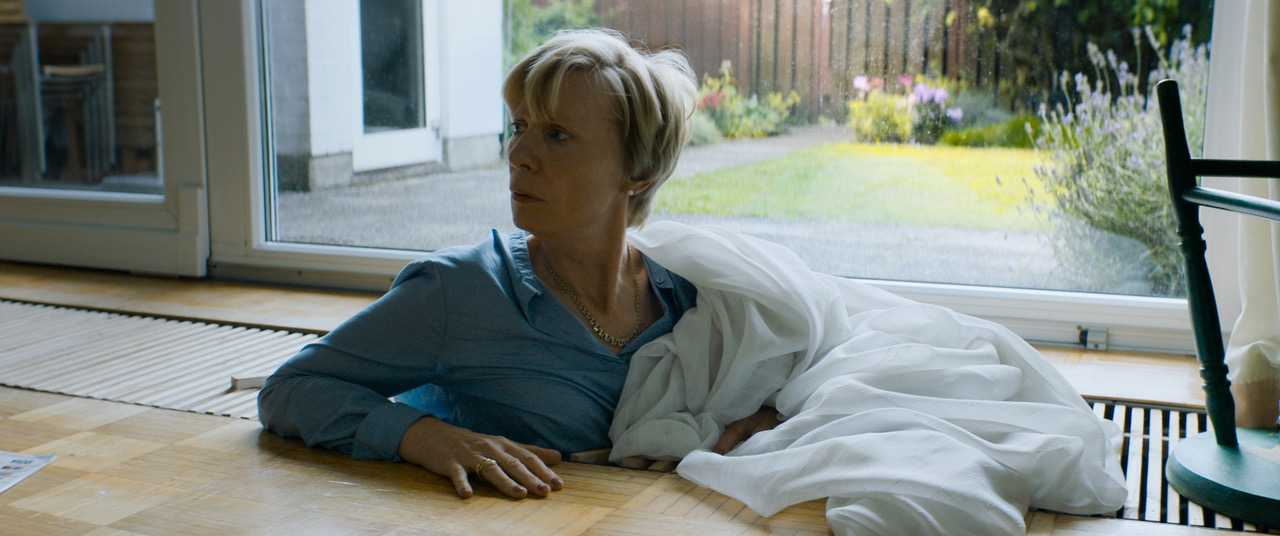 The hardest thing in filmmaking (and one might argue, art in general) is to embrace simplicity – as in achieving what you set out to do, by using the most appropriate tools and angles and without losing sight of the depth and additional layers in the story.
Every so often, favorite scenes and ideas from the drawing board remain in place throughout the script process and end up in the finished film, even though the film itself would have turned out to be a much more solid product without them. But this is easier said than done, and this overloading symptom could happen to the best of us.
In Monday um zehn (2021), director and scriptwriter Mareille Klein is in total command of her filmmaking abilities in her tightly knit second feature film. At her disposal, she has a line-up of seasoned actors who know how to phrase and pace seemingly innocent, everyday conversations – while hinting at values hiding beneath the refined bourgeois manners and formalities: unspoken prejudice, fear of the unknown, and sentiments of unfulfillment.
With a warm and subtle humoristic touch, Klein lets us follow Helga (played by well-established Munich theatre actress Ulrike Willenbacher), a 62-year-old single woman whose husband left her for another woman a couple of years before. Her grown-up daughter is leading a busy life and doesn't come to visit her mother too often in her well-kept suburban childhood home. Helga plays cards with her upper-middle-class female friends and keeps attending the same local classical concert series that she and her ex-husband used to enjoy. Nowadays, she struggles to find someone willing to take her to the concerts. Other than this, Helga's life in her contemporary Southern Germany is blatantly hollow and lonely.
In Germany, like in other Western European countries, the influx of people from different parts of the world is an ongoing process. Aside from refugees fleeing war and disaster, a good amount of those who travel between the member states in the European Union are people who are looking for job opportunities. Skilled handyman Ryszard (portrayed by veteran star Zbigniew Zamachowski, the globally recognized face from Krzysztof Kieslowski's Three Colors: Blue (Trois couleurs: Bleu, 1994) comes from Poland,  Germany's neighbor. Ryszard rings Helga's door one Monday at ten o'clock to replace Helga's usual cleaner. Enters: mental rejuvenation and a new order of things.
Mareille Klein's straightforward story has a distinctly familiar outline and could easily have taken a sentimental turn towards a sugary tale about newfound love and unexpected excitement between mature individuals. But as is often the case when words translate into moving pictures, in the end, the execution outweighs the script – and Klein's simplistically clever cinematic endeavor pays off on several levels.
Perhaps her deceptively light touch when handling a grave and urgent matter is Klein's most outstanding feat with Monday um zehn. The film starts with an almost slapstick-esque sequence where Helga accidentally falls through her living room floor, breaks her ankle, gets stuck, and must spend the night halfway down the hole. However, the dark heart of this film confronts class divides, prejudice, discrimination, racism and displays the sanctimoniously welcoming jargon among the privileged towards people who are not of their kind.
A disturbingly sharp example of this is when Helga brings Ryszard as her date to a birthday party in the company of her well-situated lady friends and spouses. When Helga mentioned Ryszard to her friends earlier on, she said that he used to work on a boat. The curiosity and interest they show in Ryszard's previous work in the shipping business come to a surprising halt when they realize that Ryszard wasn't the boat's captain. What else was he, then? Could this man sitting next to us, looking like us, drinking wine like us, actually been cleaning cabins on a passenger boat? Is he one of us, or not? are the implied questions that occupy their boggled minds.
Mareille Klein exposes discriminatory and hypocritical attitudes in modern-day Europe in the disguise of a light-hearted drama-comedy. At the same time, she does this with a forgiving, humanistic and entertaining look upon her characters – and she makes sure to end on a positive note: change is indeed possible, but first, you have to confront yourself.
Anders E Larsson
Edited by Anne-Christine Loranger
© FIPRESCI 2021