The 12th Odessa International Film Festival (12.OIFF, 14-21 August 2021) in its selection also presented a Ukrainian national program of 6 feature films and 8 shorts. Of course, this selection cannot give a full picture of contemporary Ukrainian cinema, which now annually produces about 20 feature films and more than 120 shorts (including student films). Therefore, a thorough analysis of the artistic and production processes based on a festival selection is not possible or at least would not be objective and adequate. 
Thus, in such cases, I choose 'my film' from the selection and try to present its qualities as a creative fact from the director's personal filmography of its author. And when in this case Blindfold (Iz zavyazanymy ochyma, Ukraine, 2020) is de facto a debut for director Taras Dron (1980), the look at the film is a kind of prediction for his creative development. Moreover, Blindfold is the first film, directed solely by Dron. Before that he co-directed with Mykhailo Khoma their joint debut DZIDZIO First Time (2018):  a comedy about an artist with the soul of a child and a childlike perspective on life, which catches him unprepared. Prior to that, Dron directed several shorts that won awards at international festivals (Black Mountain in 2016 and Kamienne chleby in 2017).
After the second extremely dramatic Maidan (2013-2014), the entire Ukrainian culture acquired both a strong conceptual impetus and a sharp thematic relevance, the film industry including. Moreover, at that time Ukraine became a member of the European Fund Eurimages and this circumstance had a positive effect both on the amount of national films produced and for a number of co-productions with European partners.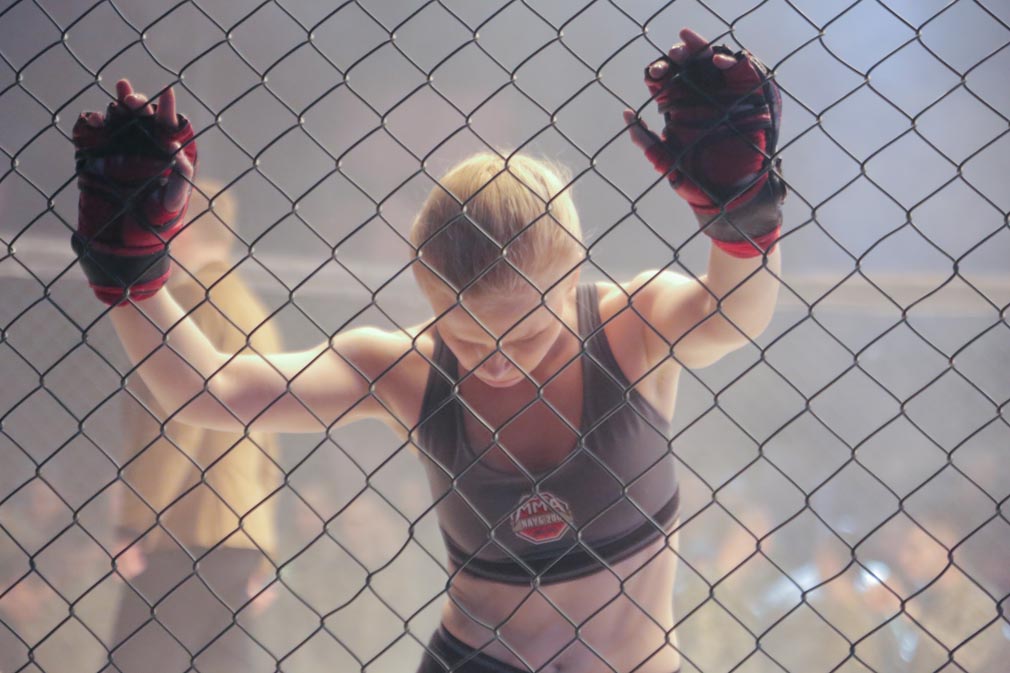 Blindfold is an enthralling dramatic film with a clear and well displayed narrative line. The young heroine of the film, Yulia (Maryna Koshkina) is a successful athlete in the harsh world of MMA fighters. But her fate is broken after her beloved Denys (also in the same profession), disappears without a trace during the war somewhere in eastern Ukraine and there has been no clear sign of his fate for more than two years. This is a hard blow to Yulia, but Denys's mother still harbours hope that her son will return home. This well-built plot structure convincingly affects the audience in the first place with the strong psychological defence of the story. It is achieved both by the precise directing accents and, above all, by the dense acting presence of actress Maryna Koshkina. Her controlled on-screen behaviour maintains the credibility of conflict situations and wins the trust of the audience. And for such stories built on authentic details from reality, this is extremely important for the overall impact of the film, which would otherwise let down the audience's expectations.
An important positive feature of Blindfold is the apparent attitude and the very well-measured solution, preferred by the director not to politicize the story unnecessarily, but to develop it with more psychological persuasion, without forgetting the plot ground as an important social and political premise.
At the same time, Taras Dron's desire to address the message towards a wider audience is obvious, especially to the younger ones. In this sense, the episodes of brutal violence in MMA fights in the octagon are plot-justified, but are also definitely compromised in terms of artistic purity. (Besides, the abbreviation MMA itself, i.e. Mixed Martial Arts is a logical nonsense, as long as the bloody fierce battles are very far from art, understood in its general sense)!
However, the long history of cinema shows that notably in emphatically story-based films such compromises are common and always in the interest of the wider audience. And in this respect, Blindfold definitely achieves the planned director's goal.
Bojidar Manov
Edited by Savina Petkova
© FIPRESCI 2021