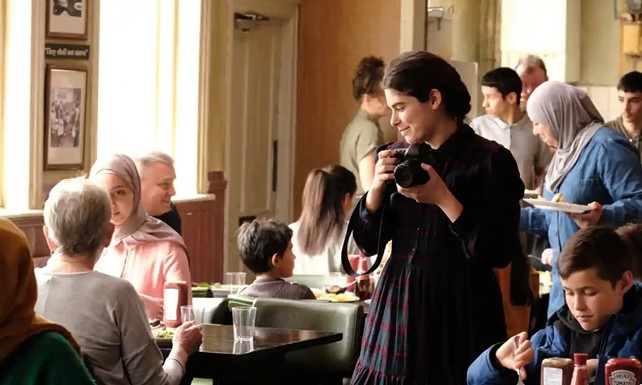 When Film was born, she already had an older sister: Photography. They came from the same technological family tree, but since Photography was about half a century older, she knew more about image, composition and framing then Film did. The only thing Film could do, in order to move on and differentiate herself from her sister, was to start moving. 24 images per second….
From its very beginning, Film has always paid tribute to her older sister, the still image; one cannot even begin to sum up all the references where photography has been mentioned or recognized in film. As they are manyfold, most viewers probably have their particular specific cinephile associations with this idea.
In the Official Selection of the 30th edition of the European Film Festival Palić, the story of Photography and Film continued.  At least three films screened in the FIPRESCI competition featured the art of photography in their stories.
First, there was the North Macedonian Serbian co-production Things Unsaid by Eleonora Veninova. The film revolves around a female photographer and her husband who find themselves besieged by a young girl searching for—or rather demanding—shelter. The entire film is structured around principles of photography; for instance, still images serve as chapter-dividers of the story. Moreover, the photos taken by the lady of the house serve as a driving storytelling principle.
Then, of course, there was FIPRESCI prize winner Afire (Roter Himmel) by the renowned director  Christian Petzold. The main character Leon (Thomas Schubert) is an uninspired, non-writing writer, in doubt about his second novel after his first was a great success. His friend Felix (Langston Uibel) is, by contrast, very active, and energetically completing his water-themed photo project for admission to the Berlin Art School. The latter has taken up the concept of juxtaposing black and white pictures of people who stare at the sea, seen from their backs, with their portraits. These pictures—as always with Petzold—are beautifully intertwined into the scenario with many literary and cultural references that build up to a story of loss and love.
And lastly, there is The Old Oak, Ken Loach's latest and, most probably, last project. His film starts with the arrival of a bus of Syrian refugees to an unnamed English mining town. Amongst the refugees there is a young woman with a photo camera, named Yara (Ebla Mari). Yara is emotionally attached to her camera. Not only is it one of the few possessions that she has been able to take with her on her journey to safety, it was also a present from her father, who is greatly missed; his family fears he might not survive imprisonment in Syria under Assad's authority. When a local resident notices Yara taking photos of the hostile crowd on the street while the bus arrives, he grabs the camera and smashes it to the ground, as she steps down. Loach, however (and as usual), is very nuanced about the context of people's problems, and also portrays the locals, who have—and have had—serious problems of their own.
In contrast with the seemingly rather mistrustful, judgmental, and aggressive xenophobic residents, pub owner and former miner TJ (Dave Turner) sees how deeply Yara is affected by her loss and starts to care about the young refugee photographer and her family. He has her camera fixed, returns it to her, and he and Yara start to become friends. Furthermore, he takes her to the back room—reminiscent of a dark room as it has been shut off from the remainder of the pub after recession came about. This room, a representative of the town's past, consists of many old photographs and portraits from the time the former mining town was booming, and extra space was needed to host dinners, parties, and celebration. These images of the past seem to make Yara think about deeper feelings of loss that happen across cultures, and soon she starts recording her vision of the town and its inhabitants in her photographs. When Yara's family receives the news that her father has died in prison, they seem back at square one.
TJ, Yara and her family, and the town's residents, however, have become closer throughout their ordeals. The back room is re-opened, Syrian women cook for the village and its guests and, in a heartbreaking scene, Yara's photographs are shown in a slide-show on a large screen, while accompanied by music from an oud, an ancient Syrian instrument.
One could conclude that where Veninova may have had a constructivist approach, and Petzold may be primarily intellectual in using photography as a means of communication in his film, Loach is staggeringly emotional. Whoever watches his film, in which two seemingly opposing but equally hurting groups of people meet, one can feel an intense act of human love, caught by the lens of a photo camera and captured and shared with us by film. It seduces one to think that those who do not cry or at least feel a surging tear when experiencing this, may be made of stone. Loss and Love, Photography and Film, such powerful pairs.
Mike Naafs
Edited by Robert Horton
© FIPRESCI 2023