On the evening of the day when the 25th Thessaloniki Documentary Festival was about to begin, an unprecedented tragic event took place that shattered any sense of celebratory atmosphere surrounding the festival. Close to a nearby city, in an area called Tempi, two trains collided resulting in the deaths of at least 57 people. The horrifying occurrence overshadowed the festival, not only because of the scale of the catastrophe, but also because it felt quite personal: One of the trains was on the route from the capital of Athens to Thessaloniki. It was the same line that a large majority of cinephiles, guests and professionals had been taking for years to make their way to the festival. The emotional impact and outrage caused by the collusion lead to the decision that all parties and ceremonies organized by the festival were cancelled; and strikes as well as protests were a daily sighting for the next couple of days at Thessaloniki.
I feel that the introduction above is necessary to allow readers to better apprehend the circumstances under which the festival took place. Because, with an enormous political and psychological disruption happening outside the cinemas, the movies screened indoors gained a heightened sense of urgency and importance. Always carefully curated, the films that screened as part of the competition sections proved to be a means for introspection, with a renewed interested in mostly unseen phenomena and some touching portrayals concerning people next door.
One documentary in particular that magnificently combined these elements was AKOE/AMFI: The Story of a Revolution (*Just to sleep on their chest…) (AKOE/AMFI: I istoria mias epanastasis (*Na koimamai sto stithos tou), 2023) by Iossif Vardakis. It is a heartfelt look back at the history of and the activists behind Greece's LGBTQ+ movement that sprung to life in the late 1970s when a proposed law threatened to worsen the already dire living conditions for trans and queer people in the country. For approximately 13 years (1977-1990) members of the queer community organized themselves politically and simultaneously published the highly influential magazine AMFI that became an important voice to speak out for and promote queer visibility in Greek public life. Even though at first glance Vardakis' work adopts the style of a conventional talking head documentary, on screen the filmmaker proves himself to be a precise and apt narrator, managing to bring to light the most poignant actions of the movement, the existential importance they had to many individuals, while also being effortlessly moving. Each and every one of the protagonists that speaks in front of the camera has a personal experience that could easily be the subject of their own documentary. But it is in Vardakis' favor that he achieves to encapsulate everything in a film that is at the same time politically brave and historically precious.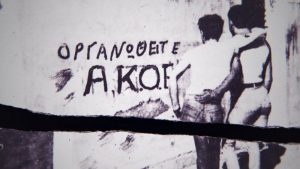 Equally good-spirited, down to earth and intimate is the film that we awarded the FIPRESCI prize for the best Greek documentary. Kristos, The Last Child (2022) by Giulia Amati is a perfect testament for how, over the course of many years, Greek islands have been slowly deserted, as a result of state indifference in ameliorating rural life conditions. The titular protagonist, 10-year-old Kristos, is the last remaining child living on the small island of Arki. The island itself is quite isolated, since it is situated close to the Turkish border and at best 30'-60' degrees close to the bigger island of Patmos by boat. On Arki, Kristos has to face severe loneliness, since he is surrounded by around 40 or so adults, while also having to decide if he is to abandon his family for a chance to higher education and therefore a better life. Amati's approach is evidently humane and careful, choosing to step as close as it is useful to Kristos, while letting silences be filled with sentiments of melancholy. There are scenes that are deeply emotive in how sincerely they seem to grasp the throes that the boy has found himself in, avoiding at all cost to exaggerate either dramatically or sentimentally. He is, after all, only now beginning to understand what it means to interact with people his age. And it is precisely at that point that Amati chooses wisely to end her documentary: She prefers to let the feeling of a promising hope linger in the atmosphere, rather than that of cynical pragmatism. I personally hope it is all for the best.
Last but not least, another standout was the film that we awarded as the best international documentary, called I Like it Here (2022) by Ralph Arlyck. In the narcissistic age in which we live, there is a significant appeal to documentaries that kind of speak of and for themselves. Luckily however, although Arlyck takes his inspiration from his own life, he does so only to expand his anxieties and fears by sharing them openly with the world, regardless of whether he will sound philosophically profound. In the film, Arlyck is the director and the narrator, as he tries to come to terms with his own mortality. As a continuous POV shot, the movie works both as a personal essay and an open letter, where Arlyck conveys his last thoughts about all the little things that make our existence bearable. As poetic and soothing as a cat's purr, at once minimally lyrical and eloquent in its ways of affirming how, albeit briefly, our lives can be beautiful, I Like it Here demands from its audience only one thing: to sit back, enjoy and wonder.
Yannis Kantea-Papadopoulos
Edited by Pamela Jahn
© FIPRESCI 2023