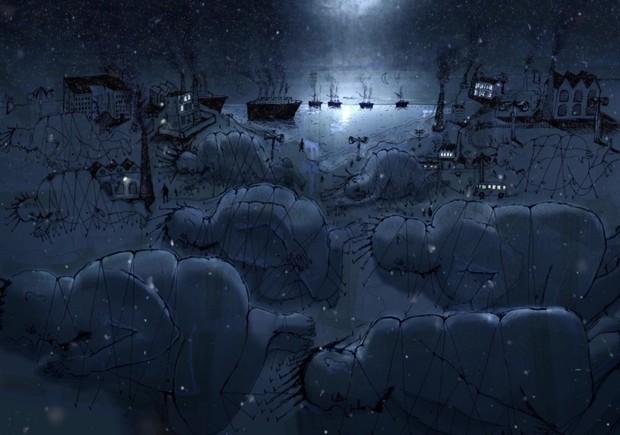 Mariusz Wilczyński's nickname is "Wilk" in Polish, which means "wolf", however, Zabij to i wyjedź z tego miasta [Kill It and Leave This Town], his debut feature animation is like a film made by a tender heart, not a wolf's claw. This raw surrealistic animation that recalls magic realistic literary works is the story of a man hidden in the land of memories, where everything is possible, good and bad memories form in front of his eyes and blend. You will be lost if you try to find a logical way to describe the film and all its meaning since it works with dream logic, even if you are equipped with all the knowledge of Sigmund Freud you will be still at loss. Is this a problem? No, this is a kind of rare cinematic experience that wants you to let go. Watching the film, you may recall Pink Floyd and Alan Parker's The Wall, especially in the last 30 minutes, but it is not an LSD film filled with strong political sub-layers that tries to work as a political/cultural manifestation. There are many political, cultural, social, and historical layers in the film, however, more than everything, it is a deeply personal film with haunting imagery that stretches its hands to an audience who would like to jump on this tour de force of grief and delight, euphoria and melancholy, loss and retrieval of dear ones.
Kill It and Leave This Town  (Zabij to i wyjedz z tego miasta, 2020) is genre-defying, you may call it a horror film, an erotic movie, a love story, or a coming-of-age story. It is all these but putting a mark on the film is like imprisoning it. This is one of the rare occasions that a film sets no boundaries for itself and tries to set itself free from all the adjectives we usually use to make a film more understandable. In my opinion, to grasp the spirit of Kill It and Leave This Town it is better not to limit yourself but instead to put yourself in the shoes of Alice when she visited Wonderland. The location of Kill It and Leave This Town may be Łódź in Poland, the historical references and people we meet may have allusions to Polish culture and society, but this location is not our everyday normal concrete location, it is the realm of memory that is the true location of the film and that is why a viewer like me, with a totally different background – different age, geography, culture, history, and society – can relate to the film in a way most of the local films of my country do not allow.
We have all lost dear ones, have cherished and doomed memories, long for a lost childhood, and try to connect to the world surrounding us to have a sense of belonging. Relying on these sensory experiences is our tool to dive into Wilczyński's mesmerizing film. If you are bound to typical tools and ideas of mise-en-scène or narrative structure, you would be lost, you will still enjoy it, but as if you are eating food and deciding about its taste based on its look and weight of ingredients not the beautiful mélange of different flavours and the otherworldly satisfaction it gives you with its aroma and spices. You have to approach this film the way Anton Ego experienced his childhood by tasting the Ratatouille at the end of Brad Bird's namesake animation. Kill It and Leave This Town is like a Bigos, it is sour, spicy and smoky at the same time to, say the least, a film that needs all your senses to be involved while watching it.
Wilczyński seems like an archivist and even if he is not, this film asks for it. He has used his own archive of music and voices – such as Andrzej Wajda's voice as one of the men in the train or Tadeusz Nalepa's songs, some of which from private archives – to shape his film/memory. Imagining the film without Nalepa's songs is like imagining Citizen Kane without its deep focuses, Bela Tarr's films without long takes and Ingmar Bergman's films without Bach. Wilczyński also approaches his animation style as an archivist, relying on marvelous Polish animation traditions and the works of luminaries such as avant-gardists Franciszka and Stefan Themerson, Zenon Wasilewski's sense of buildings in Pan Piórko Śni (2949), Daniel Szczechura's idea of challenging audience intellectually, Ryszard Czekała's bleak and dark imagery, Zbigniew Rybczyński's experimental animations, Jan Lenica's complex and philosophical animations and last but not the least, Walerian Borowczyk's grotesque an erotic imagery. By resurrecting all these archival voices and modes of animations, Wilczyński manages to construct and reconstruct a wholesome portrait of animation and art scene of Poland in the past century and a personal collage of memories lost and gained.
I don't know how to urge you more to watch Kill It and Leave This Town, so let me finish by quoting from Nalepa's song Hołd which is featured in the film as well:
Przyjmij hołd mój, przyjmij za to, (Accept my homage, accept it,)
że nawet Ty nie wydrzesz mi tych chwil, (that even you won't take these moments away from me)
Których nie ma, (Which are not there)
Nie ma już, lecz były tak jak była tu… (It is gone, but it was just like she was here…)
Hossein Eidizadeh
© FIPRESCI 2020
Edited by Amber Wilkinson