The FIPRESCI Warsaw Critics Project 2022
The FIPRESCI Warsaw Critics Project will take place during the 38th Warsaw International Film Festival, which runs from October 14 to 23, 2022. The training workshops for young critics and film journalists from Central and Eastern Europe is co-ordinated by the Warsaw Film Foundation and FIPRESCI. The course is run and mentored by British critic Amber Wilkinson and Italian critic Tommaso Tocci.
Meet this year's participants:
Jovana Gjorgjiovska, North Macedonia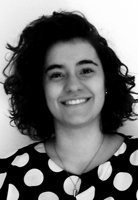 Is from Skopje, North Macedonia. She is a film and theatre critic with experience in writing film and theatre reviews since 2012, as well as co-founding and coordinating an online criticism platform in North Macedonia. In April 2018 she founded Gledaj.mkc.mk (the only online platform for theatre and film criticism in North Macedonia) with two specific goals in mind: providing support to independent young critics through workshops and public events but also continuously educating and informing the Macedonian public about the latest events in the theatre and film sectors. She attended the 21st edition of the Far East Film Festival in Udine, Italy (as a Campus 2019 participant), the 25th edition of the Sarajevo Film Festival in Bosnia and Herzegovina (as a Talent Press 2019 participant) and the 48th edition of the Film Festival Gent, Belgium (as a Young Critic 2021 participant). Having mentors such as Mathew Scott and Elizabeth Kerr in Udine, Dana Linssen and Yoana Pavlova in Sarajevo, and Nick Pinkerton in Ghent was invaluable for her personal growth as a critic.
Nini Shvelidze, Georgia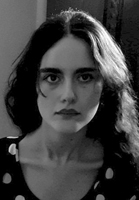 She is a native of Georgia, from Tbilisi. She has been working in the field of cinema and film theory for 5 years. She is a researcher, programmer and occasional film journalist. She is writing a doctorate in Cultural Studies (Cinema Studies) at Ilia State University. Nini is a programmer and film curator at the Kutaisi International Short Film Festival. Nini is a film curator at the Batumi Art-house Film Festival. In 2022, she was a jury member of the "Receive M.A Students in Culture Studies at Ilia State University" competition. She was invited by USAID Georgia to evaluate the "Cinema in Bolnisi" project. Nini is a member of the independent group "For Tbilisi Municipal Cinema" where she's working on a model of a municipal cinema in Tbilisi. She is co-organizing and co-curating the "Jonas Mekas 100 in Georgia" project, supported by Cinexpress.ge, the Lithuanian Embassy in Georgia. Work on this project is in progress. Nini is a participant and programmer of the Women's Film Festivals in Tbilisi organized by the Goethe Institute of Georgia. She has been an editorial board member, author and translator at Cinexpress Magazine – an electronic cinema magazine funded by the Georgian National Film Center – since 2021. She has been an international programmer at the Kutaisi International Short Film Festival since 2021.
Eliška Soukupová, Czech Republic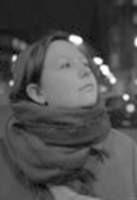 She is originally from Olomouc, Czech Republic. She is a second-year student in the film theory specialization in Poland at Jagiellonian University. In September 2021, she visited the Venice Film Festival as a Czech jury ambassador for the 27 Times Cinema project, and also as an ambassador for the Lux Audience award. In 2019, Eliska was associated with festivals such as the Karlovy Vary International Film Festival and the Kino Pravda a Lásky Film Festival. StáFFka 1989, at which she worked in the festival's promotion and service departments. During the 2019 and 2020 editions of the Ji.hlava International Documentary Film Festival, she interned in the program department, during which her duties included communicating with filmmakers and writing film annotations for the festival catalog. In 2022, she spearheaded the official selection for Giornate degli Autori. Eliska is part of 3KinoFest in Prague and a member of the student jury for the My Street Films Award.
Oskar Ban Brejc, Slovenia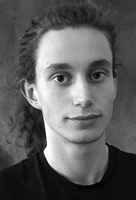 Was born in Ljubljana, Slovenia. He is a student of Philosophy at the Faculty of Arts of University of Ljubljana. In the school year 2021/2022 he spent a semester abroad at the Ludwig-Maximillians Universität in Munich. In 2020 he took part in the International Philosophy Olympiad where he won a bronze medal. He published his first text about film when he was 17 years old in the Ekran film magazine. He attended several film criticism workshops before becoming a regular contributor of reviews and film essays to the Slovene film magazines Ekran and KINO!. In 2021 he started work at Radio Študent, the oldest student radio station in Europe. He co-heads the monthly film criticism and theory show Temna Zvezda and contributes reviews of films and theoretical works. In 2020 he was a member of the Critic's jury at Ljubljana Short Film Festival FeKK. In 2021 and 2022 he edited the catalog of the Ljubljana Short Film Festival FeKK and in 2022 he also joined the programme team at the festival.
Amar Komić, Bosnia and Herzegovina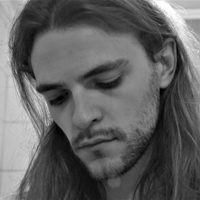 Was born and raised in the small town of Bosanska Krupa. After finishing primary and high school in Bosanska Krupa, he enrolled Academy of Performing Arts in Sarajevo, Department of Film, Theater, and TV directing. His high school short film For a Mark More (2015) was shown at the 21st Sarajevo Film Festival as a part of the TeenAction program. While studying, he directed several short films and plays. His short experimental film "Self-Reflection" was shown at the 23rd Sarajevo Film Festival as a part of the BH Film program and at the 2nd International Film Festival in Bottrop, Germany. He's writing film criticism for the website Filmofil and participated in a workshop for young film critics at 34th Montenegro Film Festival. He's currently developing his graduation film "Where Do Lost Cats Go?".
Haji Safarov, Azerbejdżan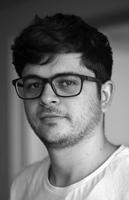 A film critic based in Baku, Azerbaijan. Talents Sarajevo'22 Talent Press alumni and scriptwriter who won 3rd place in the scriptwriting competition in 2021 which was organized by the Azerbaijan Union of Film-Makers. He is writing articles over three years now. He runs a YouTube Channel and produce online content for the general public. In 2019 Haji attended two international film festivals. The first one was the Batumi International Arthouse Film Festival where he attended a workshop titled "Social discourse through film journalism." Another one was the Cottbus Film Festival. In Cottbus, the participants discussed film industries and the state of cinema in Eastern Europe. He is one of the founding members of the Independent Cinema Platform announced in January 2020. In 2022, Haji served on the jury of the competition "Support for full-length film projects – 2022" which was organized by the Ministry of Culture of the Republic of Azerbaijan. He represented new generation Azerbaijani filmmakers and film critics there. He is a co-founder of the website and the creator of the Kinoyazar concept. There, with other members they will publish various interviews, articles, and essays, attempting to cover all aspects of cinema. Haji participated at Sarajevo Talents 2022 edition as a film critic and it was a great opportunity and an important stepping stone for his career. This festival and this program are vital for his region.