Surrogate Children
A review of Remember To Blink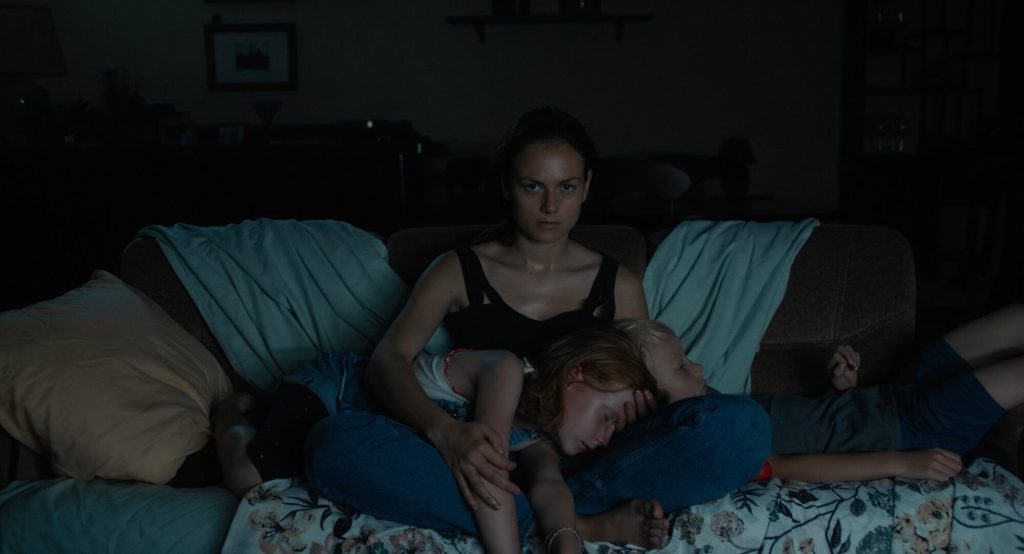 "This is not how we do things," Jacqueline (Anne Azoulay) tells her adopted children, who don't understand her language. Remember To Blink, Lithuanian director Austėja Urbaitė's first fiction feature is an adoption drama driven by jealousy and past trauma. It is driven also, at times, almost completely away from its initial genre, Urbaitė tries to juggle numerous metaphors and visual techniques to convey the complexities of human relationships – with varying success.
The midde-aged Jacqueline welcomes Gabriele (Dovile Kundrotaite) into her and her husband Leon's (Arthur Igual) idyllic remote cabin in the middle of a forest. Gabriele, a younger woman from Lithuania will be their interpreter. She will help them communicate with the two young orphans Karolina (Inesa Sionova) and Rytis (Ajus Antanavicius) from Lithuania the French pair have decided to adopt. Although the narrative is most directly concerned with Gabriele and the children, most events have a lot to do with Jacqueline.
She had wanted to adopt a single child, but the adoption procedure was easier – one might say – streamlined if the pair were to adopt two siblings. Treating the process of adoption as a project that should be completed is most obvious in Jacqueline's answer about the children growing up bilingual: "It's good for university." Gabriele, therefore, at first starts to function like an intellectual contractor – translating words and enabling communication between the parents and the children. But soon Gabriele is also playing with the kids, taking them on trips into the wilderness, and comforting them. As if the human physical closeness of parenting were delegated to her as well. When Jacqueline realizes that Gabi – as the kids have come to call her – is growing closer to them than their new mother, a jealous rage breaks out.
Azoulay's performance as Jacqueline is stunning and it is no surprise that Urbaitė often frames her face in a close-up with an extremely shallow depth of field, allowing her tiniest expressions to become apparent. Azoulay's face appears in the middle of abstract shapes, expressing with total sharpness its character's emotions. Despite her character being undoubtedly nasty and traumatized, Azoulay manages to make it gentle and almost loving at times.
After a promising setup, Urbaitė introduces various new elements with the goal of further exploring the strained relationships between the characters. The most prominent of these are snakes. They begin to appear constantly. Either on screen, in the characters' discussions, or as shed skin found during a hike – but they do not seem to have any more of a function than foreshadowing something insidious. Despite the intricate symbolism, the characters' relationships don't develop much; if previously the audience knew Jacqueline was jealous, a few sequences later the audience knows she is very jealous. The excessive emphasis on the snake symbolism pulls the film away from further developing its characters – its most exciting aspect.
Nearing its end, Remember to blink transforms into a psychological thriller with characters sneaking around in the dark, searching for old letters, and making secret phone calls. Some of its most interesting ambiguities, however, dissipate into dead-end symbols and a rushed finale.
Oskar Ban Brejc
© FIPRESCI 2022