18th Lecce Festival of European Cinema
Italy, April 3 - April 8 2017
Reports
Three relevant cinematic figures have been shown in the European Film Festival, which took place in Lecce, a precious Italian city called "the baroque Florence": the Turkish Nuri Bilge Ceylan, the British Stephen Frears and the Polish Agnieszka Holland. The three directors have talked about their careers and projects during very crowded and careful meetings with the public.
The retrospectives of their movies have offered the possibility of approaching or renewing their works, in a dynamic and content relation of these narrations with current social continental context. This is where new and olds questions become urgent and stimulate debates and questionings. The presence of three directors of different provenances and interests has been an useful and effective occasion to create and feed a discussion about actuality and above all the importance and role of cinema in narrating and exploring our world.
Many significant issues of interest in our Europe were presented and met in the 12 movies of the competition, considered by the main jury: the president and European Film Awards (EFA) producer Marion Döring; the producers Lene Børglum and Tilde Corsi; the creative director of British film institute's national archive Heather Stewart, and Eva Zaoralova´ of Karlovy Vary IFF.
The festival has dedicated also, as usual, a particular attention to Italian cinema. This year the sight was on the art of acting, with awards given to two popular actors: Isabella Ferrari (who registered a long career with Ettore Scola, Paolo Sorrentino and Ferzan Ozpetek, among others) and Valerio Mastandrea, which his last important movie is Sweet Dreams (Fai bei sogni, 2016), by Marco Bellocchio.
A tribute has been given to director Francesco Maselli, author of left-wing militant cinema and analyst of bourgeois crisis (his best movies are The Dauphins (I delfini, 1960) and Time of indifference (Gli indifferenti, 1964): the first one was co-written with Alberto Moravia, and the other was adapted from the masterpiece of the same great Italian writer.
For next year the Festival, directed by Cristina Soldano and Alberto La Monica, has already announced a main attraction in it's program: an homage to Pedro Almodovar, that will include his presence in the event. (Alberto Tristano, edited by Nachum Mochiach)
Festival: www.festivaldelcinemaeuropeo.com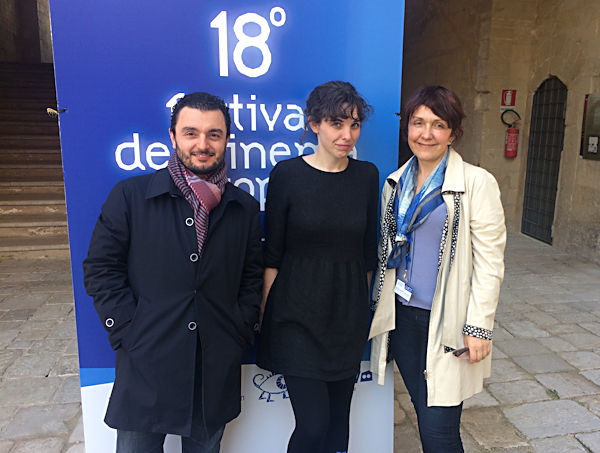 The FIPRESCI Jury (from left): Alberto Tristano, Italy ("Lettera43"), Colette de Castro, France ("East European Film Bulletin"), Natalia Moussienko, Ukraine ("Culture and Life").