36th FilmFest Munich
Germany, June 28 - July 7 2018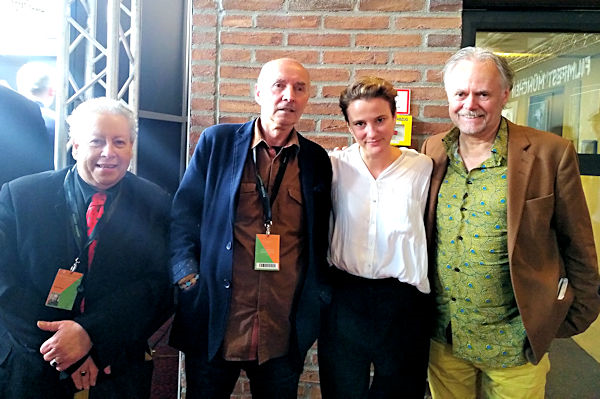 Filmfest München – The Film Festival of Munich – is the largest summer film festival of Germany. This year it was the 36th 3time film lovers were invited to Bavaria in the south of Germany for the adventures of the screen. The program consisted of almost 200 films and 500 screenings.
In its Mission Statement, the festival states that it aims to be a place for "anyone who wants to be moved by film". This is an invitation that opens up. It tells us that the language of film is universal and inclusive. You just have to come, sit down, and take part. Such a message is needed in our turmoiled world, whether the films are about people in their everyday lives or global issues concerning everyone on the planet.
The task of the FIPRESCI Jury (photo, from left: Peter Krausz, Andzrej Fogler, winner Eva Trobisch, Jan Storo) has been to give an award in the section "New German Cinema". Filmfest München is especially focusing on new, and young filmmakers from Germany. The section consisted of sixteen films. There were five female and eleven male directors in the section. Thirteen of the directors were born after 1970, nine of them were born in the 1980s. The topics of these film varied quite extensively from the problematic lives of some children and young people in today's society (Yung, We Were Just Playing) to Brecht (Mackie Messer – Brecht's Dreigroschenfilm) and a fight against nuclear power in the 1980s (Wackersdorf).
München Filmfest is developing just now. After recently having received a large increase of the state funding for the coming years, it will include virtual reality and games in its profile. Director Diana Iljine and her staff will surely have their hands full when they have wrapped up this year's festival.
During the festival four veterans of film were honored with a special homage.
Actress and screenwriter Emma Thompson was a guest at the festival, and she was presented through several films. In her new film, "The Children Act", she plays a judge in London who must deal with a case of a seventeen-year-old who refuses to be treated for leukemia because of his religious belief.
The next guest was Terry Gilliam, director, who came with his new feature, "The Man Who Killed Don Quixote". This film is a fantasy-driven and colorful story which eventually can be presented for the film public after an almost 30-year long process. The main reason for Gilliam's visit was however to be honored for his lifelong contribution to film.
The Argentinian director and screenwriter Lucrecia Martel was represented with four features, selected short films, and a documentary about the making of her last film, "Zama". The film was also screened. It tells the story of Don Diego de Zama, a loyal representative in Paraguay in 1790 for the Spanish king. Martel visited the festival, and talked to the public about "Zama".
Last, but not least, a homage was made to Philip Gröning – who also visited the festival. Gröning was born in Düsseldorf and has his education from the film school in Munich, HFF München. He is known for investigating diverse difficult topics, ranging from terrorism to autism. His new feature is called "My Brother's Name is Robert and he is an Idiot". The film was screened at the festival.
Within the work of these four honorable veterans we find both elements of discussion of social issues and pure entertainment.
A special section for children should also be mentioned, Kinderfilmfest. In the web-page of the festival we can read what some of the films of this section is about: "There are shady crooks, a kidnapping, brave girls acting alone, stolen nuts, and foxes with an identity crisis". Something for everyone, this should be.
The web-page also posts a message to its young audience which we all can agree on: "See you at the movies!"
Jan Storø
Festival: http://www.filmfest-muenchen.de/en/