41st Annecy International Animation Film Festival
France, June 12 - June 17 2017
Reports
The paper airplanes thrown at the screens, the search for the bunny hidden in the festival trailer before every screening, the sound of exploding bubbles made by the ardent viewers in between the films – the experience of the Annecy International Animation Film Festival is that of a cult event. Yet it is a very large and well organizedevent -the Cannes of Animation festivals -that prided itself on having 10,000 accreditations in its 41st year. And then, there is the crystal clear lake one walks by on their way to MIFA, the adjoining market, where countries, production companies and individual animators come to promote their art and create partnerships.
There were nine feature films in competition, three of them from Japan, two of which won the main awards. The fantasy Lu Over the Wall took the Cristal for best film, and the heart wrenching In This Corner of the World (WW2 experienced through the eyes of a young woman) won the jury award (it has already won numerous awards in its home country). The third big winner in the feature film competition was the unique Polish British coproduction Loving Vincent (as in Van Gogh) that won the audience award. There were also 13 feature films out of competition, as well as open air screenings (by the lake) of big Hollywood productions, midnight specials (Perfect Blue, Spike and Mike's Sick and Twisted 40th Anniversary Show), classics (such as Akiraand Karel Zeman's Baron Münchausen) and works in progress.
But the main focus of the festival is short films – graduation films, TV and commissioned films, and those made by established artists. On display was a vast variety of styles, themes and techniques. While the Cristal for best short went to The Burden (Min Borda) – A musical with apocalyptic undertones from Sweden – the FIPRESCI jury chose the poetic reflection Negative Space from France (made by an American based pair).
Conversations with creative forces such as directors Guillermo del Toro and Carlos Saldanha and animation master Glen Keane (who created Ariel and Tarzan for Disney) attracted eager crowds and were sold out within minutes. Guest country China showed some artistic prowess (next year Brazil will get the floor), and there were exhibitions and signing sessions and even programs of erotic animation.
At the closing ceremony Swiss animatorGeorges Schwizgebel was awarded an Honorary Cristal for his body of work. The screening of his five minutes long film Erlkönig (2015), based on Goethe's poem and the music of Schubert and Liszt,turned out to be one of the true highlights of the festival. (Yael Shuv)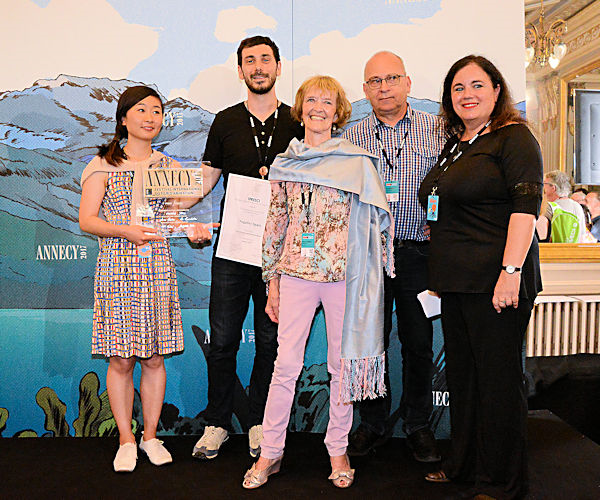 Annecy (France, June 12-17, 2017). The International Animation Film Festival in France (Festival international du film d'animation) is one of the leading events of the animation film genre. Photo: Ru Kuwahata, Max Porter, with the jury, Eithne O'Neill, Luk Menten, Yael Shuv.
Festival: www.annecy.org