24th Thessaloniki International Documentary Festival
Greece, March 10 - March 20 2022
Festival homepage
We presented two prizes: to a film in International Competition, and to a film in the Greek Premieres section.
A House Made of Splinters is the winner in the International Competition section.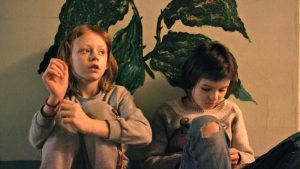 Motivation: "For a delicate and sensitive look at vulnerable children who are facing the hardships of life already from a very young age. Even though set in a particular political context, the story has a universal meaning. The close observation of children's personalities and relationships with their peers and grown-ups create an emotionally engaging and strong narrative, full of life and hope for a better future".
In the Greek Premieres section the prize went to Arm Wrestler.
Motivation: "For the captivating observation of a young man's struggle for balance in his professional and personal life, rural and urban environment, dreams and realities of everyday life. The inventive composition of shots and versatility of shooting locations allow for a unified look at a charismatic personality. Through this one man's journey we are also allowed to have a glimpse into contemporary Greek society, making the film an important denominator of the country today".