Berlinale Talent Press 2019 Call
Berlinale informs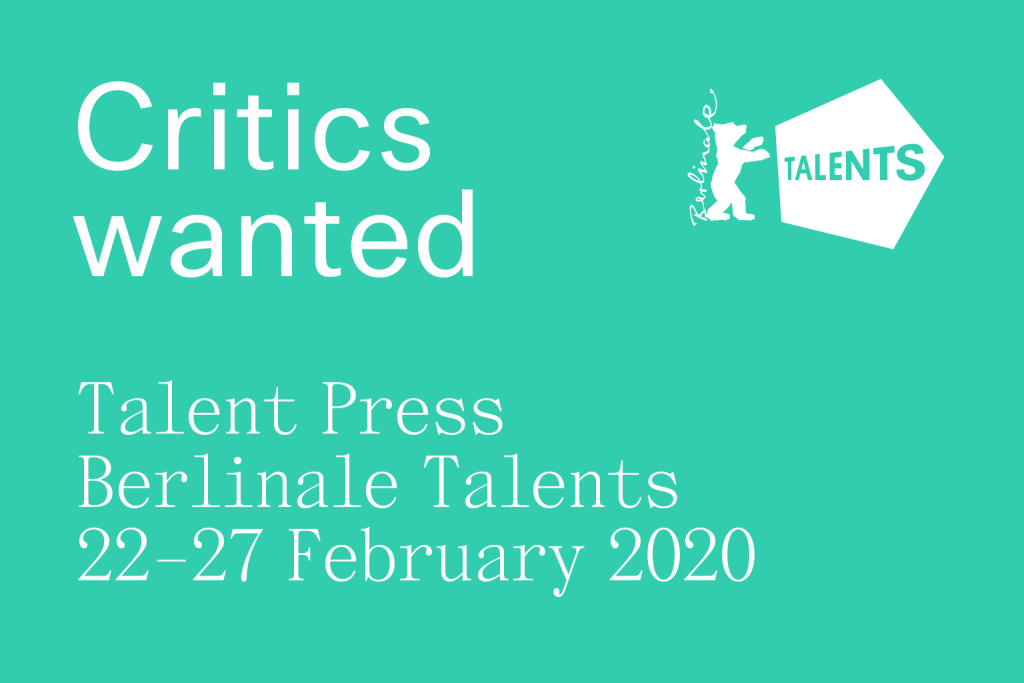 Calling All Film Critics!

Each year, Talent Press invites eight emerging critics to delve into the Berlinale and develop their own voice and perspective on the festival.

Under the guidance of experienced mentors, you'll attend a mix of editorial meetings, screenings and Berlinale Talents talks, conduct interviews with filmmakers and meet distinguished critics. Last year, these included the LA Times' Justin Chang and Time magazine's Stephanie Zacharek. Most importantly, you'll get to hone your writing technique and publish several articles and an in-depth essay or feature.

Apply by September 2, 2019, 23:59 (CEST)
Details at www.berlinale-talents.de

Who Can Apply?

Talent Press is aimed at film critics and journalists with five to ten years of experience to their names.

You should be a regular contributor to print or online publications such as newspapers, magazines, books or websites. Our workshops are held in English, so you should feel comfortable conversing and publishing in English.
Meet our former Talent Press participants.
What's On Offer?

Berlinale Talents offers the chance to spend six days with the world's top 250 emerging filmmakers and to experience the buzz of one of the world's biggest film festivals. Seasoned mentors will guide you through the programme and provide feedback on your work.

Based on your choice of essay topic, you'll be able to access film screenings, conduct interviews and attend Berlinale Talents talks. Your work will be featured on the Berlinale Talents, Goethe-Institut and FIPRESCI websites. Last but not least, you'll be able to form lasting connections to fellow emerging critics from all over the world.
What's included? Berlinale Talents will provide free accommodation and breakfast. Depending on your country of origin, we'll also provide a partial contribution towards your travel expenses.

Read articles, reviews and essays by former participants.
Gain a New Perspective

Beyond the Talent Press workshops, Berlinale Talents features over 40 talks, screenings, workshops and networking events offering insights into the brightest creative minds in the industry. Recent guests have included actors Charlotte Rampling and Willem Dafoe, artists Christo and Olafur Eliasson, director Tom Tykwer, cinematographer Agnès Godard, composer Ryuichi Sakamoto, and many more.

Browse our 2019 events and watch full-length recordings of our past editions.

We look forward to receiving your application!

Questions? Send us an email: talents@berlinale.de

All set? Apply now!