Eva Zaoralová
By Martin Horyna
Prague, March 17, 2022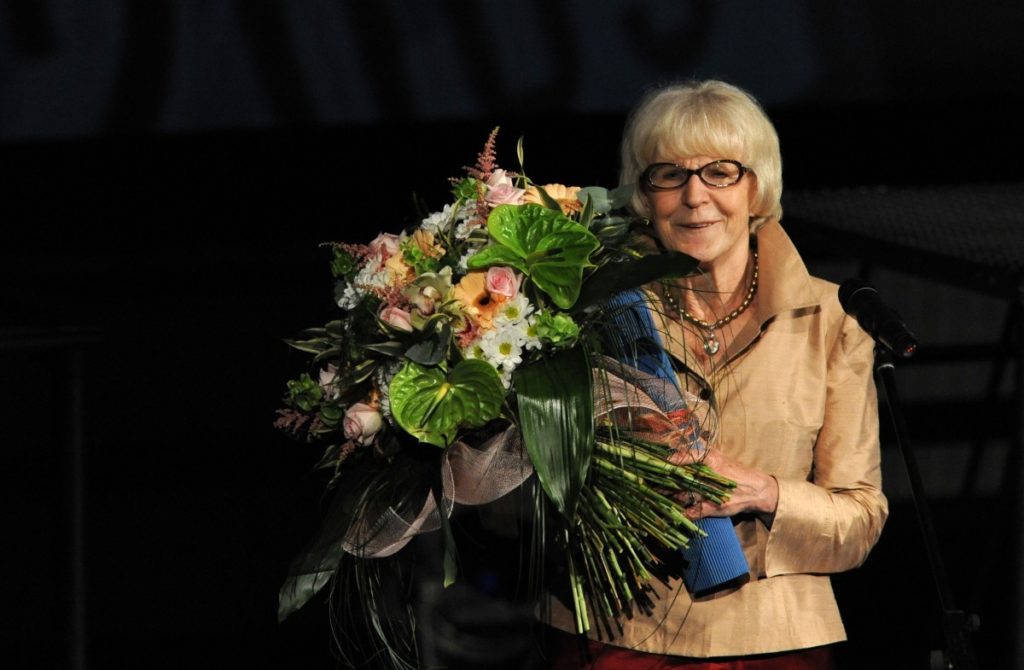 It's been a week since the Czech as well as the international film scene had to say goodbye to Eva Zaoralova, a film critic and historian, an excellent translator, the Artistic Director of Karlovy Vary Film Festival for many years, and the President of the Czech FIPRESCI section. A week full of touching, charming, as well as amusing recollections of "Madam Doctor", as the whole Czech film community respectfully called Eva Zaoralova, although she always chirpily refused such an address.
She studied Czech, French, and Italian. Interpreting and translating preceded her interest in film, which she discovered only in the late 1950s. Her exceptional linguistic talents held open the door to the West where she regularly travelled even later, during the darkest, toughest times of Communism. Whenever possible, she visited festivals abroad, studied all the depths of world post-War cinema, met distinguished filmmakers, developed friendly relationships, and built on her love to the cinemas of Italy and France. In the late 1960s, she became an editor of the prestigious Film a doba film magazine, and, for several years, also determined its direction and prominent position within the Czechoslovak cultural scene as its editor-in-chief. She collaborated with many international media and taught at the Film and TV School of the Academy of Performing Arts in Prague.
In mid 1990s, her and the Czech actor Jiri Bartoška decided to revive the withering Karlovy Vary IFF. In the end, she became a part of the festival for the last third of her life. As the Artistic Director between 1995 and 2010, she brought the festival back among major European film events, and even after that, as an artistic advisor, her influence on the film selection and on the professional growth of the individual members of the organisation team was fundamental. By 2015, it was crystal clear who should be the one to write a book on the festival's modern history, which included this spot-on remark: "The stars provide a festival with the aura of a social event, but I still insist that a good festival is defined by its program".
Thanks to the tireless work for the festival and unmistakable presence as a film critic, she became a celebrity of her own. Yet her characteristic modesty always drove her to put credit elsewhere: "For several years, strangers have been addressing me from time to time, on a tram, in a street, always kind and polite, thanking me for what I've done for the festival. I can't pretend it's not pleasant, but at the same time, I'm slightly ashamed, because the current excellent reputation of the Karlovy Vary International Film Festival in the Czech Republic as well as abroad is not only my accomplishment, but an accomplishment of the whole team." And she accepted all the various awards and decorations with the same humility – high state decorations in the Czech Republic, France, Italy and Poland, diverse awards for her journalist work, a Czech Lion Award for Unique Contribution to Czech Film, and many others.
Eva Zaoralova rightfully earned universal respect not only because of her erudition and zeal. She was also an excellent wordsmith controlling language with a deep understanding of its properties, using it in playful, unique ways. Her spoken as well as written expression was thorough and conscious, intertwined with brusque yet subtly kind sense of humour. She was able to enchant with long, colourful descriptions as well as with precise choice of terminology, striving to be accurate and specific, with a rare ability to notice the tiniest detail. She had an elegant way of avoiding empty chit-chat – others were sometimes taken aback by her admirably direct and open approach. Her way of getting straight to the point was parallel to the one of film language of Vera Chytilova, whom Eva Zaoralova admired so much. Her criticisms were refined and filled with charm, and always targeted at the core of the issue. She expressed herself in a complex yet very comprehensible manner, successfully popularizing film criticism and art cinema as such.
Her unique charisma also stemmed from the fact that she never took herself that seriously and was immensely generous towards others: "I've always tried not to make any faces, not to put myself above others, because I respect the capabilities and intellect of all those around me."
Our big thanks for everything.
Martin Horyna
© FIPRESCI 2022