In Memory of Hans Helmut Prinzler (1938-2023)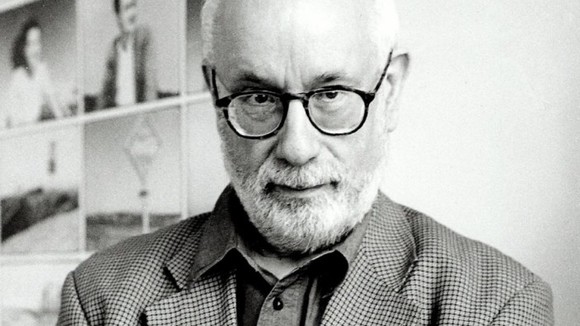 The film historian and publicist Hans Helmut Prinzler, who had also been a member of the German Film Critics Association for almost 25 years, has died at the age of 84.
After studying journalism, theatre studies and German language & literature and working as a research assistant at the Institute for Media and Communication Studies of the Free University of Berlin, he was head of studies at the German Film and Television Academy Berlin (dffb) from 1969. From 1979 he worked as head of department at the Deutsche Kinemathek Foundation, where he was responsible for events and publications as well as retrospectives at the Berlin Film Festival. In 1990, he became director of the Deutsche Kinemathek, and in 2000 he also became head of the newly opened Museum of Film and Television Berlin until his official retirement in 2006.
One of Hans Helmut Prinzler's special loves was film literature. He regularly presented his film book of the month on the website of the Deutsche Kinemathek. He later continued this on his own website (hhprinzler.de). A last newsletter announcing the film book of the month for June landed in the e-mail box of the board of the German Film Critics Association less than two weeks before his death.
On his website, he published his own reviews of film history in addition to his book and DVD recommendations. He also archived there his collected speech manuscripts and text contributions from a total period of over sixty years. What he called "current day notes" from the field of film history and film literature were also found there.
In his very personal obituary for the Süddeutsche Zeitung of 19 June 2023, film critic Fritz Göttler calls Hans Helmut Prinzler a mentor who shaped an entire generation of film critics. This can also be attributed to the fact that Prinzler was not only involved in numerous books as an author himself, but as a publisher and editor of books he was able to win over many young film critics and film scholars as authors of text contributions.
Quite a few of the books co-authored or edited by Prinzler have become standard works of German film literature. Perhaps the first to be mentioned here is Prinzler's contemporary historical survey Cinema in the Federal Republic of Germany (Film in der Bundesrepublik Deutschland), written in 1979 together with Hans Günther Pflaum, which dealt with the contemporary era of the New German Cinema, but also with its origins and historical foundations. Prinzler also kept an eye on the stylistic epoch of New German Cinema in later years, for example in the volume The New German Cinema (Der Neue Deutsche Film), published in 2012, which he edited together with Norbert Grob and Eric Rentschler as part of a film-historical book series on stylistic epochs of the cinema.
Prinzler's History of German Cinema (Geschichte des deutschen Films) (with Wolfgang Jacobsen and Anton Kaes), published in 1993, can also be counted among the standard works. Two years later, his Chronicle of German Cinema (Chronik des deutschen Films), for which he was solely responsible, provided a calendrical survey of German film history from 1895 to 1994. As a film historian, Prinzler was always a meticulous chronicler.
Between 1974 and 1990, Prinzler was frequently responsible for the carefully researched data section of the legendary film book series Reihe Film in the Hanser publishing house, starting with the monograph on Francois Truffaut and concluding with the monograph on Friedrich Wilhelm Murnau. Not to forget the extensive catalogues on the Berlinale retrospectives produced by the Deutsche Kinemathek, which he edited between 1980 and 2006 – on directors such as Murnau, Curtis Bernhardt, Ernst Lubitsch, Fred Zinnemann, Rouben Mamoulian, or the brothers Curt and Robert Siodmak, but also on contemporary historical contextual topics such as Europe 1939, The Year 1945 and Cold War (there it was about the period from 1948 to 1972).
His continuous interest in film history was also evident in his occasional collaboration on film documentaries. Eye to Eye (Auge in Auge) should be mentioned here above all, realised by himself in 2007, together with the film critic Michael Althen as co-author and co-director. The subtitle of this film documentary was A German Film History (Eine deutsche Filmgeschichte), which comes as no surprise..
He was also interested in the history of film criticism. For the book The Power of Film Criticism – Positions and Controversies (Die Macht der Filmkritik – Positionen und Kontroversen), which reflected different approaches to film criticism, he reconstructed a history of German film criticism from its beginnings to the 1970s together with Heinz-B. Heller and Claudia Lenssen in 1990.
Prinzler also held a leading position in the Film and Media Arts Section at the Akademie der Künste Berlin from 1997 to 2012, sometimes as director, sometimes as deputy director. He became a member of the Academy of Arts in 1996, and a member of the German Film Critics Association (VdFk) three years later. On his VdFk contact sheet, his job title given there is limited to a single word: film historian. That says it all, this was his professional self-image.
A photo of him is attached to the contact sheet, it is the one above. It can also be found as a profile picture on Prinzler's own website (hhprinzler.de) . In this photo he is looking "curiously and shyly into the camera" writes Fritz Göttler in his obituary and also registers the famous Ozu poster in the background, which Gerhard Ullmann once designed for the Munich Film Museum. Yasujiro Ozu was one of Hans Helmut Prinzler's favourite directors. Therefore, this photo is also a confession.
Peter Kremski
(Spokesman of the German Film Critics Association)