"The Truth Cannot be a Victim of War"
"The Kherson region is my childhood",
writes Oleh Baturin to his sister.
See his latest news.
On March 16, the following message from Oleh Baturin's parents arrived: "Oleh Baturin, together with another public activist and journalist, Serhiy Tsyhipa, were taken to Kherson by  Russian occupiers on March 12. Now both of them and seven other activists are kept at an unknown place somewhere in Kherson. We believe it's  time to involve international human rights defenders!"
***
March 13. The European Federation of Journalists informed:
Ukrainian local journalist Oleg Baturin disappeared in Kakhovka, a city in Kherson region (Ukraine), on Saturday evening. The European Federation of Journalists (EFJ) joins its two Ukrainian affiliates, NUJU and IMTUU, in calling on the authorities to investigate this disturbing disappearance in a region where journalists live in terror of Russian reprisals. We call on any witnesses to contact journalists' organisations.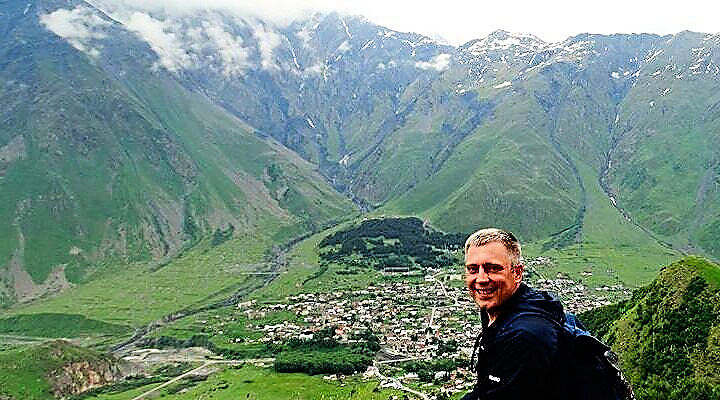 On Saturday 12 March, at about 4 pm, an acquaintance called Oleg Baturin, who is a journalist for "Novy Den" newspaper, and proposed to meet him near the bus station, which is located near the journalist's house, in Kakhova. The journalist went to the meeting, leaving his phone and documents at home. He promised to return in 20 minutes, but did not return.
According to local reports, at about 4:50 pm, Russian soldiers were spotted near Kakhova bus station. The neighbouring town of Nova Kakhovka is occupied by Russians forces who are attempting to install a Russian-controlled military-civilian administration there.
"On the evening of the first day of the war, 24 February, I spoke with Oleg Baturin, who is a member of our union," said Sergiy Tomilenko, president of NUJU. "He had told me about the incursions of Russian troops into the Kherson region, where journalists are currently living in a climate of terror. Despite the obvious danger, Oleg had continued to carry out his work. He stressed the importance of journalistic work in times of war. We call on the authorities to do everything possible to find him."
"We urge all international partners and human rights organisations to demand the immediate release of Oleg Baturin," added Serhiy Shturkhetskyy, IMTUU chairman. "We strongly condemn any persecutions of journalists by Russian military forces!"
"Attacks on foreign correspondents and Ukrainian journalists are increasing," said EFJ General Secretary Ricardo Gutiérrez. "We condemn these war crimes and we call on the military, as in any armed conflict, not to prevent journalists from doing their job. The truth cannot be a victim of war. Journalists are civilians. Deliberately targeting them is a war crime".

Source: European Federation of Journalists (text and photo)
See also the Information Portal «Human Rights in Ukraine» here
News from Oleh Baturin
Via his sister
My brother Oleh Baturin said:
I lost a lot of weight. Very dirty. Tired.
On March 12, at 5 pm, I was caught at the Kakhovka bus station. I was beaten. Humiliated. They threatened. They said they would kill.
Almost eight days. 187 hours of captivity. Virtually no food. Some days were almost without water. No soap, no change of clothes. Not understanding where I was. But they clearly knew why. They wanted to break, trample. Show what will happen to every journalist: you will be crushed. You will be killed.
I had the opportunity to go abroad or to a big city. But with my life I wanted to prove that you can live in a small town and try to make it better with all your actions. Yes, Kakhovka is not an ideal city, but it is my hometown. I love it a lot. Here live my friends who share my values, here live my relatives, here are many people I am proud of. My heart is with you forever.
I also love my native Kherson region. All my life I tried to be honest, objective and tell others about my dear land, to discover, to capture, to fall in love. The communities of Mylovy and Novoraisk, Gornostaivka and Novooleksandrivka are dear to me. I am proud that fate brought me together with you. But Kherson region is also my childhood, tiny Ivanivka, my favorite Shchaslyvtseve and Zmiivka, Stanislav and Nova Kakhovka, Skadovsk and Vesele, Gola Prystan and Chaplynka. Do not list them all. I love you very much, I admire you and I believe that a good future awaits you all.
For almost 8 days I sat with my head tilted or covered. They were afraid I might see their faces. But I'm not afraid to show mine, little sister.