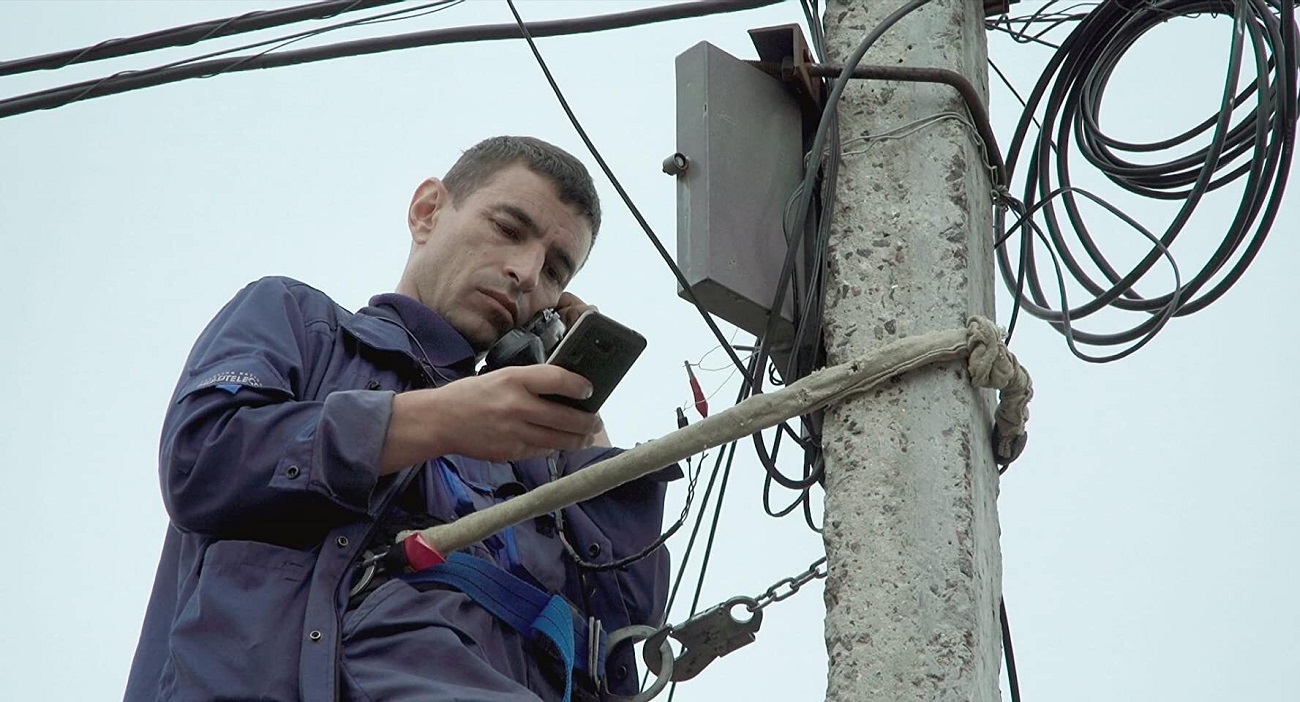 The documentary competition of the 2021 GoEast film festival was indeed full of quality feature films. The seven documentaries were covering topics from recent armed conflicts to WWII memories, from reminiscing about youth and the struggles that old and present intimate relationships keep on producing. All full of strong characters, especially independent women. Several films were especially powerful so choosing the documentary winner was not an obvious task but that nevertheless made it more significant. Please hold the line (Pavel Cuzuioc, Austria, 2020) came out on top as a documentary with a particularly interesting approach to the topic of communication and won us over with the specific humanistic approach to the characters by not necessarily engaging into strong visuals to achieve this rare but vital cinematic quality.
Please hold the line, by Pavel Cuzuioc, who is the director, producer, writer as well as cinematographer, takes us on an unusual cinematic voyage through four neighboring countries. In Kiev (Ukraine), Buzau (Romania), Tsarevo (Bulgaria) and Cricova (Moldova), we follow everyday interactions of cable technicians and their customers. A profession that, at first hand, holds no real dramatic potential, but is a link towards vivid exposures of people in these countries that encounter the same problems with their communication devices to the outside world: phones, television and the internet.
At times reminiscent of "Gates of Heaven", the famous Errol Morris documentary from 1978, Please hold the line introduces us to various people and their random thoughts or just plain rambling on the subject of communication, that sometimes lead to deeper thoughts or plain humor, because or in spite of the presence of the camera. For instance, in one of the opening scenes, two older Moldavian ladies discuss a gruesome murder in details, until the cable operator cannot stand it anymore and leaves. Such everyday bizarreness continues in a scene where an entire neighborhood watches the 'spectacle' of setting up an internet line, adding a spice of life to the scene with mutual quarrels and funny lines. The humor continues throughout the film and is, at moments, a lot more subtle and therefore calls for an attentive and patient viewer. In general, the slow pace of the film and its still images arm the viewer with enough patience for the people on screen in order to be drawn into the ever-changing world of interesting characters and their stories. With an unintrusive but informative directorial approach, revealing the intimacy of the people on screen, we are, for instance, able to dive into an amateur philosophers' obsession with fish and Indians or a priests' automatic flow of thoughts. Not only monologues – a group small talk can lead to unexpected and deep thoughts on the everyday cable line-mediated communications: talk of nostalgia, of politics, jokes, heartbreaking confessions, individual philosophies in the peoples' interactions sometimes hold a very emotional, and sometimes even poetic value. Of course, the inherent choice of the actual cable operators was quite important, as they function as catalyst characters: they are people who are welcomed to others homes, who come as "saviors" of the communication to the outside world, even counselors, and who may not be the most extroverted characters, but are excellent listeners while the customers are given stage-time in front of the camera.
Please hold the line also partially functions as a road-trip movie between rural and urban landscapes of Eastern Europe which uses the travelling intermezzo scenes as a chance to further the social commentary, like in scenes with voice-over radio news. Naturally, the repeating visual motives of wires, poles, telephones and televisions screens inevitably accompany the stories, and vice versa, flowing throughout the entire film.
At the end, it is worth mentioning the explanation of our jury, stating that Please hold the line is a documentary with an intense human approach on relationships which usually seem like simple everyday interactions. It creates a deeper understanding of the presented world by taking us through a journey through four European countries and recording numerous spontaneous situations in which the protagonists reflect on problems related to media and communication but also, and more importantly, on themselves in intimate, worldview confessions. In a cinematic space given to under-appreciated professions in communication service, we also realize that perhaps too often we believe that only psychologists or close friends can provoke intimate monologues. Please hold the line also shows us that sometimes just by being there at a certain time, we all can be a helping presence to others.
Nino Kovačić
© FIPRESCI 2021
Edited by Karsten Kastelan