A documentary about an uprooted boxer at the festival caught the attention of Nachum Mochiach for its focused character study. Director Jannis Lenz, himself originating from another land, conveys empathy in his subject and also manages to inject a fictional production style in one man's search for his own identity.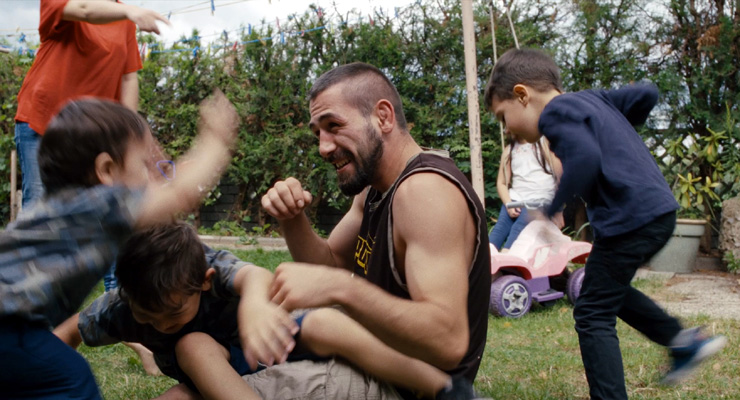 Is he a member of a traditional Turkish family who lives in Austria? Is he a soldier in the medicine corps who swore to save the others? Is he looking for a boxing career in the ring? Or does he wish to be an actor in order to portray Stanley Kowalski in Tennessee William's A Streetcar Named Desire (1951)? Well, all the answers are right, in the documentary Soldat Ahmet, directed by Jannis Lenz. The film was shown for its world premiere at the Visions du Reel Documentary film festival in Nyon.
Ahmet is an enigmatic young man in his late 20's, who has many skills, and is still searching for his identity. This is probably why director Lenz had chosen to portray his profile in this documentary. When watching the film, you can't avoid the thought that he is more of a character in a fictional narrative, rather than a protagonist of a documentary. This is due to Lenz's unique style of directing: It is the way he uses his artistic means – cinematography, music, editing etc., the original way he puts together all the pieces of the puzzle of Ahmet's odyssey.
It might sound like a paradox, but it looks like that the only scenes in which Ahmet plays himself, and not a dramatic character, are those of the acting lessons he takes. Only there you can observe him trying to connect with his emotions and this is also one of the main elements that make the film a real fascination. It takes a while to understand who Ahmet is and what personal goals he wants to achieve in life. On one hand, you can understand why he is so dedicated to his family, although they wish to see him getting married and raising his own children, while he doesn't feel he is obligated to continue with his family's traditional way of life.
Ahmet is actually a kind of free spirit who found a sense of freedom being away from his homeland and its old tradition and legacy. What really bothers him now is that he hasn't cried since he was a little boy. And the more he tries to break out of traditional gender roles, being a Turkish migrant in Austria, the stronger his internal battles become. He is determined to get in touch with his real emotional world and learn who he really is and where he belongs. Soldat Ahmet is a portrait of a complex young man in a contemporary world of constant changing and redefining identities.
We can learn a lot about the creative and artistic world of director Lenz from his biography. He has grown up in Germany with a Palestinian grandmother, and another member of his family is a refugee from Cambodia who escaped the civil war there. He experienced filmmaking using his first camera for filming himself and his friends doing Le Parkour, performing art in an urban environment. He then studied directing in the Master Class of Jessica Hausner at the Film Academy of Vienna, where he also worked as an assistant to Michael Haneke. He says that he was heavily influenced by Haneke and his methods of working. Later on he received the Scholarship for Cinematic Art by the Austrian Ministry of Culture, the Distinction of the Society of Fine Artists Austria and is an official member of the European Film Academy.
His Filmography includes short fiction films and documentaries, such as In Between (2014), Shadowboxer (2015), Zero-G (2016), Dress Rehearsal (2017), Wannabe (2017), Battlefield (2020), Even Death in my Arms is Beautiful (2021) and Soldat Ahmet (2021).
Nachum Mochiach
© FIPRESCI 2021
Edited by Steven Yates