1. New Currents and Korean Film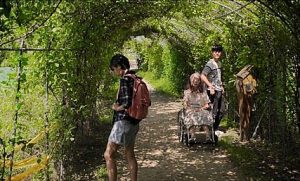 Celebrating its 24th anniversary this year, the Busan International Film Festival hosted programs including New Currents, Window on Asian Cinema, Korean Cinema Today, the Korean Film Retrospective, World Cinema, Flash Forward, and World Wide Angle. New Currents is the program for discovering talented newcomers, inviting first or second features from Asian directors. Fourteen features screened in this section, including three Korean films which dealt with important issues in our country.
The Education portrayed families with severe disabilities and youth unemployment; it won the prizes for Best Actor and Best Actress for its outstanding lead performances. An Old Lady raised the issues of sexual assault and dementia amongst the elderly, winning the KNN Audience Award. Lucky Monster showed the multi-stage economic disintegration of households, and won the Independent Film Award for its stark portrayal of Korean reality; it imaginatively depicts the plight of ordinary people with financial difficulties, and we look forward to director Boon Joon-young's future work.
2. The Weight of Capital Erodes Lives: "You Have to Clean Up the Poop Before You Can Eat"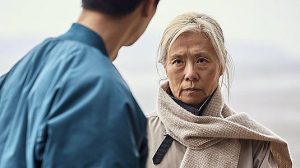 During the first third of Lucky Monster, we see Do Maeng-soo, an ordinary person who falls into degradation. He is a multi-level salesman with a large amount of personal debt. When he is threatened by Noh Man-su, a moneylender, he fakes a divorce to protect his wife. After the "divorce," he wins a substantial lottery prize, and goes looking for his wife. But a consulting expert advises him to pay off his debts first: "You have to clean up the poop before you can eat".
Whenever he is sad or distressed, Do takes yonggaksan, a cough medicine which soothes him psychologically. He also allows himself the luxury of a trampoline, which he jumps on while entertaining fantasies. In this film, the contrast between image and sound shows the gap between ideal and reality. In the scene with the trampoline, a voiceover insists that Do is flying up towards the sky, whereas we can barely see his head emerging from the bottom of the frame before falling back down. The reality of another scene is more ambiguous: when Do's wife and the moneylender Noh have sex, Do's narration makes it unclear as to whether he is inventing the whole scenario.
3. The Spread of Violence and the Failure of Heroism: "You Should Return What You Get"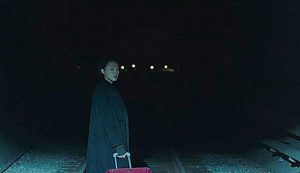 In the second third of Lucky Monster, Do's desire to be a hero is thwarted by his wife's betrayal and the spread of violence. He imagines sex scenes between his wife and the moneylender, and dreams of grinding their flesh. Following his consultant's advice ("You should return what you get"), he returns the money to the lenders. Later, he learns from Noh's subordinate that his wife is living with Noh because she actually wants to. The wife secretly searches his house for the winning lottery ticket, and calls out Noh's name during sex with Do: "All right, Mr. Man-su!"
Do's desire to be a hero is counterfeit. What his wife really wants is the hero of action movies. With his wife's betrayal and the collapse of his family, his desire for heroism dies away, leaving only the need to revenge his mental and physical suffering. Having renounced the role of the hero his wife sexually desires, he chooses the path of villainy. Hate, revenge and violence ensue. Violence is represented here by images of rabbits and axes. When a rabbit doll is placed on the sofa, it symbolizes Do's feeble love for his missing wife. Close-ups of flesh, an axe, the red blood of a steak, and the blood on Do's face testify to his anger and desire to kill. In an earlier scene, when Noh assaulted Do, a horn sound resonated; this sound now recurs when Do attacks Noh.
4. An Isolated Monster and the Expression of Anger: "I Also Live on My Own"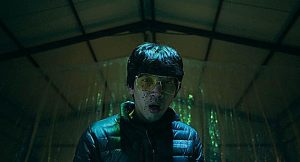 In the final third of Lucky Monster, Do vents his inherent anger and monstrosity and becomes an isolated individual. He kills Noh, telling his wife, "I'm the hero who saved you", but the wife only replies, "I live on my own". In response, Do kills his wife and declares, "I also live on my own." The consulting expert witnesses the act, and says: "I told you that Do is gifted." Do then proceeds to kill the expert.
With these acts of violence, Do's inner self, named DJ, no longer bothers him. DJ's voice disappears, as does the conflict between him and his inner monster. The moneylender becomes an object of fear, revenge and retribution. Wanting a life of prosperity and peace, Do instead becomes a violent and isolated monster, exploding with the words "I live on my own." This theme is expressed through lighting, framing and perspective. In the scene where Do is trapped in the trunk of his car, the lighting shows the struggle between good (represented by DJ) and evil that sits within his character. When Do leaves after the murders, a close-up of him with the axe contrasts with an extreme long shot of his back, emphasizing his isolated fall.
5. From Hero to Monster: The Leopard and Hyena of Kilimanjaro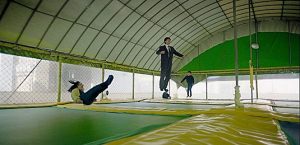 Lucky Monster is about a man who is driven into a difficult situation and becomes a monster instead of his dream hero. Do wanted to be romantic, loved and desired by his wife, but this is no longer a possibility. After the spread of capital and violence that erodes his life, the peace-seeker becomes a figure of death.
Voice and music encapsulate the style of this film, particularly the voiceover of the protagonist, which reveals a man who cannot speak out loud and is forced to remain within his thoughts. And music is central to the film's subject. The song in the final scene, "The Leopard of Kilimanjaro" by South Korean national singer Cho Yong-pil, reflects the journey of a man who wanted to become a noble leopard, but turned into a hyena instead.
Koksuk Seo
© FIPRESCI 2019
Edited by Lesley Chow
Picture Source: Naver Movie