Our modern times seem to progressively deny the cultural togetherness that used to exist between the ex-communist countries in the east, one that seemed rather natural some time ago. Bratislava is not Prague is not Warsaw is not Sofia, just like Bucharest is not Belgrade, Ljubljana or Budapest, but what is more urgent to the local people is to create a postcolonial order in the ex-Union: Minsk is not Moscow or Chișinău, Kyiv or Tbilisi, and so on. The term "us" becomes even more unstable once spoken in Cottbus, a former East German town, a ghost of a country long gone, where "our" films are presented each year, alongside other festivals in Trieste, Sarajevo and Warsaw that focus on Central-Eastern European cinema. It just so happens that I have been to three of these events, always paying close attention to the regional competition line-up at each festival. Unfortunately, the disappointment was always boundless – too many mediocre films, too little curatorial awareness, and an industry that is futile. However, for now, I am not that interested in the wider problem of the commodification of "new" national cinema(s) (which is not regional, but global), but would like to focus on one particular film, Minsk (2021), by Boris Guts, who received the FIPRESCI award at this year's Cottbus Film Festival.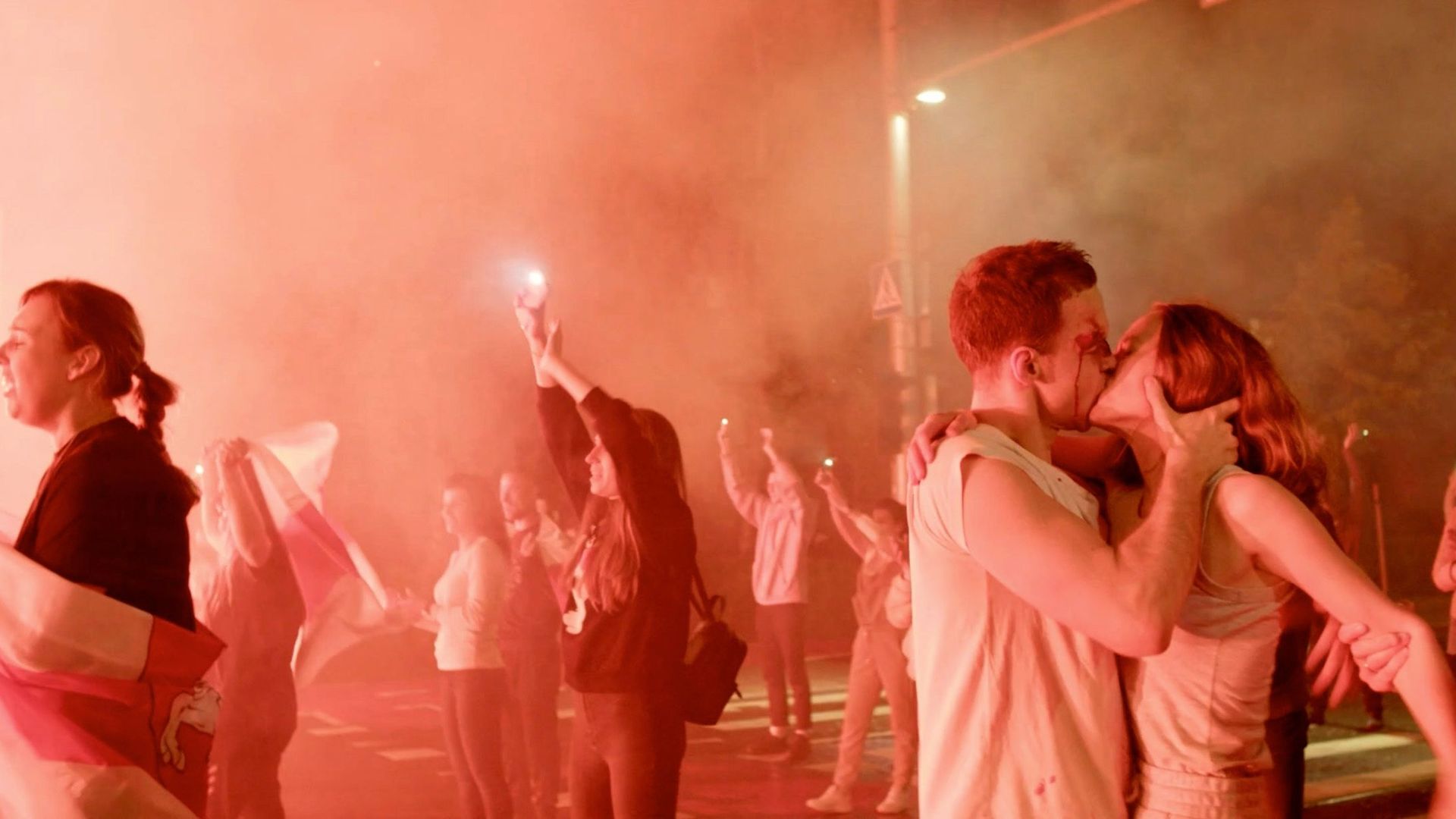 The feature, neither the first nor the last by Guts (rumour says he already has another one in the works), is what, today, might be called "violence pornography": 78 minutes without any montage cuts, about the accidental involvement of a young creative-corporate couple in the brutal abuse of the Belarusian authorities on August 10th, 2020, one day after the unlikely electoral win of Aleksander Lukashenko. Shot at eye-level and, thus, humanizing the gaze of the camera, the film proposes a suspect premise, well-known to cinema audiences since Bertolucci's The Dreamers (2003). It is also a familiar term in modern literature, I believe, since the famous journal entry from Kafka: "Germany has declared war on Russia. Went swimming in the afternoon", but has been known to humanity since the beginning of time: the failure of life to be enough in itself during collective horror.
In any way, Minsk is not representing the grand oeuvre of a master and I won't pretend it does; yet, it stands out from the other films in this year's competition, an unequal gathering of arthouse dramas, including Arsen Oremović's The Head of a Big Fish (Glava velike ribe, 2022) and Anna Jadowska's Woman on the Roof (2022) as well as Hilal Baydarov's Sermon to the Fish (Baliqlara xütbe, 2022), from Azerbaijan, that crests the heights of nothingness. There were also the inevitable "few-like-us" Eastern European comedies (Paul Negoescu's Men of Deeds (Oameni de treaba, 2022) and Luxembourg, Luxembourg (2022) by Antonio Lukich) amongst a great deal of grotesque and absurdist films reminiscent of the 1990s, as well as some political Europudding, and, of course, a headliner, the Croatian Safe Place (Sigurno mjesto, 2022) by Juraj Lerotić – a natural conversation starter for all juries. To us FIPRESCI critics, it seemed indeed remarkable, yet we also had our doubts: it was maybe too rigid, if not disproportionate to the others. In any case, it was expected that the official jury will do it justice.
Minsk, on the other hand, felt like a chain error to a number of Belarusian dissidents: Fron the Russian ex-pat Guts because he wrote and directed it to the Estonian Film Institute because they co-produced it, then the festival for selecting it and eventually the juries for awarding it. Each of its shortcomings was exposed, from blood, passport and culture to the more concrete: that it was shot in Tallinn, not Minsk (where filming would have been impossible), that the actors were Muscovites who spoke in their  accent, and also scriptwise, because the film fills its story with overbearing Hollywood tropes, effectively emptying it of any historical and militant significance. It's the same conversation Susan Sontag started with her reception of Virginia Woolf's Three Guineas. In her argument, the author of Regarding the Pain of Others goes back to explain why treating war as a generic human horror – in the way Woolf does it as if it was happening outside of history (thus saying that all wars are unjustifiable) – is naive and ignorant. In other words, and as Sontag puts it, 'for the militant, identity is everything.' However, the irresponsible Minsk (although responsibility does not automatically mean a superior cinema, for example, the Ukrainian Butterfly Vision (2022) by Maksym Nakonechnyi is just another war kitsch) may be ignorant, but not naive, as it refuses to make itself understood, placing the viewer together with some average young adults with too little virtue, unidentified and not in the know. What hit them? A misunderstood history, about which the real Belarusian heroes have truly urgent stories. 
Still, this does not deny the film its right of being. Guts responding to a definite moment in our contemporaneity, one of generalised paranoia in which Western society – and it feels strange that Romania goes West more than expected in this discourse scheme – is overwhelmed by its now failing historical outlets. The barbarian, vulgar essence of this is the unleashed violence that the filmmaker wants us to feel, and not, as said before, to understand. It's within the rights of the Belarusians to decide which film is more convenient strategically, but it's clear to me that here, on the other side, there is a tendency towards the intellectual ambiguation of certain issues: the cold is some cold, blood is some blood, all at once: at some point. The intense sensorial experience offered by Minsk shakes all senses, the first practice of reason.
And I still believe that there is something dignified in Guts' film, something that pertains to the morality of cinema as language: it's exactly this ambiguous setting between people, neither first nor third person, assumed by the ghostly POV for 78 minutes. Judging by its gestures (it runs, looks around, occupies a place in the car, crawls), the camera mimics humanhood, but without the disadvantages of a body – whatever happens, it remains intangible, virtual, and that likens it to the gaze of the spectator from the other side: watching does not put it in danger. Cinematopgrapher Daria Likhacheva makes it seem as if the screen is present in the moment, together with the characters and without knowing what is to come, but it betrays its omniscience early on, during the chase scene with the two protagonists, predicting their steps. The most regrettable of these mistakes in film language is not to have Tallinn in the background, but to play a song from a car to overshadow the protests, betraying its own diegesis.
You can assume the gaze of the preoccupied observer in many ways, and Pavel Mozhar does it more intelligently in Handbuch (Handbook, 2021), a short film in which the same kind of police brutality is reconstructed conceptually from afar, a Berlin studio, through some sort of anti-illusionism that resembles the safety demonstrations done by flight attendants during take-off. Guts, in another extreme, wants to provoke the visceral, with all human sensations stirred up by the sound of struck flesh and broken bones. What's more ist that he raises the bar by employing real-time, a gimmick that has become popular in arthouse cinema focusing on the horror of reality. However, Minsk goes beyond the precedents set by two heavily stylised films: Sam Mendes' 1917 (2019), a two hours film with subtle cuts, about the life of a British soldier during the First World War, or Erik Poppe's Utøya (2018) about the 2011 attacks on the Norwegian island. It does so with its rough finish that makes it feel like it's been shot with a smartphone under the streetlights, and with live footage from social media serving as an obvious inspiration.
This stands in high contrast with the Hollywoodian tropes. The superficiality of the two characters is striking, initially seen in a tender, intimate moment: they make love, laugh around, talk about having children and complain of house payments, mundane things. Their past is a mystery, except for the fact that the reserved Pasha (Aleksey Maslodudov) has an ex-wife involved in political activism, about which Julia (Anastasia Shemyakina), who is rather histrionic, chatty, almost annoying, tends to complain about. Even in the subtitles, their dialogue is reminiscent of B-movies, as is the case for many of the situations encountered in the script. Minsk is, after all, testing the limits of the viewership's empathy with too little context and too much pretext. Strangely enough, it is exactly the dynamic between the up-close stylistics and far-out narrative that made the film a success for me: a negotiation that keeps doubt perpetually on guard; and cinephilia, as someone beautifully said, is nothing but a school of doubt. 
However, now I feel responsible for Guts' irresponsibility.
Călin Boto
Translated from Romanian by Jessica Brenda
Edited by Pamela Jahn
© FIPRESCI 2022