Among many Nordic stories about morality at this years Haugesund International Film Festival, Danish Queen of Hearts and Before the Frost stand out as confronting dramas with strong sene of tone.
This years new Nordic films at Haugesund International Film festival have all been loaded with ethical and morally challenging issues, though some were predictable, old-fashioned and unoriginal or lacked the strong tone and voice of an auteur. My two favorite films were both Danish and managed to direct their core issues in human, interesting ways that show the complex challenges the main characters are facing, yet at the same time have a strong consciousness and sense of tone. I will also highlight the Finnish film Time Out, for its dark humorous take on a serious theme; the same goes for A White, White Day, which also exhibits an interesting tone and strong personality.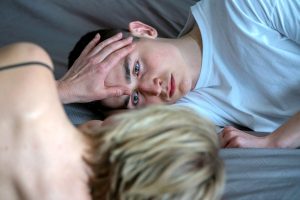 The Danish Queen of Hearts (Dronningen) is a thrilling story that unfolds in a brilliant way, almost like a horror movie: you know what is about to happen, and the esthetics of the film build in an ingenious way. Moreover, Director May el-Touky's unorthodox subjective viewpoint makes the whole situation even more problematic and disturbing, by prompting the viewer to sympathize with the predator. Yet Queen of Hearts is so much more than a thriller. Its achievement is more profound: to show how the abuse of power actually works – how it affects others, why some may choose not to face the truth, and the terrible costs of their inaction. The film draws many parallels to Thomas Vinterberg's dogma classic, Festen. Queen of Hearts' many decisive moments and outstanding sequences are reflected in the intensity of the cinematography and – not least – the stunning acting performances from the two main characters, played by Trine Dyrholm and Gustav Lindh.
Another one that stood out was Michael Noer's Before the Frost (Før Frosten). With its engrossing and vivid cinematography by Sturla Brandth Grøvlen (known for his work on the Norwegian one-take feature film En natt i Berlin (2015) and the Icelandic features Stabukker (2015) and Hjartasteinn (2016)), excellent editing and tempo, it drags you into the core of rural 1850s Denmark. Here a family living under harsh circumstances faces yet another tough winter that may lead them to starvation. As Before the Frost unfolds, it almost becomes a Greek tragedy or a Biblical Tale, where the main character Jens, brilliantly played by Jesper Christensen, makes some really tough choices to survive the winter and save his family. Or, who is he saving? And who is he fooling? The film asks many ethical questions, yet at the same time, by its humane and strong portrayal of situations, it makes the viewer see many different point of views and layers. Also, we see great depth in the many characters in the drama: not everyone is who we first thought they were. In the end, Before the Frost ask the questions many of us will face in desperate times: how many sacrifices are you willing to make, and how many of your principles are you willing to ignore before you are ripped from your own dignity and self respect – and yourself?
Ida Madsen Hestman
© FIPRESCI 2019
Edited by CJ Johnson