Struggles with Fate – On Films by Richard Hobert and Michael Noer
The Nordic Focus section of this year's Film Festival in Haugesund included two films both deeply rooted in Scandinavian literary and film tradition. Both films – one Swedish and one Danish – are very realistic and have intricate plots. They are set in the 19th century, and their heroes are poor peasants fighting against cruel fate for the survival of their families, and to do so, they agree on drastic moral compromises. In both films, a significant role is played by nature, which is both beautiful and coldly indifferent to human tragedies. The films were made by prominent Scandinavian directors from different generations: Richard Hobert from Sweden (b. 1951) and Michael Noer from Denmark (b. 1978), and they are The Birdcatcher's Son (Fågelfångarens son) and Before the Frost (Før frosten).  
Richard Hobert heard his extraordinary story from a teacher from the Faeroe Islands, who recounted it to him in forty-five seconds. Fascinated by how the paths of the heroes cross in an incredibly dramatic way, Hobert first wrote a novel, which was his literary debut, and then made it into a film. This is a story of Esmar (Rudi Køhnke), a Faroese farmer, leasing land from a wealthy man, who wants to take away his wife. According to the eternal patriarchal law of the Faeroe Islands, in order to get the lease extended, the leaseholder needs to have a son before turning forty, while thirty-nine-year-old Esmar and his wife have just had a third daughter. For fear of losing their land and home, they decide to take a very difficult and risky step: following the advice of a friend, innkeeper Livia (Livia Millhagen), who is in a relationship with Armand, a French Captain stationed in the local port, they decide that Esmar's wife, Anna (Vigdis Hentze Olsen), should go to bed with a stranger in the hope of producing a son. By a strange twist of fate, Anna chooses Armand, which naturally troubles the originator of the idea. The Frenchman willy-nilly agrees, and it is difficult for Livia to refuse her friends in dire need her lover, as Esmar once rescued her from a shipwreck. Nine months later, a son is born and he is named Frans…
This is only the beginning of the story, full of surprise twists and unexpected turns, which Richard Hobert – an expert analyst of moral and existential quandaries, as seen in his films Seven Deadly Sins (De sju dödssynderna, 1993-2000) – uses as a pretext for reflection on the fundamental dilemmas of human life: the sense of responsibility for one's family confronted with male jealousy hidden behind a façade of concern; manipulation of the lives of others for one's selfish interests; and the search for a distorted identity confronted with the sense of closeness with a stepfather. A visual aspect of Hobert's film that is difficult to overstate is the landscape of the Faeroe Islands which creates an impassive, majestic backdrop for deeply human experiences: lost and rekindled hope, jealousy-tainted marital love dealing with necessary infidelity, surges of despair and joy, and the ultimate discovery of a deep emotional bond between father and son.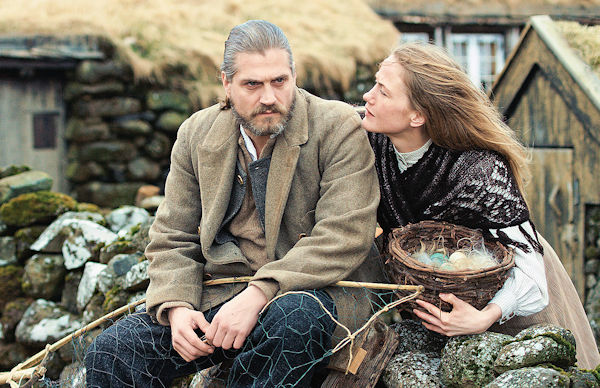 The existential message of Michael Noer's Before the Frost is much more tragic and pessimistic. Its hero is a poor peasant and widower, Jens (an outstanding performance from Jasper Christensen, already awarded in Chicago and Tokyo), who – in the face of uncertainty, destitution and old age – wants to do something for his family in his waning years. His meagre assets include a modest yet insured house, a piece of boggy land, and diminishing cattle stock, but also a pretty daughter of marriageable age, Signe (Klara Rosager). Seeing an opportunity to improve his situation and that of the two nephews who depend on him, he does not hesitate to destroy Signe's love for the son of his not much richer neighbour and arranges his daughter's marriage to a wealthy widower, also offering him all his modest belongings in hope for a better life. However, instead of ensuring his security and an improved standard of living, his decision costs him dearly. By a twist of fate, his two nephews die tragic deaths, burdening his conscience with dreadful guilt.
Both films are impeccable in terms of formal precision – more traditional in the case of Hobert, and more modern in the case of Noer, who was probably inspired to some extent by Dogme – being the best possible artistic representations of the potential of Scandinavian cinema.
Tadeusz Szczepański
© FIPRESCI 2019
Edited by CJ Johnson