As if chronicling a social situation, the scenario starts with an outdoor gathering of young people and finally, in about two-and-a-half-hour of engrossing drama, folds up in a public car parking space. One young girl, naive and introvert, who let herself float in the communion at the beginning, had grown herself to take strides on her own towards the closing scenes. She is the protagonist of Stonewalling (Shímén, 石门, China, 2022) from the filmmaking couple Huang Ji and Ryuji Otsuka whose humanly authored mise-en-scene is a clear-cut snub at present-day China's gig economy. It is their third in a thematic trilogy on contemporary China resembling the concerns and aesthetics of the Sixth Generation filmmakers.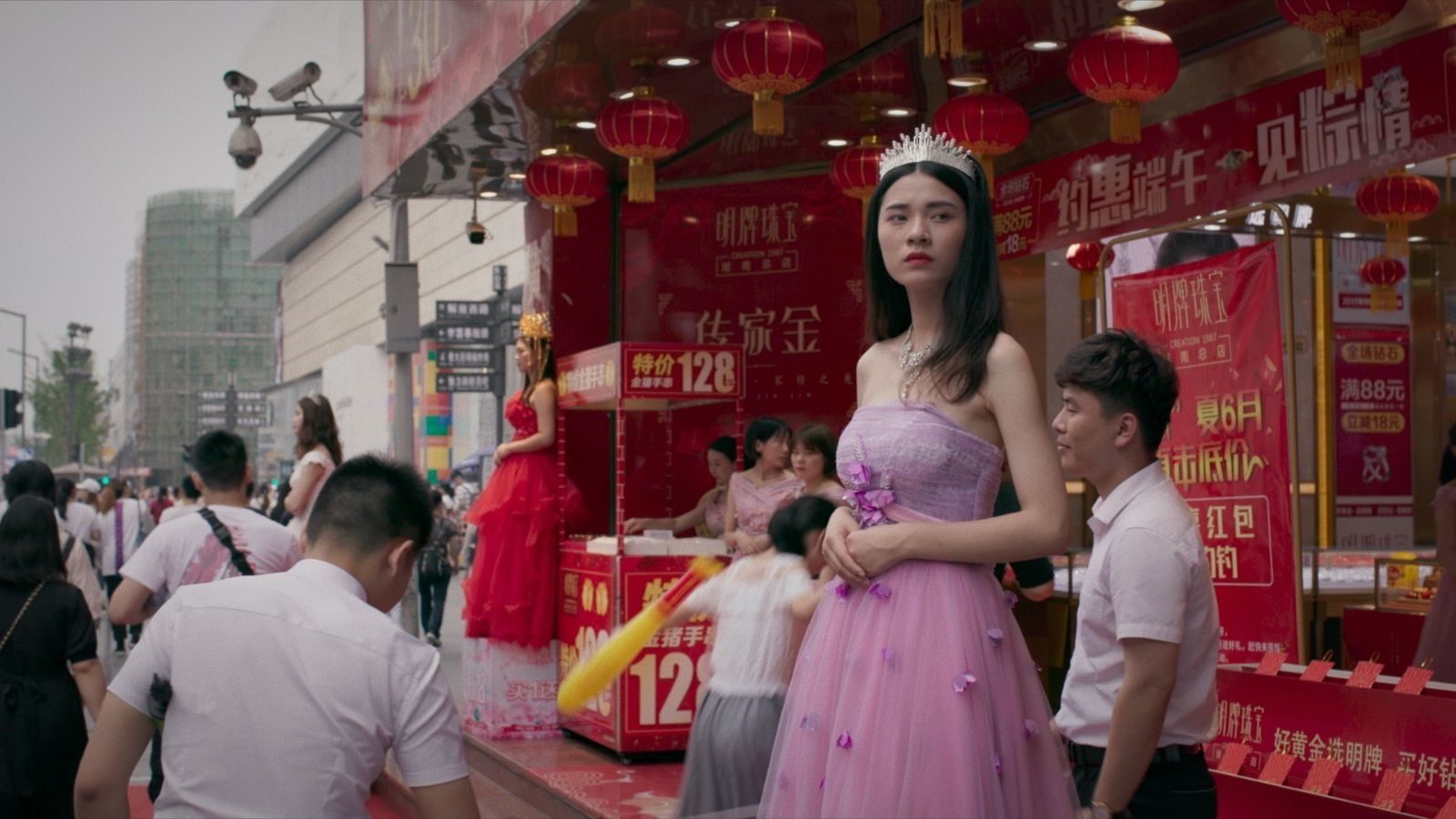 The script revolves around 20-year-old Lynn, a job-seeker in the city. Her live-in boyfriend Zhang spends money for her English lessons and Airhostess training, all that fits into their dream of living abroad, while his DJ role and modelling for a suit company also pumps up a Westernised ambiance. She even strikes a deal of donating her eggs to wealthy childless citizens. The couple's resolute life, however, comes to a halt, as Lynn becomes pregnant and moves into her parents' suburban hometown, as she is keen on keeping the foetus against her boyfriend's wish of an abortion.
With an inquisitive camera-eye, relying mainly on mid and long shots, akin to the style of Direct Cinema (a la cinema-verite), an overall subdued acting makes this auteur drama appear more real, instilling a kind of refreshing technique and image. The bottomline is clear: it's all very normal under a liberalised Communist Party regime, although the visuals refrain from directly indicating so. The twist in the script actually fires up the imagination of an unsteady, hoarse economic side of a much-talked system away from Mao or Deng's socialist justice. A woman hardly past her teens is now offering her womb and offspring for rental/sale in lieu of an assured hefty amount of Yuan; in other words, her body is commodified.
The irony of this sordid reality catapults into existential tragicomedy as prospective tenants of the 'human ovary' even inquire about prospective health and looks of the new-born by examining the renter's physique, face and limbs. Moreover, the adoption parameters in a flourishing fertility industry are constantly negotiated—of course, that is also a part of selling and buying culture. A pitiless short sequence of sleeping babies in a kindergarten follows a shot of Lynn retiring in bed, making the audience inwardly focus on the situation. The protagonist is also seen introducing young rural women to egg donation for easy money. Trying to settle her mother's outstanding debt to cover a messed up procedure at their family clinic is another matter of concern.
Lynn's mom is a gynaecologist in her own right and her partly disabled dad is a traditional medic, both past their middle age and are using their cramped living space for professional practice and community service. Her mother is associated with promotional activities of an all-curing Vital Cream and it's all but normal that Lynn being the only child of the family—an indication to China's one-child policy—comes in to help, sometimes even interfering when her parents' strained relationship threatens to turn worse. Over time, their congested space serves as a selling joint of essential items in a fast-evolving Coronavirus pandemic. Lynn's gradually advancing pregnancy, the nitty-gritty of it all, the immediate world that surrounds her, shifting moods, everything goes under Ryuji Otsuka's fascinating camera-scan. The most amazing aspect of the film is how the different phases in the ten months of Lynn's life go through a smooth editing pattern and a definite scheme of colours and tonal effects, so that viewers don't feel the transitions.
Though the advent of winter by a church front in the Northern hemisphere could be alluring for any scene of festivities, weddings, vows and meet-ups between couples, in Stonewalling the church backdrop is used for Lynn breaking up finally with Zhang. She returns the money Zhang gave her earlier and he politely refuses to accept it; but she keeps holding it out to him, they keep repeating their respective moves adamantly, indicating that each of them are mere slaves of the hopeless social conditions. They have entered such a phase of life at such a young age, one where fate shouldn't have it's all the say, yet that appears to be the only way out. Yao Honggui as the young Lynn made everything look so easy for an actor. Bestowed with a down-to-earth appearance, without any pent-up emotion, doing away with dramatic monologues, or close-up exploits, the directors deserve the credits for bringing out the most of her. Apart from her, the lady as Lynn's mother also played her role flamboyantly: the character is having her own situations to negotiate, offering liaison between her daughter and the client effectively.
In the last sequence, fresh out of labour, with her baby, Lynn suddenly feels an acute chest pain. It's a lingering ache she has been bearing since getting pregnant, once examined by her mother who feels dormant lumps there, a probable cause of the pain. Braving the rains and ignoring the crying baby, she mounts out of the car's backseat and thumps her hand vigorously on her chest. Music plays and the film ends at that juncture meaning that she has to cope up with everything at present, ominously for coming days too. The mother-daughter duo actually epitomises human bonds that are so frustratingly and increasingly out for sale in this market-valued world; Stonewalling deals with this familiar but muted world metaphorically presented by a glimpse of Mao Ze Dong's sculpture. The dichotomy of valuation and devaluation of a foetus or a newborn gives an extra depth of meaning to the subject.
Manoj Barpujari
Edited by Savina Petkova
© FIPRESCI 2023