The deceptively soothing visuals and editing only belies accounts of the traumatic memories of war, which form an unusually original representation of bloodshed in Ahmed Abd's winning documentary. Steven Yates extrapolates how it attained its unique style and standout qualities.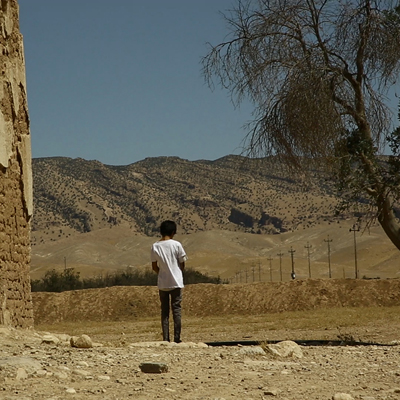 This year's IDFA proved that Cinéma Vérite/Direct Cinema, with its unofficial tagline of 'Nothing but the truth', has come a long way in the years since Robert Drew, Richard Leacock, D.A. Pennebaker and the Maysles Brothers collaborated for Primary (1960), after which the name 'Cinéma Vérite' became universal. Subsequent 1960s social change and upheavals, both in North America and globally, were captured in similar documentaries. Nowadays, audiences expect something more; luscious digital cinematography and an embedded metaphor or lyricism to make the naked subject matter more accessible and appealing.   
Direct cinema had attempted to authentically capture real-life events and situations and benefitted in film apparatus innovations from the late 1950s, such as: portable tape recorders, faster film stock, lenses for natural light shooting and, most importantly of all, the zoom lens, which allowed for a continuous camera-edited take that made the editing process faster and easier. However, the affordable black and white 16mm film stock was still not considered a viable enough format at the time and screenings were relegated to festivals, university screenings and film societies.    
Sixty years later, the pace of technology in film has accelerated with digital film stock and the mass availability of platforms for screenings. Despite this, there is the problem of saturation, combined with an ever dwindling audience for these types of films, be it in artistic narratives or documentaries. With ubiquitous festivals and the Internet, such saturation means that films today can also, for different reasons, suffer the same fate of a limited audience in the way that direct cinema films were not initially accessible on television or even the cinema houses. Festivals like IDFA have defiantly attempted to counter this situation and are more vital than ever, especially for first time filmmakers as found in the First Appearance Competition this year.  
From the twelve films in competition, two in particular used a candid style to focus on war but also with an aesthetic eye rather than merely the inevitable brutal effect. The well-received Ukrainian documentary This Rain Will Never Stop (Цей дощ ніколи не скінчиться, 2020) by Alina Gorlova was shot in black and white, drawing comparisons to its involuntary use by the Cinéma Vérite directors. It focuses on the journeys of 20-year-old Ukrainian-Syrian Andriy Suleyman, a Red Cross volunteer, as he travels from country to country, from one war to another, in order to reach members of his displaced war- torn family.    
Iraqi filmmaker Ahmed Abd was only nine years old when his country was invaded in 2003. In order to distract himself from the horrors, he imagined superheroes that would save him and wrote stories about the four major wars that the Iraqis have experienced over the past forty years, along with fear, and dreaming of revolutions. His debut film The Fifth Story (2020) depicts how he has now given up on these illusions, with four different characters from four different generations representing how the author has faced up to fear, weapons and war in Iraq as he collectively narrates with them for this fifth story.
The shooting for the project took place in Baghdad, Shengal and Mosul, covering stories of the various people living in those areas and unveiling personal traumas hidden behind the crude reality that global news often shows as merely spectacle. Abd conveys how different generations are still suffering from their personal effects of war; from a teenage boy who is unable to free the image of dead bodies from his mind, to a young woman who explains how she joined up with the Kurdish armed forces to fight against ISIS. Otherwise, an elderly man says that he still lives with the recollection of the faces of the victims that he had to bury.
With its lyrical style, complimented by beautifully shot photography, The Fifth Story shows how much the director loves his homeland and inevitably attracts alignment through this. There is a continual staidness that has a compelling effect throughout its psychological journey of the last forty years. At times deliberately fragmentary, the intention of the director in achieving his intended poetic approach is exemplified in the examples of contemplative dreamlike shots of murky water or bare feet walking through the forest. Occasionally, there are elements of archive footage accompaniment, which adds authenticity to his visual landscape of withdrawal against the physical and mental devastation.
Despite the initial premise that explains its title, The Fifth Story still represents the voice of hope as the director addresses the young generation about the world they have inherited with all its problems, hopes, fears and dreams. The end conclusion of Abd's message to his homeland people is in a call for revolution because he believes it is the only solution against the perennial corruption and oppression in Iraq.
Entries such as The Fifth Story and This Rain Will Never Stop underlined the mature and humanistic approach of the authors dealing with the tragic and sensitive subject of wars. Both films carried the strong message that all wars ultimately have the same effect in that the victims have been stripped of their dignity and carry a perennial sombreness, as well as having to continue to stumble on with uncertainty and fear.
We chose The Fifth Story for the FIPRESCI prize because of its strong documentation about the effects of the war on human beings, complimented by its masterful cinematography and editing. Watching the film makes the audience understand more what happens to civilians in countries like Iraq, the effects on their lives during the war, and subsequently, when they are left alone to contend with the physical and psychological scars. The poetic approach of Ahmed Abd compensates these atrocities by lamenting but also in giving the individual hope, while allowing us to align with their brave path towards an always uncertain future.
Steven Yates
© FIPRESCI 2020