Madman or Genius: Denis Dobrovoda's The Cathedral
by Yun-hua Chen
The documentary The Cathedral (2022) (not to be confused with Ricky D'Ambrose's fiction The Cathedral (2021)) is Slovakian director Denis Dobrovoda's debut feature. Awarded with the Golden Horn at the 62nd Krakow Film Festival, it documents the extraordinary journey of Justo Gallego Martinez, a Spaniard who devoted 60 years to building a cathedral in Mejorada del Campo that is modelled after the Vatican – almost single-handedly.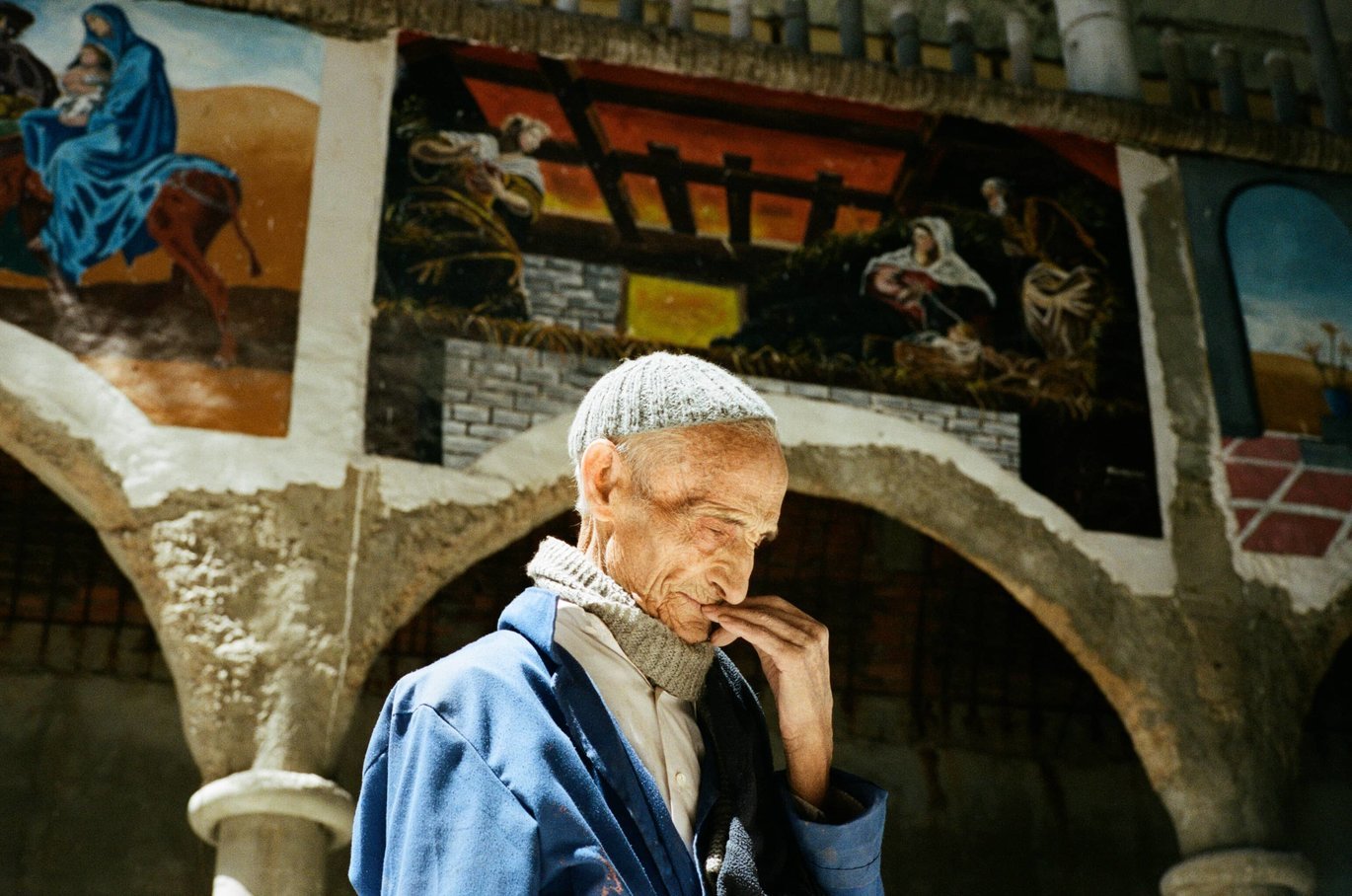 Weaving archival footage as far back as 1991 with newly filmed footage, The Cathedral started in medias res when Justo Martinez was already halfway into this gigantic project. Born into a farmer's family, his dream of being a monk was destroyed when he was voted out of monastery. Since then, he was determined to serve his creator in his own way and with all means at hand. Without having completed primary school or received any formal architectural education, he simply devised the blueprint of the entire cathedral in his head. This intuitive approach endowed him with complete artistic freedom. All bureaucratic regulations were disregarded; no construction license and no safety compliance. Justo Martinz recycled scrap and utilized less material than usual; when a bag of old tennis balls was brought to him, he instilled liquid cement in them to create concrete spheres for outdoor ornaments. Imbued with such grassroot creativity everywhere, the DIY cathedral might look chaotic and uneven at first glance. Still, it has all the defining elements of a cathedral in a fashion that is truly jaw-dropping: large stained-glass windows, pointed arches, vaults, a dome, towers, aisles, and a choir.
An idealist like Don Quixote and a Renaissance polymath like Da Vinci, Justo Martinez was a social misfit for the church and a madman in the eyes of other villagers. He considered football paganism and idolatry, but in the next unguarded moment, he eagerly admitted that it was Real Madrid that he supported. The full spectrum of this unique human being's complexity and contradictions was well rendered by the cinematography of Gonzalo Hernández-Vallejo Fernández, Israel Seoane, and Diego Trenas. Fellow villagers, helpers, architects, ecologists, and spokespeople of the local church and government contributed their accounts, but their voices were usually disembodied to leave space for Justo Martinez and his work. Staying rather close but maintaining a non-intrusive distance, the camera accompanied Justo Martinez like a confidant. We see him concentrate on the construction work, roam around the cathedral, and sunbath on the wing balcony, as he slowly faded away in front of the camera; we see his fiery tantrum when being upset by tourists, and equally his pure joy of bending a piece of metal into a perfect arch on the first try.
The unfolding of the coming-into-being of the cathedral, from open-air to fully vaulted, and from a rough structure to a fully functional and ornated piece of architecture, is immersive and non-judgmental. The biggest suspense in The Cathedral was not whether Justo Martinez would finish building it but rather what would happen to his incredible feats after he passed away. Both the church and the local government seemed too absorbed in red tape to care about it. This, however, did not concern Justo Martinez a bit. The only thing he was worried about at the age of 96, bedridden, was the reinforcement of the dome to survive strong gusts of wind. As much as Justo Martinez was not embraced by the community in the monastery where he briefly stayed, his cathedral did not square with political and religious institutions.
Denis Dobrovoda said in an interview about his short film Apparition (2016), "Questions of faith in modern world is much more complex than we often think, and how that ties to things like hope, loneliness, God, and atheism." That also stands true for The Cathedral. Whereas Apparition is a fictive story about a lonely bank clerk who is forced to open his doors to believers because of a mysterious stain on his bedroom wall that is considered an apparition of the Virgin Mary, Justo Martinez in The Cathedral is a loner who closes his doors to achieve something superhuman in the name of his faith, create beauty in poverty, find a purpose in what no one believes in, and give life to things that are usually considered lifeless – all duly celebrated by the film medium.
Yun-hua Chen
Edited by Justine Smith
© FIPRESCI 2022