A Ballad (Balada, 2022) is the third long feature film by Bosnian director and scriptwriter Aida Begić. Her previous two films The Snow (Snijeg, 2008) and The Children of Sarajevo (Djeca, 2012) have won awards at Cannes Film Festival, in Critic's Week and in Un Certain Regard. During the preparations of A Ballad Aida Begić made another long feature film Never Leave Me (Bırakma Beni, 2017) about the war in Syria.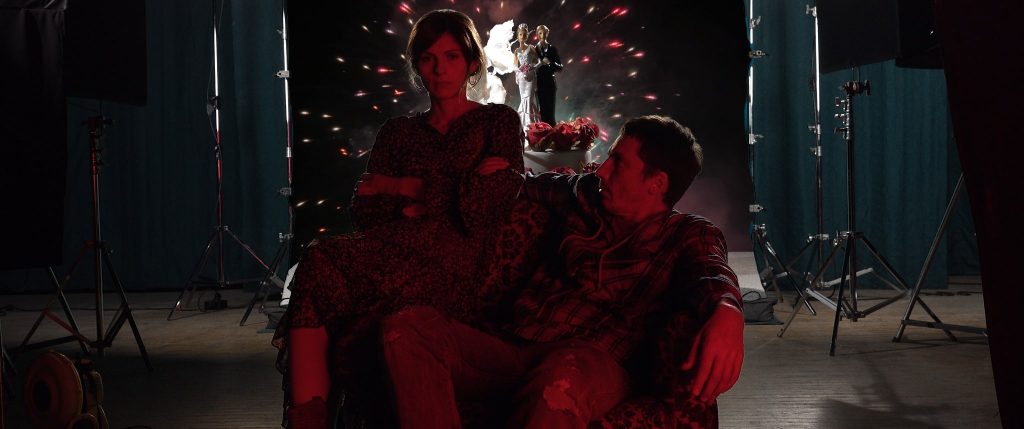 A Ballad premiered at Sarajevo Film Festival last August and left the audience and the critics divided, probably due to its enigmatic and erratic visual style. Having in mind Begić's contribution to two omnibuses Don't Forget Istanbul (Unutma Beni İstanbul, 2010) and Bridges of Sarajevo (Les Ponts de Sarajevo, 2014) A Ballad is a substantial offset from Bosnian war, which was dominant in all her previous work. But that does not mean that this horrible experience does not mark the characters of A Ballad. It does: in the rigid frame of provincial and archaic values and rules helps to create a claustrophobic atmosphere of hopelessness.
The script is loosely inspired by the 17th century poem from Ottoman times, titled Hasanaginica, that tells the sad story of a woman forced to leave her husband's castle without her children. She later dies of sadness and sorrow. This is where the basic dark tone of the film comes from.
Meri, portrayed by Begić's favourite actress Marija Pikić, is a divorced, unemployed, young mother, who left her abusive husband after ten years of marriage in an instant impulse, and leaving behind her 8-year-old daughter. Starting a legal battle to rejoin with her child, she realises that her position is seriously weak because she has no job and finances of her own. Additionally, in the eyes of the society she is a dishonest divorcee who left her husband for no obvious reason. Her mother makes it clear to Meri that what she needs in this situation is a man to marry to gain back respect from society. But Meri has her own plan. She goes to an audition to become an actress. The conservative mentality of her social circle condemns Meri for leaving her husband and, even more, for her idea to earn money by acting. Everything seems to shut down on Meri and without light at the end of the tunnel. Begić begins the visual journey through parallel reality, embodied in film scenes, music flashes and fragments of Meri's auditions. During this wild journey of imagination, dreams and reality, Meri meets a former schoolmate, a peroxide blonde with false nails and false lashes, a provincial personification of female liberation who turns out to be the only person to support Meri's aim to become an actress. In the final part of the movie, one cannot distinguish fiction from reality, and the film from the film inside the film. This is a unique structure, mixing sequences from reality with alleged movie yet to be made. But Meri is ready to leave them instantly. Even the reality bits sometimes take a surreal form and the director exploits and uses it to the core.
Begić does not try at all to convince a spectator that this wild dream is possible for Meri, giving on the other hand a very graphic scene of a marriage proposal by the same man who was supposed to be her saviour, and accepted by her dominant mother. What else can a young woman in this situation do, but to seek escape in the dreams? Jokić is captivating in a role and gives a great statement of life.
However open and undetermined the ending, Begić offers the tiny track of hope. Her heroine is a modern woman, who – unlike Hasanaginica three hundred years ago – is not ready to put her neck under the axe without fighting. The final scene shows the merry bride in a white gown cheerfully chatting with the child. Did she finally get her daughter? Everything is possible. Or maybe not yet in a deeply conservative Bosnian society, especially tough on women.
A Ballad is a solid work by the director established firmly in her own environment and internationally. The erratic, almost experimental visual style of the second part of the movie may not please the wider audience but the film is nevertheless convincing. Begić has become a director with recognisable manuscript. A Ballad is not a high-profile drama, but it is very human and touchy without being pathetic for a single moment.
Živa Emeršič
Edited by Rita Di Santo
© FIPRESCI 2022