What surprised me the most at this year's Stockholm International Film Festival Open Zone section is Houman Seyyedi's World War III.  When I first heard the title World War III, I thought it was a nonsense soap drama. Unexpectedly, later this film soon became the consensus of FIPRESCI award in three jurors' minds.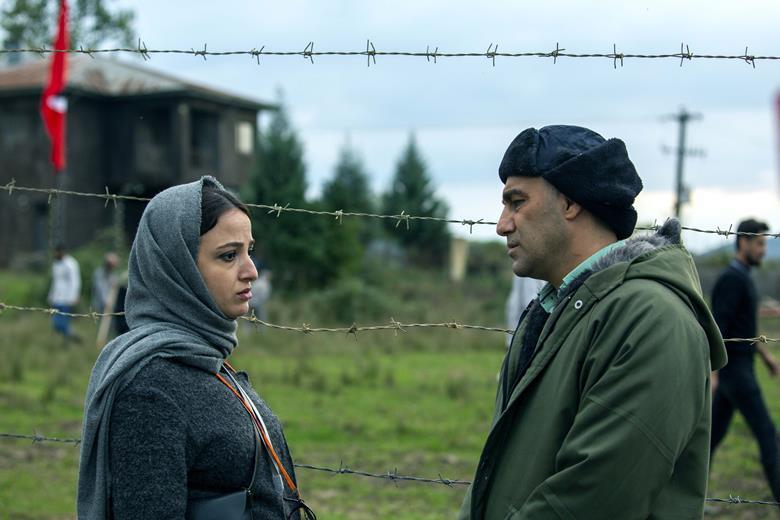 It is about Shakib, an illiterate low-level part-time job vagrant in Iran, accidentally promoted to the protagonist of a movie, as Hitler, from an extra background actor, in a film being shot. Ladan, a deaf-mute fellow who was sold as a child-bride prostitute, runs to the country to seek protection with Shakib. Shakib hide Ladan under the floor of Hitler's temporary mansion for the film. Just when Shakib goes out to help Ladan redeem herself with Shakib's advance remuneration, a blast scene for filming razed the mansion to the ground.
When one background actor finds Ladan's bracelet, Shakib realized that Ladan had been blown to ashes. Shakib bursts into angry and poisoned the restaurant for the whole filming team.  
From an illiterate part-time worker to a blockbuster protagonist with a hundred times higher salary, Shakib's turning over to high class destined to illusions in its midway.
In World War III, the tragedy of Ladan's being bombed tested the moral values ​​of every character in the play. The film seems to imply that the rich class tends to think about monetary interests, and tries to refer to Ladan as a fraud for Shakib's money, who has already left the mansion and survived the bombing; the lower class tends to pursue the truth while there is another scene where all the lower class submissively testified that Shakib knew that the mansion would be bombed (fact: Shakib is illiterate, he does not know exactly what the next scene would be). To think it over, maybe the lower class tends to pursue the truth only because it is in the lower class's interests to pursue the truth (preventing themselves from being killed while being covered up). Shakib, who was about to be promoted to the wealthy class, had a simple and pure conscience, and broke with the world by killing everyone.
Except that the title World War III is too frivolous and there is room for improvement, the film is a profound and humorous integration disclosing the reality of Iranian society and human nature in delicate and emotional touches. It is bound to cause a sensation in Europe and United States. We are going to welcome a new star Houman Seyyedi. After enjoying World War III, I started to search Houman Seyyedi's previous five feature films.
At the time of this article, the Stockholm Film Festival was calling for a group to protest in front of the Iranian embassy ​​because Iran government suppressed freedom of speech and arrested several directors including Jafar Panahi again.
Iran implements a unique theocratic supreme leader dictatorship.  The supreme leader ranks higher than elected president in Iran Constitution and serves for life. The current Iran supreme leader Seyyid Xamenei does not like the democratic system, suppresses freedom of speech, and repeatedly arrests dissidents in the country. The previous Iran supreme leader was Khomeini who often appeared in Taiwan's newspapers when I was a high school student. Khomeini ordered the execution of Rushdie, the author of The Satanic Verses, which led to an eager tide to read The Satanic Verses in Taiwan's universities in 1990s. Thirty-three years later, in August of this year, one arm of Rushdie was cut off and one eye was stabbed while Rushdie was delivering a speech in New York.
These Iran supreme leaders are actually the rich class in World War III who forbid others to speak and cover up the truth in order to safeguard their own interests and ideology. We will stop here to preserve the possibility of going to Tehran in the future.
Hsin Wang
Edited by Rita Di Santo
© FIPRESCI 2022