How to choose the best film among very good ones, especially when it's a first feature? Eventually it's always about criteria. This jury member was looking for a fresh and unique storytelling as well as a compelling vision of the onscreen world. A world that would make sense both for the characters living in it, and the audience. Polish Aleksandra Terpińska's debut Other People (Inni ludzie) definitely fit these criteria – even if the director's vision presents a world that is not pleasant since it's driven by a permanent frustration.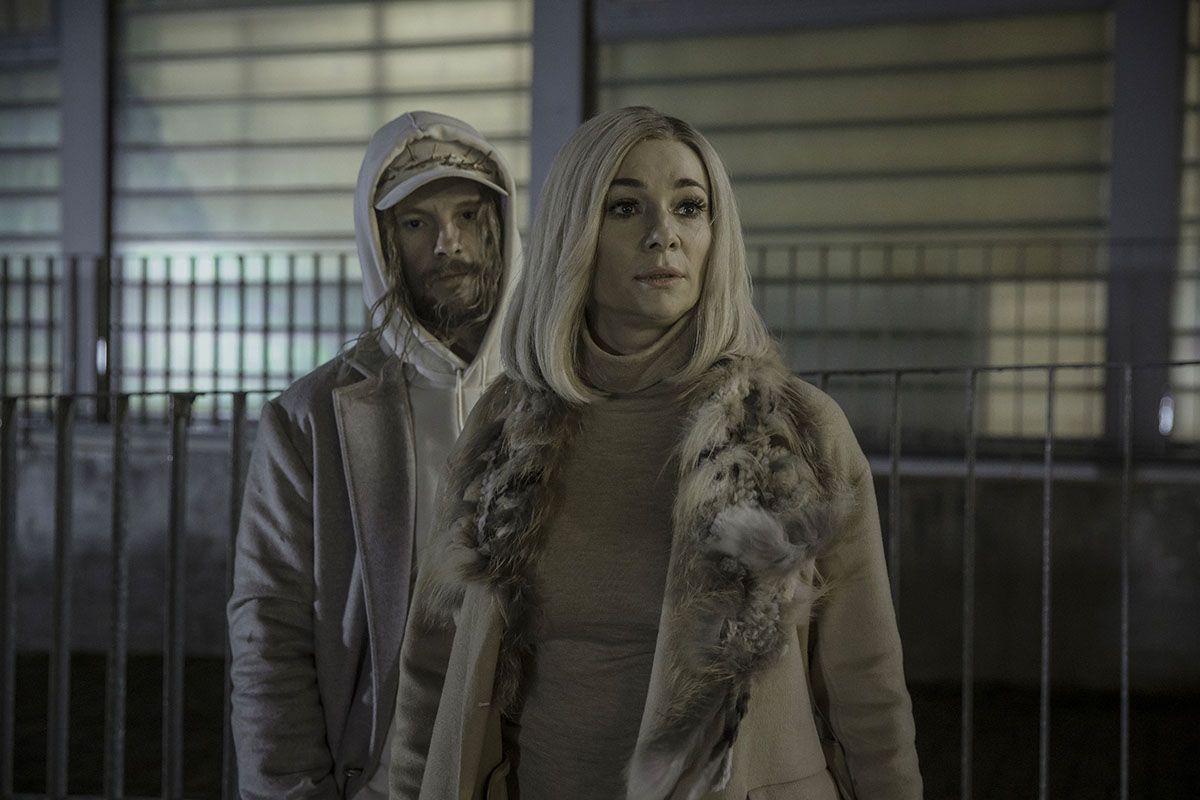 The story revolves around two main characters and few secondary ones, and what they have in common is that they're living in realm of fiction – they dream of happiness but have no idea how to get it.  So they try and try to get what they're told will bring them bliss: money, stylish looks or fame, all the false prophets of the contemporary world.
Kamil (Jacek Beler) is aspiring rapper, recording his lines and rhythms in a tiny room of a small apartment. He is constantly angry and doesn't know how to release all the pent-up frustration; he dates a pretty girl (Sweat's Magdalena Koleśnik), who splits her time between working at the drug store, making Instagram videos and chasing Kamil's attention, while he is busy having an affair with married and wealthy housewife Iwona (Sonia Bohosiewicz) – whose husband, incidentally, cheats on her. None of these people is happy or satisfied, even if they get occasional glimpse of delight, when they fantasise about a better future. However all their dreams are not their own, they were implanted in their brains – just like in dystopian Blade Runner – by capitalism. The free market with all its promises swept through Poland and Eastern Europe in early 1990s and was, at first, a beacon of change; now after 30 years, it is nothing but stale air occasionally sprinkled with perfume. Other People captures that atmosphere with weary accuracy.
The film is also punctuated by the Polish innate fear of what the neighbours may say and how they may judge someone's behaviour; obviously in era of urban alienation these "neighbours" are people from work, parents met at the PTA or perfect strangers; they are the "other people", who somehow can read the minds of the film's protagonists and thrive on their biggest fears. All that is being presented in the background, somewhere between the illicit love affair between Kamil and Iwona and other events. There is one more important character who should be mentioned – Jesus slash rapper (Sebastian Fabijański), who is rhyming out loud Kamil's thoughts as well as commenting on the events as an all-knowing narrator. He is invisible to everyone, representing the world of true values.
Terpińska's debut is an adaptation of eponymous book by famous Polish novelist Dorota Masłowska, whose look at Polish society is dark and pessimistic, and she creates an onscreen world of failed dreams with firm and steady hand. All elements fit here, from the slightly vulgar way the characters look and carry themselves, their dynamic movements (we rarely see them sitting still or laying down), to aesthetics: the pale and cold colours of the sets, costumes and filters used by DoP Bartosz Bieniek.
Other People, which is also a musical, doesn't have any routines for the characters, however they seem to be entangled in a form of a dance anyway; one that is forced on them by their circumstances. They can't change, evolve – Iwona is trapped in a failed marriage, Kamil is chasing a dream that will probably never come to fruition. The world is not welcoming, generous, can't offer them what they want. A similar notion also governed Terpińska's Cannes-awarded short Best Fireworks Ever (2017), which followed three friends whose lives are suddenly interrupted by a war. Loosely based on Kieślowski's Blind Chance (1981) that short film came to a conclusion that there are not many chances and hopes for the younger generation, who want to live in peace and with good wellbeing. It's chilling, given the political tension on Polish-Belarusian and Russian-Ukrainian borders, how prophetic that film may turn out to be. Other People don't have that feel of imminent threat, yet it shares a pessimistic view of the world.
It's interesting to compare Terpińska's film with that of her mentor Wojtek Smarzowski with whom she worked as 1AD on Mighty Angel, Volhynia and Clergy. Smarzowski shows how conflict makes people act evilly and explores their inner cruelty. The genocide, paedophilia or other atrocities are a result of human action but evoked by horrible circumstances. In  Other People Terpińska focuses on a different dimension of psyche, so to speak. The world is just empty and ordinary, so are its inhabitants. There are no devils, and the character of a Jesus is invisible. Everything here is consistent, and the vision of the repelling world is at the same time very alluring; and this is the reason why FIPRESCI jury decided to give the award to Other People by Aleksandra Terpińska.
Ola Salwa
Edited by Amber Wilkinson
© FIPRESCI 2021