A road to nowhere that compels in its lurid existentialism, with a smattering of dry humor to boot, Elias Fragoulis commends a Greek road film that took the festival somewhat by surprise and also predicts its longevity as a festival favorite to come.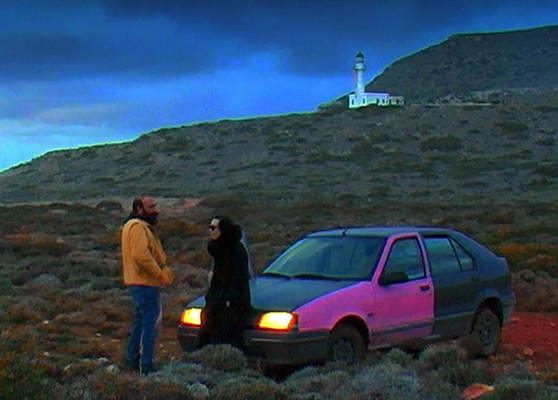 The Greek movie that took the 62nd Thessaloniki International Film Festival by storm, winning six awards (including the FIPRESCI one), is the feature debut for local graphic designer and comic book artist Yorgos Goussis. Shot in just ten days with a mini DV camera and with an extremely small budget (a mid-four-figure sum of Euros!) and crew, Magnetic Fields (Μαγνητικά Πεδία) had its international premiere with a strong impact, both on critics and the audience, promising a cult following in the festival circuit next year.
Through a subjective shot from the inside of a car, we follow a ride to… nowhere. Elena stops at a gas station, puts a big rock in front of the left wheel of the car and asks for directions. She chooses the way to the port; (almost by chance) she enters a ship and gets to the island of Kefalonia. The only other passenger that we see is Antonis, a single and quiet presence that stays outside to smoke, just like Elena. His car doesn't start, it's nighttime and out of season, he's kinda hopeless. Elena offers help and ends up appearing in front of him all the time, like a stalker. At a restaurant, Antonis confesses to Elena that the content of the metal box he's carrying is… his deceased aunt Maria, the reason for his trip, since her last wish was to be buried at the place where she was born. Due to bureaucracy reasons, a proper burial is not possible to happen, leaving Elena and Antonis driving all across the island, in search of a 'final residence' for Maria.
Like an alternative version of a 'buddy movie', Magnetic Fields starts with an offbeat comedy feeling that brings back memories of the early Jim Jarmusch films, introducing two wounded (from life) characters who have been passive victims of their daily surroundings and are in search of a new meaning, a purpose, an escape.
The bones of Maria and Georges (the car!), as extra 'characters', add a little sense of humor into the (mainly) improvised dialogue of Elena and Antonis, who co-wrote the script with Goussis, while the narration grows into a deeper sense of sadness and loneliness. She is a woman who doesn't recognize herself anymore, who has abandoned her family (husband and son) all of a sudden and just feels the urge to… sing. He is a man who doesn't belong to anyone, has been in love once and doesn't allow himself to share any kind of sentiment in his life again. Both Elena Topalidou and Antonis Tsiotsiopoulos are building the personalities of their heroes in a totally naturalistic tone (they are even responsible for their wardrobe and looks), while following basic plot guidelines from Goussis, ending up giving performances that 'emit' truth.
The collapsed bridge at Cheimeniko and the deserted Ex-NATO Radar Base are the highlights of the locations through this peculiar and anti-romantic road trip. Powerful visuals that add a post-apocalyptic 'emptiness' to the grainy, pixelated and lifeless colors of the 4:3 frames, which feel like trying to reveal the inside of the souls of Elena and Antonis. Kudos to the DP Giorgos Koutsaliaris (who mentioned Harmony Korine's Julien Donkey-Boy (1999) as an aesthetic reference during the Q&A that followed the premiere, after my example of Michael Almereyda's Nadja (1994) for making us wander like 'aliens' across the images that Goussis imagined and brought to the film.
Only 78 minutes later, you find yourself caring for these two 'outcasts' of adulthood, you carry their despair, their hope for redemption and you may even wish for a sequel to Magnetic Fields that could provide us with just more… dialogue! Of real people! Goussis has created something artistically pure without (the usual) provocations of today's cinema. It's not new, obviously, but is done in such an honest way that happens rarely nowadays, so can be embraced as a narrative achievement.
Elias Fragoulis
Edited by Steven Yates
© FIPRESCI 2021