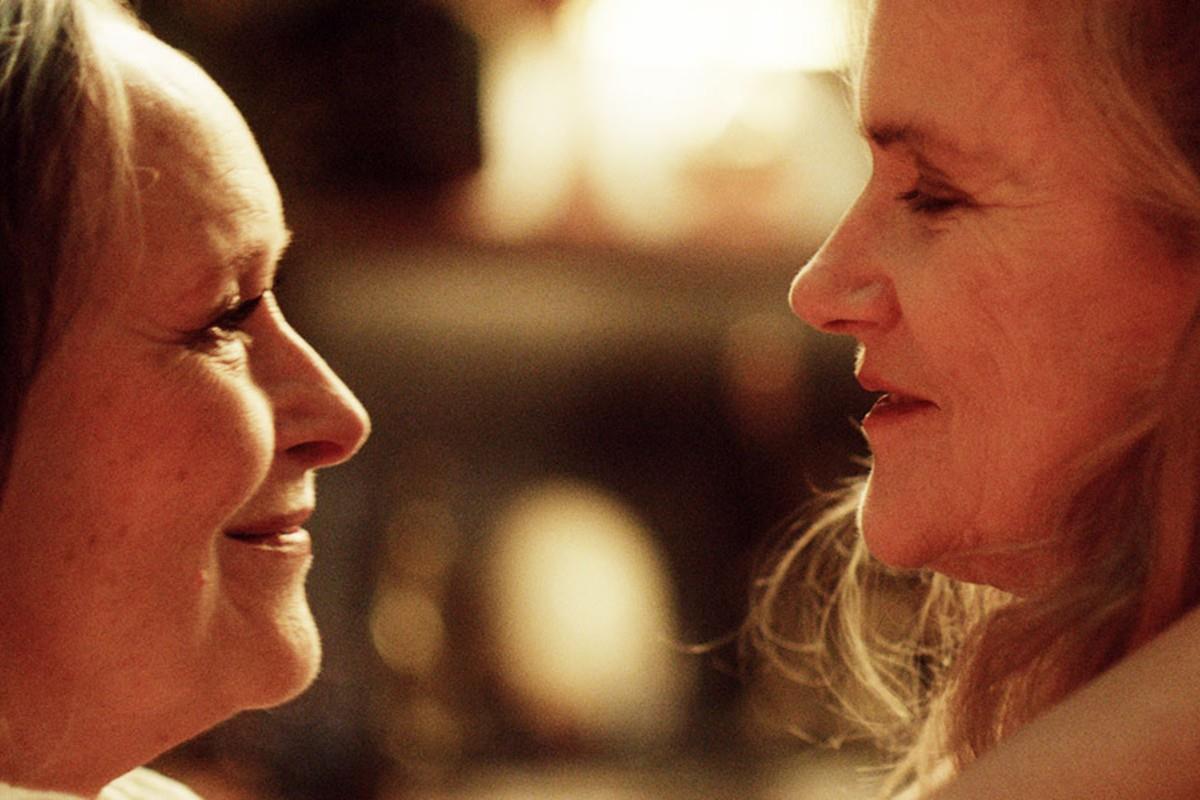 This year, at the 49th Kyiv International Film Festival Molodist, the FIPRESCI Prize was given to a film that doesn't belong to the mounting wave of esoteric cinema which has recently hit the festival world. Distant from both the kind of quirky gender-bending fantasies and the sterile mood pieces nowadays too often selected by programmers striving to present themselves as engaged and à la page, Two of Us (Deux, 2020) by Filippo Meneghetti is a warm, sensitive and beautifully classic romantic drama. A well-written and directed European movie largely set in two apartments in Southern France, in a calm middle-class scenery rather familiar to cinephiles. An elegant melodrama that smoothly, yet almost implacably – and without any brutal or sordid manipulation – turns itself into a very compelling sentimental thriller.
Much has been said and written about Two of Us and its outstanding leading actresses since the world premiere in Toronto in 2019. The story revolves around a secret. Nina (Barbara Sukowa, at the top of her game) and Madeleine/Mado (Martine Chevallier, very touching), two mature women living next door, are lovers and have been hiding their relationship for decades. Nina, a retired German tour guide, has always been open about her sexuality, while Mado, a widow consumed with guilt, has never come out to her children, not even after the death of their father. They dream of getting rid of their properties and starting a new life in Rome, the city where the two first met. But Mado doesn't seem to be able to find the courage to move on. She is too afraid to let her family down and loose the love of her grandson. A tragic event suddenly changes everything: Mado is left mute and physically impaired after a stroke, and Nina, put aside by Mado's daughter (a convincing Léa Drucker), has to struggle to be once again close to her partner.
Born near Padua (Italy) in 1980, Filippo Meneghetti is a product of our contemporary borderless and cosmopolitan film industry: after studying film in New York, he graduated at La Sapienza University in Rome and subsequently settled in neighbouring France, where he directed a successful short (La Bête, 2018) that paved the way for this ambitious directorial debut feature, a Belgian-French-Luxembourgish co-production shot around Montpellier. Meticulous and undeniably subtle in transferring to the screen the twists and turns of the script and the inner turmoil of characters incapable of dealing with the pressure put upon them by society and of carving out a space for their true feelings and needs at home, Meneghetti seems to be already perfectly in control of his craft.
Before being screened at Molodist 2020, Two of Us charmed audiences at festivals such as Angers and Rotterdam, earning praise from the international press, mostly struck by the director's maturity and the acting performances. This enthusiastic critical reception had probably also something to do with the growing attention towards women's visibility and female-centric stories on the circuit, but was for once perfectly justified by the film's qualities and merits. Timeliness – in cinema as in life – is a virtue, but it's no guarantee of good filmmaking. A few minutes into Mereghetti's chamber melodrama, though, it is pretty clear that what we see on screen was conceived by someone who thinks in terms of moving images, who knows that a clean camera movement and a carefully lit close-up can be much more powerful and revealing than any sharp line of dialogue. Because framing is storytelling, and when combined with a tight screenplay, impassionate acting and a genuine interest in the complexities of the human heart, it can carry us through fascinating territories.
A fulfilling cinematic experience, Two of Us triumphed in Kyiv, winning both our critics' prize and the audience award – a rare achievement. Our jury motivation was a bonsai-review that somehow reflected Meneghetti's distaste for useless stylistic bric-à-brac: "for the director's sensitive and surprisingly mature approach to melodrama and for the skilfully crafted mise-en-scène".
Massimo Lechi
© FIPRESCI 2020
Edited by Birgit Beumers