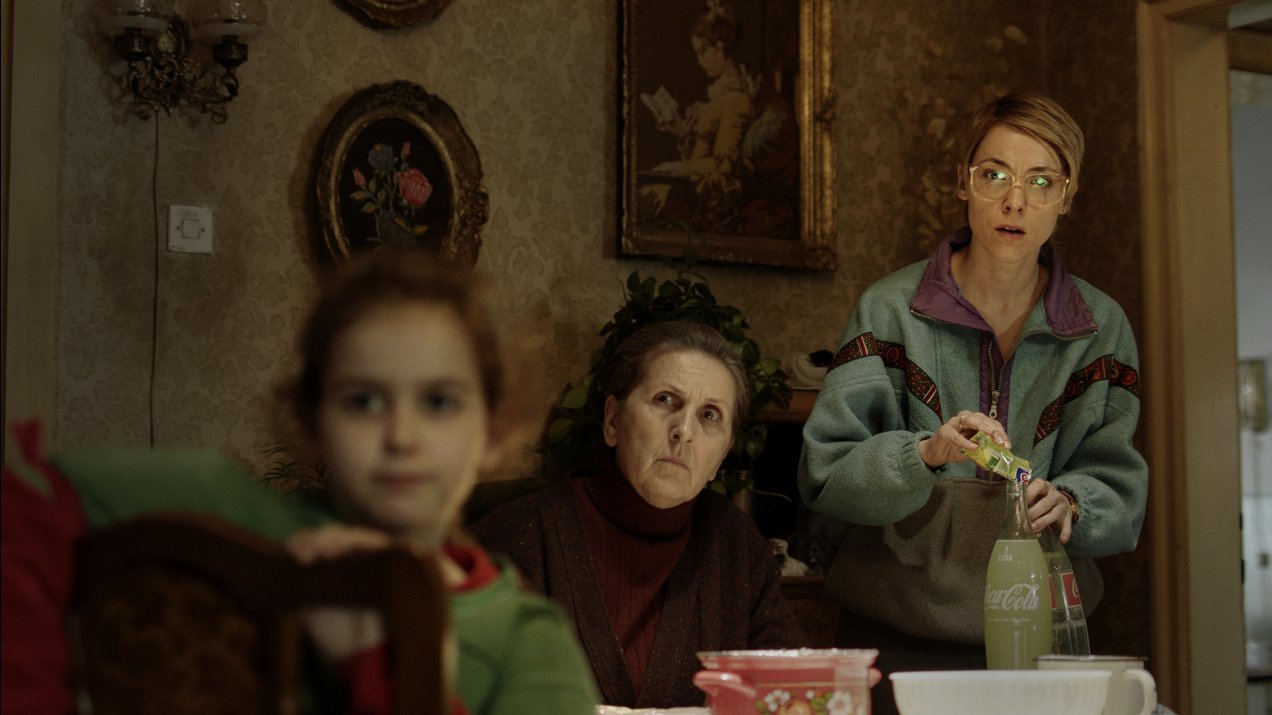 The 2021 Viennale meant returning to Viennese cinemas after a year of uncertainties, social anxieties and virtual festival encounters. It was a liberating experience, defined by a carefully crafted program of exceptional directorial debuts and second features from around the world. These presented us with a creative mixture of fictional narratives and documentaries. They covered a wide spectrum: from the dreamy yet deeply political A Night of Knowing Nothing (Payal Kapadia, 2021), taking the narrative form of love letter combined with visual collages of 8mm and 16mm footage, news broadcasts and hand drawings, to the imaginative "western fairytale" Re Granchio (The Tale of King Crab, Alessio Rigo de Righi, Matteo Zoppis), cleverly employing elements of fable, otherworldly mystique, legends and the power of folklore.
There was also a film, coming from my part of Europe, that struck a chord with us as all, despite it not winning the Critic's Prize.
1993. The year of Belgrade's highest hyperinflation in history. That year brought many citizens to the limits of existence, and a second year of Croat-Bosniak War that followed Yugoslavia's disintegration in 1991. A war that Serbs watched from afar, "not participating" yet still providing weapons and paramilitary "volunteers" for the combat to continue.
Celts revisits that troubled time. It is the debut feature by Milica Tomović, who is now around the age her parents would have been in 1993, when the Yugoslav dinar began losing its value and buying butter meant paying the bizarre price of 40 million. When the only way to afford ham for dinner was if it fell off a Hungarian truck. When children, lacking better toys, collected empty cigarette boxes. When all the party costumes were hand-made, Coca-Cola bottles were refilled by Cedevita powder and birthday sandwiches were slapped together with whatever mothers could find in a store that day.
The film focuses on the hectic happenings of a single day in a spatially constrained apartment. This is a film in which several intersecting stories play out, loosely knit together by eight-year-old Minja's birthday party. As kids and their parents gather in the apartment on the outskirts of Belgrade, director and co-screenwriter Tomović' exerts an impeccable command of space. She matches that visual command with humane compassion towards her well-rounded, compellingly flawed characters.
Through this family microcosm, we grasp the social, political and economic dimensions of the time and place, rarely directly specified. The adults, occupying a claustrophobically small kitchen, spiral into drunken discussions on war, nationalism, Serb identity, bourgeoise socialism and anarcho-revolution. Minja's parents haven't had sex in a year; the mother's gay brother rejects his Serb identity, defining himself as a Celt instead. Their inebriated friend once voted for Milošević; she has since given up on men. A recently broken-up lesbian couple is about to stir up some drama. Meanwhile the father's ideologically adrift younger brother has recently switched political ideas and is now repeating his newly found beliefs as a mantra he's still learning to embrace.
The family's kitchen symbolizes a forum where their opposing views, opinions and love quarrels converge into raw, often riotously comic chaos, complemented with occasional moments of tenderness. The screen ensemble's natural, heartfelt performances grow livelier with each new round of schnapps, second-hand whiskey and sniffs of poppers. The kids, dressed in Teenage Ninja Turtle birthday party costumes, foment a riot of their own in the adjoining room, dancing, spilling juice and passive-aggressively bullying each other. They are not yet fully aware of the destructive politics surrounding them, yet they're clearly perfect miniatures of their parents: some obnoxious and rude, others modest and quiet, with a growing class conflict already influencing the way they treat each other.
Tomović's smartly written debut avoids painting a specific time in history most of her natives would prefer to forget as earnest political drama (a trap most directors would willingly fall into). Skillfully edited by Jelena Maksimović, Celts unfolds as a layered and intelligent comedy-drama, deeply relevant to our current times of increasing political division. It's a film about one day, and night, but also a film where everything personal captures something political, and a world of warring beliefs, values, prejudices and emotions.
Celts also opens up important discourses on inclusivity, sexuality and female agency through the small details of women's masturbation, menstruation and rampant sexual frustration. When one female character's short-cropped hair poses a threat to the entire, fragile sense of Yugoslav masculinity, it's clear this exceptional first-time feature director knows the value of the telling detail.
Veronika Zakonjšek
Edited by Michael Phillips
© FIPRESCI 2021