Grand Prix - Best Film of the Year 2021
Nomadland
by Chloé Zhao
USA, 2020, 108 minutes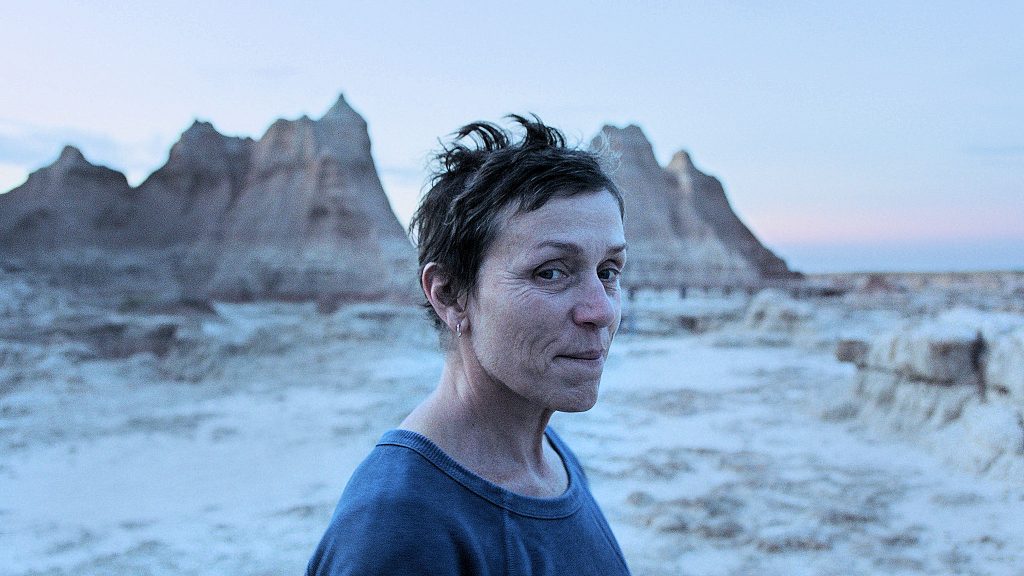 Photo: Courtesy Disney
Chloé Zhao
Between Fiction and Realism
By Jan Storø
Chloé Zhao is one of the fastest rising stars on the cinematic sky. She has made three full-length films and will soon launch her fourth. Critics and dedicated film lovers have been aware of her since the first one, but 2021 is the main break-through year for 39-year-old Zhao.
Her most recent film, Nomadland (2021) has obtained the FIPRESCI Grand Prix 2021 after having been voted best film of the year 2021 by the members of the International Federation of Film Critics, FIPRESCI.
Nomadland  is a film that seems to be on everybody's lips. It has received overall very good reviews, and several of the most prestigious prices worldwide. The two Oscars earlier this year, for Best Motion Picture of the Year and Best Achievement in Directing (for Nomadland), say a lot. Zhao can count 150 wins and 92 nominations for her films at IMDB, which also is a great achievement.
When we now are able to take an overview over the three first films, we can capture some signs of a style and a thematic interest that defines Zhao as a filmmaker. That said – we can already state that she will challenge this very soon. Her next project is a very much different one than the three previous films. We will have to wait a few more months to see how she has decided to work on Eternals – a superhero film produced by Marvel Comics (opening in November 2021).
Therefore, let us look at the material we have access to now: Songs My Brothers Taught Me (2015), The Rider (2017) and Nomadland. These three films have some similarities that are quite visible. But we can also discover different choices in the artistic process of making them.
There are elements of a reflective, poetic and humanistic creativity in all of these three films. They are telling stories about the everyday lives of people that we don't hear too much about in the media of our modern world; indigenous people, people marginalized in the society because of a physical injury and modern nomads seeking work where work is to find. Up till now Zhao has sought a dialogue between the filmmaker and people which lives she wanted to spin a fictionalized story around. This gives us a feeling of reality convincing us that Zhao's project up till now partly has been to tell stories about people, people in a marginalized position. But she is not occupied with the marginality as is, but rather with how people make their own meaning of their life and their actual situation.
In many scenes, especially in Songs My Brothers Taught Me, and to a degree in Nomadland, it is as if Zhao is not present at all. The director making herself invisible because she allows the characters to take the whole scene. But she is present, of course. With a realistic tone that makes us sometimes pinch our arm and wonder if it is a documentary we are watching. It is fair to suggest that one of the reasons for this is that all three films build on actual non-fictional material.
In The Rider Zhao shows us a more developed story with a beginning, a middle and an ending. This is perhaps a bit surprising, given the fact that the story builds on and is developed together with the main character. It tells about him, but Zhao has been careful not to take the personal experiences of the one person to far. The Rider gives us a possibility to reflect together with the protagonist. We are invited to use his experiences in our own lives as well.
That said, Zhao should be viewed as a fictional storyteller. She tells about people that could be real, and feels like they are real, but they are not. At least not in a direct way. One of the reasons for the feeling of realness is probably that the stories partly are developed together with some of the actors, and partly build on their own lives. The films invite us to reflect on these lives, and what possibilities that are available for the characters searching to fulfill their dreams.
Much of the poetic drive in Chloé Zhaos films are brought to us by the images, often filmed in late afternoon or early morning natural light. There is often a quietness to them, and the editing gives the audience enough time to take in the development of the story. Her use of open landscapes where the characters live their lives, are also building up under this style. It is not hard to discover a filmatic poetry similar to that of Terrence Malick.
Chloé Zhao is not an explicitly political screen writer and director, even if her topics may be discussed as statements saying something about living in the present American society. She has chosen a more humanistic than political angle to her storytelling.
Director Chloé Zhao takes us to the Heartland of America, as many would call it. We are in South Dakota. A Chinese-born director directing films played out in this environment is in itself interesting. But only if the handicraft is well taken care of. And surely, if she can add something to the genre conventions that is different than what has been done by her counterparts, it will be warmly welcomed.
Many critics has judged her to be one of the best directors of our time. That is why the critics of FIPRESCI have given her the FIPRESCI Grand Prix 2021
The main achievements of Zhao's directing is perhaps that her stories feel universal, even if they are situated in a limited geographical area.
Jan Storø
Film Critic of Khrono and Cinema in Norway
© FIPRESCI 2021