BRIFF Tributed The French Actress With A Dedicated Retrospective And Talk: Fanny Ardant Shares Her Freethinking Approach To The Art Of Living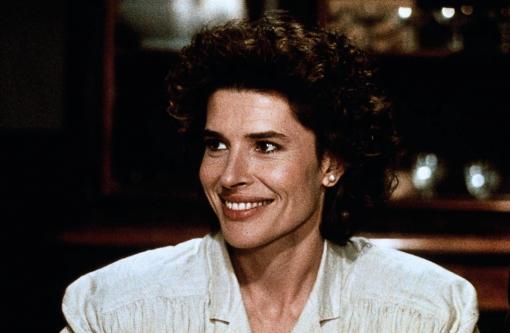 When wandering around museums art lovers may often be perturbed by the Stendhal Syndrome. The same will occur while you are at a Film Archive watching Fanny Ardant on screen, and even more so listening to her talking as she shares her philosophy of life. 
She is the recipient of numerous accolades, including two César Awards; her extensive career embraces film, theatre, television and opera, both as an actress and director. The great lady of French cinema was honoured by the 5th edition of the Brussels International Film Festival with a dedicated retrospective, screening a selection of her most representative motion pictures, and through a talk moderated by Hugues Dayez. The conversation that emerged between the Belgian film critic and Madame Ardant, masterfully intertwined with the themes of all the pictures featured  at BRIFF.
Fanny Ardant expressed how  uncompromising she is in her profession: her goal is not to make movies to "transform people into better citizens, because there are other structures in our society that deal with that." For her, cinema is a way to unleash the various nuances of human existence.
She is a literary woman who grew up devouring books, which channelled into several of the roles she picked, as epitomised by Volker Schlöndorff's Swann in Love (Un amour de Swann, 1984), based on Marcel Proust's seven-volume novel sequence "In Search of Lost Time." Another author she is strongly attached to is Marguerite Duras, with whom she shares the idea that "literature is supposed to be scandalous." This led her to believe that "one can die for love," just like the character that consecrated her on the silver screen: François Truffaut's The Woman Next Door (La Femme d'à côté, 1981). 
Her charisma allowed her to cultivate her artistic path in parallel to her quest for love, mirroring many of the characters she played, from Alain Resnais's Love Unto Death (L'Amour à mort, 1984), to André Delvaux's Benvenuta (Benvenuta, 1983). Fanny Ardant truly considers love the most powerful force on Earth and continues to be its advocate even in her most recent work directed by Carine Tardieu, The Young Lovers (Les jeunes amants, 2021). In this motion picture Fanny Ardant plays a seventy-year-old woman who begins an affair with a married man twenty-five years her junior.
However, this is just the tip of the iceberg in the way Madame Ardant defies bourgeois conventions. She fearlessly goes against common thinking to stand up for her beliefs, like when she takes up the cudgels for Roman Polanski and says "I would rather choose friendship than the law." The same impetus can be found in her recalcitrance towards capitalism because she "loathes the commodification of the arts." All her professional choices have always been dictated by pure idealism, which explains why she often supports first-time directors, like Tsai Ming-liang, who wanted her in his film Face (Visage, 2009), and kept production on hold to work around her schedule.
Throughout her filmography, Fanny Ardant has explored the multifaceted prism of femininity, even playing a transexual in Nadir Moknèche's Lola Pater (Lola Pater, 2017). 
But she likes to underline how she adamantly refuses to discuss gender, because she favours human rights as opposed to the blind adherence to a particular faction. Rather than riding the wildest type of feminism, her art explores the moral and potential of human beings. This is blatant in the abused Lucia from the film directed by Anna Maria Tatò, Desire (Desiderio, 1984), as much as in Catherine's contorted scheme to save her marriage in Anne Fontaine's film Nathalie (Nathalie, 2003). 
Her impartiality to genres allowed her to experiment with all the styles and aesthetics filmmakers have to offer. From the minimalist comedy thriller by Michel Deville, Le Paltoquet (Le Paltoquet, 1986) and Costa-Gavras's Family Business (Conseil de famille, 1986), to period dramas that portray how social status can rise and fall, like Patrice Leconte's Ridicule (Ridicule, 1996). Fanny Ardant has also engaged with comedy. One of the most playful and grandiose moments in the cinema of recent years is the Sapphic scene between Fanny Ardant and Catherine Deneuve, in François Ozon's 8 Women (8 femmes, 2002).
Ardant's legendary acting partners have been exceptionally influential in her craft, as she explains, "it's like going to a ball and you find a talented dancing partner." Her chemistry with Gerard Depardieu also in Yves Angelo's Colonel Chabert (Le Colonel Chabert, 1994) jumps off the screen, as much as her endearment for Jean-Louis Trintignant with whom she acted in two films: François Truffaut's Confidentially Yours (Vivement dimanche!, 1983) and Nadine Trintignant's Next Summer (L'Été prochain, 1985).
The quintessentially French actress is very much an Italian at heart: she passionately moves her entire body to make her message come across, while she expresses her ideas through her seductively raspy voice. Her French verve has been contaminated by the voluptuous Italian love for life, as she fills her speech with "ecco" and expressions she is familiar with. In fact, she claims to be incredibly fond of Italy having worked with the best filmmakers of the boot-shaped land. Her relationship with Italian cinema began with Ettore Scola's The Family (La famiglia, 1987) and continued with many more motion pictures, including the film directed in tandem by  Michelangelo Antonioni and Wim Wenders, Beyond the Clouds (Al di là delle nuvole, 1995), featured at BRIFF.
This roundup of eighteen films from Fanny Ardant's filmography, dissected by the actress and the cinema journalist during their chat, was an effective fil rouge to retrace the career and epistemological perspective of one of the most talented thespians in French cinema.
Chiara Spagnoli Gabardi
Edited by Savina Petkova
© FIPRESCI 2022