"Abandon hope, all ye who enter here."
(Dante Alighieri, Divine Comedy, Inferno, Chant III)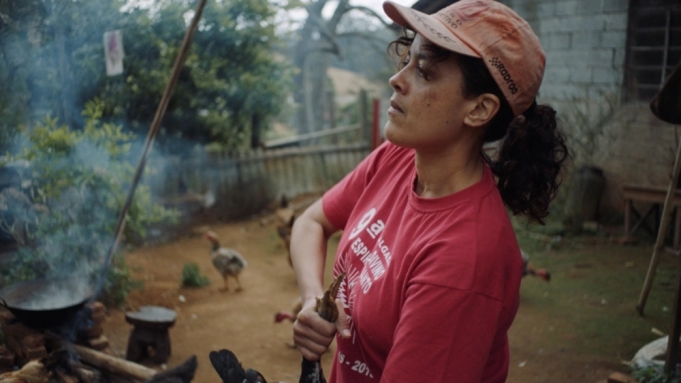 For those about to enter the film, get ready to absorb a torrent of acid realism and to be dominated by the marked detachment evident in Brazilian filmmaker Carolina Markowicz's feature debut. Her daring idea of cinema peers deep into some of her country's most pronounced social or religious taboos with an indomitable drive to challenge codes, genres, and identity. Charcoal is a potent film and daring in the way it pushes its characters (and us with them), with a mixture of disdain and affection, towards an infernal, almost mythical reality. Beyond limits. Beyond hell itself. In a way, this reflects the fact that the film was conceived during a devastating period of the pandemic and the accompanying political challenges experienced by Brazil's population, a scorching situation that Markowicz tackles with undeniable maturity, filmic authority, and coal-black absurdity—qualities that would lead the film to be chosen, in a unanimous jury decision, to receive the FIPRESCI prize at the 35th CinéLatino Festival in Toulouse.
The narrative quickly focuses on Irene (Maeve Jinkings, in one of her best performances) and Jairo (also a very competent Romulo Braga), who inhabit a small village at the end of the world, somewhere in the interior. The couple live with their nine-year-old son Jean (Jean Costa), and his maternal grandfather, a man of few words, confined to a wheelchair and nearing the end of his life. The desolation of this household rhymes with their own luck, as they live literally meters underground, between the ovens of a charcoal factory where they eke out a living burning wood to extract coal.
It is in this underworld that Markowicz depicts an almost mythological dimension where certain social fringes of Brazil are found clinging to a buoy of religious promise as the only source of salvation in a life devoid of solutions and brimming with social hypocrisy. It is in search of this glimmer of salvation that Irene asks the local priest, "Does God prefer that we suffer or die?" Disheartened, faced with the rhetoric of a predetermined final judgment, Irene decides on a radical option, although economically profitable, suggested by the assistant at a health center used to living with corruption. And that gives rise to the first material replacement of the body in the most surprising and disturbing scene of the film, in which the grandfather ends up sublimated by fire, thus making room for a new tenant, Miguel (César Bordón), an Argentine drug trafficker who needs to pass himself off as dead. He who had already prepared his "transition" by having himself photographed with his body riddled with bullet holes and floating in the swimming pool of a mansion. The second replacement of the body will happen at the film's end, although with less surprise, even if it confirms the dismal and pessimistic tone of Charcoal.
It is in this new circle of hell that Markovicz centers this family, now with the Mephistophelian exchange of selling one's soul to the devil, in exchange for a strong, and welcome, social push. But it is also there that the aggregate reveals its growing tensions with a new reality in which it cannot accommodate itself. Be it Ivone's sudden lust in an attempt, albeit fruitless, to seduce the drug dealer, Jairo's lack of attention and growing addiction to drinking, or even little Jean, who is in a certain way empowered by the presence of the drug dealer, whom he comes to regard as a father figure. The script goes to the limits of caricature, when the child's teacher warns the parents of signs that their son has been dealing cocaine at school.
Formal daring was already part of the 45-year-old filmmaker's cinematographic DNA, evident in her short films, particularly O Orfão (2018), in which the dilemma of the unwanted emerges through the story of an effeminate young man fleeing his putative parents to enter an orphanage demonstrably incapable of welcoming him. It is precisely a variant of this unwanted that is outlined in Charcoal, referring precisely to the failed choices of the characters and to what remains after being consumed by fire.
There is not a shred of hope or redemption for this family, be it Irene, after exchanging her soul for a handful of bills, be it Jairo, consumed by madness and the madness of money, or even little Jean, who seems condemned by the forced learning of living with his parents, only showing an immediate adaptation, even in the face of the already foreseen end. Nor are there any moral lessons to be drawn from this small microcosm, where men reveal themselves in their tremendous inability to react (see the cases of Jairo, the drug dealer and even his son Jean), and women make the most painful decisions, even which are equally unspeakable.
It is precisely in this bleak realm that Jinkings—a remarkable presence in Kléber Mendonça Filho's Neighboring Sounds (2012) and Aquarius (2016), as well as Gabriel Mascaro's Neon Bull (2015)—delivers one of her best performances. In this fierce and provocative x-ray of a certain Brazilian reality, undermined by religious conservatism and surrounded by social hypocrisy, we realize that nothing and no one is immune. Everything is consumed. Be it wood, but also bodies, beliefs, feelings or even a certain way of thinking. Only ashes remain.
Paulo Portugal
Edited by José Teodoro
© FIPRESCI 2023