Dhaka International Film Festival is unique among others. Many a festival were born out of a passion for cinema, but not many had to face so many financial, censorial, infrastructural, and cultural obstacles. Bangladesh is one of the poorest countries in the world that experiences a dire need for food, medicine, shelter, and transport. There, by many, cinema is seen as something untimely and aristocratic. There are no specialized funds from the Ministry of Culture or Ministry of Information; there are no permanent venues for such an international event as a film festival; every year, organizers must look for funding from scratch. Despite the high resistance, the father of the festival, Ahmed Muztaba Zamal, remains devoted and optimistic beyond imagination. We talked with Ahmed on the eve of the 21st edition of DIFF and covered his inspiring personal story, the current situation in the film industry of Bangladesh, politics, women's agenda, spirituality, and many more. This honest conversation started with a rather poignant vibe but ended with exemplary awareness, showing how nothing can stand in a way of art, even if the whole world seems to act against it.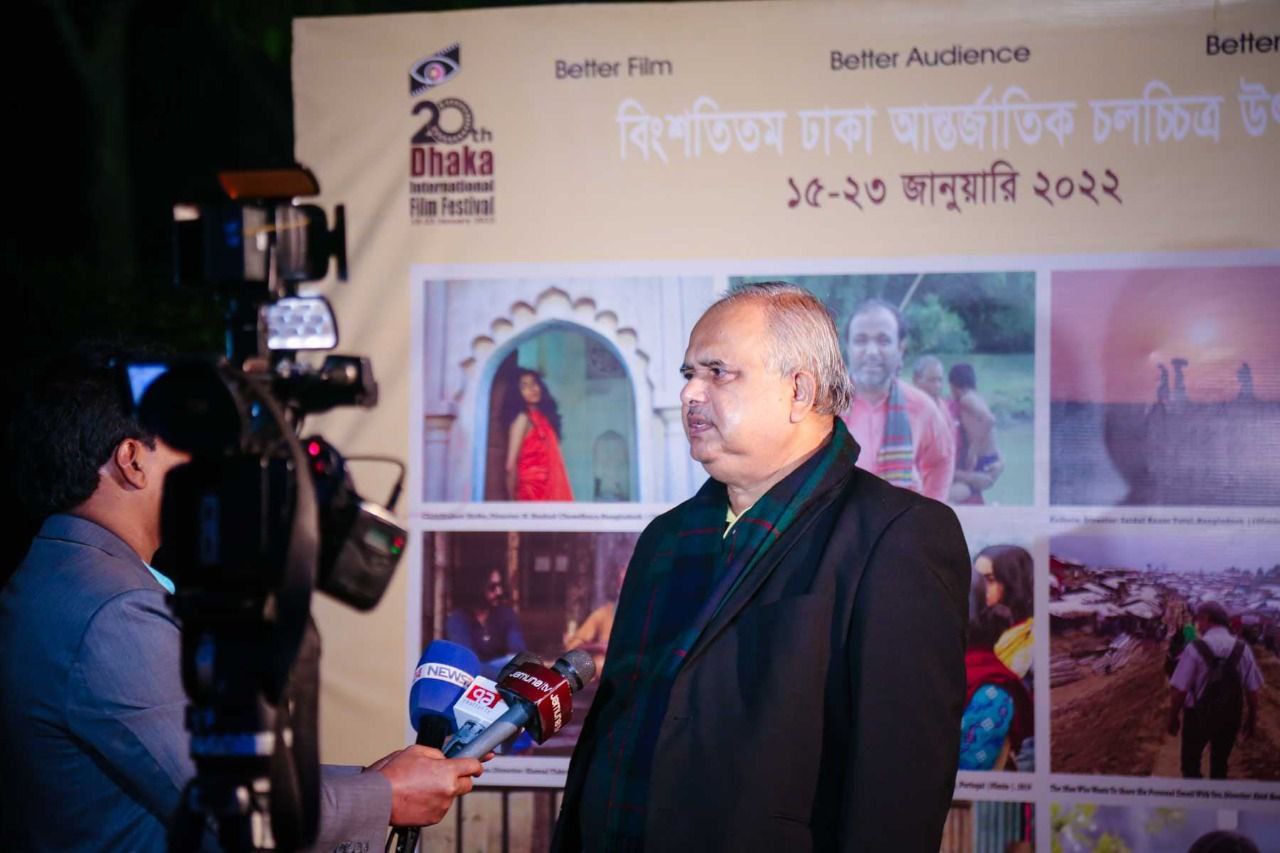 Elena Rubashevska (ER): It's ten days until the start of the festival. Must be extremely busy at your office!
Ahmed Muztaba Zamal (AMZ): I never felt like this. This year, we had to face too many difficulties. I know the government has money, but they prefer to spend them on anything but a film festival. Our country has a cultural background and civilization history of more than 3000 years. But with a film, we are a little bit behind. In Bangladesh, we are 170 million people and 90% are Muslims. There are some young filmmakers who want to prove themselves; unfortunately, the fundamentalists who are the hard-line Muslims got involved in our society, and the film became seen as a sin. We will not get support from ordinary people; they don't understand it, and they don't care about it. That's the main thing why we can't get the money from CSR (corporate social responsibility). Every big company has money for CSR but they never stretch for the film culture. That is the thing that we are struggling with for the past 30 years.
But I am an optimistic person. Nothing can stop our success unless some very miserable damage comes on our heads. This festival is not just a festival. It is our passion. It is our baby. This year we're going through very tough situations, it's a new experience for us, but we say "Inshallah we'll do it". 
ER: The financial struggle becomes a reality for many festivals these days. We can observe how some of them would compromise their integrity by dropping the artistic quality and giving in to the celebrity cult in order to make sponsors more interested. 
AMZ: This year someone came to us. They said: "We will take care of everything, but you have to invite these-and-these people and do what we want to do". I said "No, I'm sorry, we need money of course, but we don't want to spoil this festival for the sake of the celebrities. We want to uphold our artistic merit and our intellectual integrity. We are an independent organization, and we believe that film is an art. Entertainment cannot be prioritized. Artistic values should be prioritized. We do our best effort to make a festival in an artistic way for the future generation, the filmmakers, and the audience. They should learn something from the festival. We want to give them a good platform so they can see some good films and listen to good lectures; we want to create an atmosphere so that they can mix up with foreign guests, talk, interact, and exchange ideas. 
ER: Speaking of celebrities and mainstream cinema, what is happening in Bangladesh in that regard?
AMZ: Once upon a time, our theatres were fully occupied by mainstream cinema, but recently it has gone down like anything else. We used to have around 2000 cinema theatres. Now we have less than 100 in the whole country! Very few people go there, and the OTT platforms took the spot. People used to go to big cineplexes but we as a festival can't afford to rent such venues. We organize everything in a very small theatre. We don't have DCP screenings. Before, we used to have some screenings in the cineplex, because we wanted to attract as much audience as we could get. 60 to 70K people were coming to our festival; now it is around 15 to 20K. We used to organize events throughout the year but we don't do it anymore. The involvement with the festival is a huge task as it is: getting the films from around 70 countries, dealing with the filmmakers and distributors, requesting screenings without fees. That is also the reason why we have lost many good films. Our main problem is the finances. If we had money, we could have invited some prominent filmmakers and talented artists from all over the world. This year, most of the guests are coming at their own expense… 
ER: One of the sections of your festival is "Bangladesh Panorama". What is the situation in the country for filmmakers? Is there a film education? Is there any possibility that the state will support film projects? 
AMZ: We don't have a proper film institute. There are 3-4 universities that opened film departments, and that's where all young students are coming from. There is no professional body that would support young independent filmmakers. In the Bangladesh Panorama section, most of the films are independent. Every filmmaker wants to create something unique from their point of view. But when you have so little money, you cannot hire professionals. Sometimes filmmakers get the money from their families or friends. That's why we are paying money to our winners to support them, as well as organizing workshops and panel discussions.
ER: Could you name your top 3 national movies of all time?
AMZ: Hard to say! We have many movies from the early 60s. We had a great filmmaker, Zahir Raihan. He made the film Glass Wall. There are great films by Alamgir Kabir. In 2002 at Cannes Film Festival, there was a Clay Bird by Tareque Masud. This year we have one film called Hawa (Eng. Wind) by Mejbaur Rahman Sumon. It became a real blockbuster. For the past three months, it continuously broke the record in the history of Bangladeshi films. We are 19 people at our office, and we went to see this film altogether in the cineplex with a huge number of places. This is a very well-made film in the sense of directing, editing, and camera. It is very hard to say, "This is my favorite film". I am never satisfied. I never said "she is the most beautiful lady" because I see many people around. Maybe the next moment I'll see someone even more beautiful, and I will have a change of my mind. Whenever I see something new, I'm changing myself. That's why I will never be satisfied with one single film. 
ER: You are running the festival for 30 years, and you are also an experienced festival traveler. After so many years, how do you watch films? Do you have any specific routines or criteria by which you assess films?  
AMZ: When I was a child, our country was a part of United Pakistan and called East Pakistan. In 1971, our independence war started. We had 9 months of struggle, we lost 3,000,000 people. China and the US were against us, they wanted to do their best to destroy our country, to make it another Vietnam. Soviet Russia was one of the big prominent countries that supported us.
Bangladesh got independence in 1971. I attended the first screening in my life in 1972 at the Soviet Cultural Center, and it was eye-opening. I was a young curious boy of 12. I used to go there every day, I watched movies again and again. I watched some movies 15, 30 times. I was going to different embassies, and everywhere I watched films. That's how my cinema experience started. When I became 17, together with my elder brother we organized the film society. 
My first International Film Festival was in 1991 in Munich where I was sent by Goethe Institute. There, I met Klaus Eder (the General Secretary of the International Federation of Film Critics), Lars von Trier, Agnès Varda, and many other people. Since that time, I am traveling around festivals as a member of the jury, or as a press, and that's how I watch films. Of course, sometimes I watch cheap commercial movies, for example, during flights. But at film festivals, I prefer films that are artistically made, independent. Whenever I go to Berlin, I watch the Forum section. Whenever I go to Cannes, I watch Directors' Fortnight. I never go to the main competition. 
Previously, I used to watch all the movies submitted for my festival, but now we became bigger and I have to concentrate on other issues like looking for money and inviting people, and other complicated issues we are dealing with.
ER: You have a strong connection with the Italian festival Religion Today.
AMZ: It's a very specific festival, one of my favorite places, and there is a story behind it. I've met organizers, very kind, very polite people, who invited me over to Italy. They treated me like a family member. The films shown at that festival talked about human rights, interreligious dialogue, tolerance, and existence. This festival had a big influence on my life and my education. With their support, I started the Spiritual Section of the Dhaka Film Festival. As I've mentioned, in Bangladesh, we have 90% of Muslims. Sometimes extremist groups are trying to influence other people. We want to do something about that, we have some social and moral responsibility, so people won't act like fundamentalists or discriminate against other religions. 
We also have a strong women's focus at our festival. Why? I started it because I have a minority in my home, my wife and two daughters, three beautiful women. I am the only man in my home, I am dominated by these ladies. Watching my daughters, I realized that woman is the best creation of God. I learned to see the world through women's eyes, and now I want to give them a priority. I feel that they are not getting the proper place. This is a men-dominated world, men are in power everywhere: in the police, army, and business. That's why we are organizing the Women's Conference. With this, we want to send the message to young people. 
ER: I have rather a philosophical question. When you approach topics like spirituality or values, how do you actually decide on the criteria for that? Do you have your inner criteria of how to maintain ideological balance and let everyone speak up in the best way possible?
AMZ: I'm friendly with everybody. I don't have enemies. Every country and every nation has a problem. For example, if I choose one Iranian, the other Iranian will say "Please, don't take this film and don't invite this filmmaker because he belongs to the government". And someone from the government will say "Please, don't they take this film because it's anti-Iranian government". If I choose Russian films and invite Russian filmmakers now, someone tells me: "Don't put them next to my chair". Don't worry, I'm not going to do that, I don't want any fights here. I have a big sympathy for Ukrainians, but I have a big sympathy for Russians, too. They might be your enemies, but they are not my enemies. Culture should not be part of politics. I want to accept films for their artistic values. Through this, maybe people can understand what is black and what is white. I don't want to tell them that "he is right, and he is wrong". Through the film culture, through giving voice to everyone, and through discussions, we want to make people develop their own opinion. I'm not going to block any country or any films from entering the festival. I selected Russian films; I went to Russian film festivals. Some of my European friends couldn't understand that because they say Russia is doing something terrible. I understand that. But why they don't react like this with, for example, Israel? They prefer to never notice these double standards. There are cities of refugees at the European border where people are treated like animals. Europe welcomed Ukrainian refugees. I respect that, I salute for that. But was it the same with Syrian refugees? I would have been happier if everyone would have been treated the same way. 
Nevertheless, I want everybody remains calm and quiet. I want no fight. I was 11 when the war started in my country. I watched people being killed. I was running for my life. I saw the black face of the war. And now, through our festival, though we have no political control, we are trying to build a better world so that people can understand artistic films and get some moral lessons from them. 
ER: Which role should film critics play in this big game? 
AMZ: Tell the truth no matter what. The truth should not be hidden. Everything should be disclosed. Don't judge the nation. Critics should be fair, and judge art, not nationality. It's not like "Ukrainian film is a good film, Russian film is a bad one; British film is a good film, Bangladeshi is a bad one". Watch first, and then judge. I know that nowadays politics is a big part of art, it comes automatically through films. Through films, filmmakers express their political views. I know that is needed also, but we should judge very sensitively. We should stay intellectual, and not political.
Elena Rubashevska
© FIPRESCI 2023